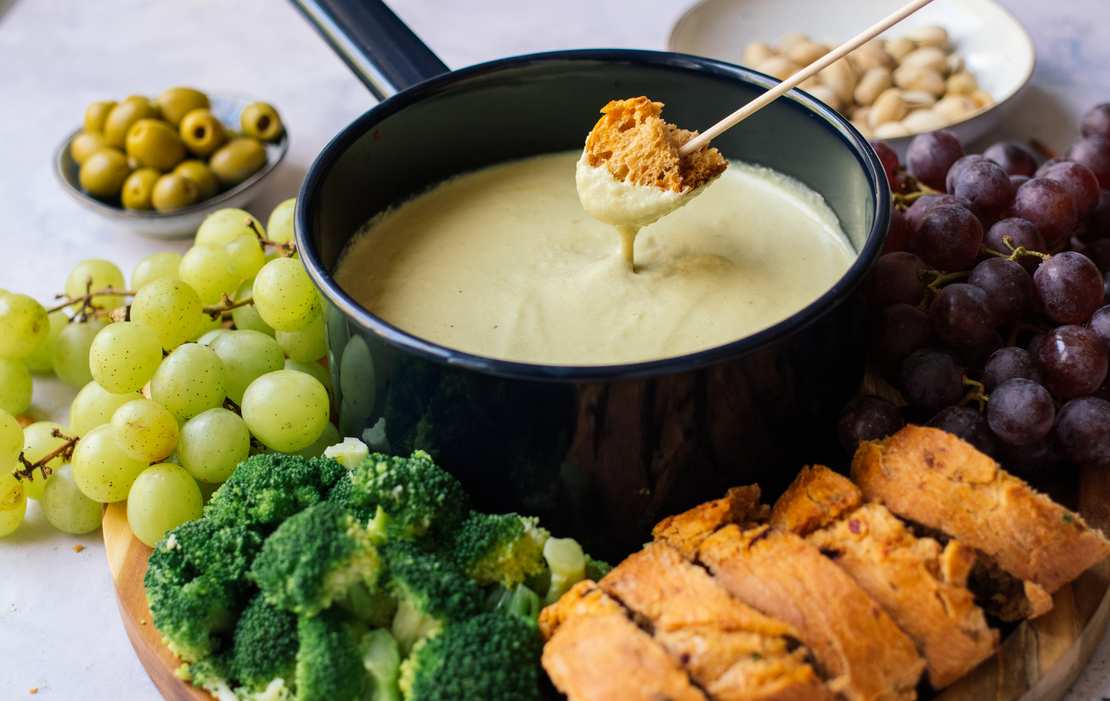 When I still ate cheese, we never had fondue – or, let's say, at least I can't remember this. I have to admit that it looks pretty impressive how the cheese melts in this small fondue pot and then creates these long cheese pulls when you wrap it around a piece of bread.
Our vegan version can only keep up with that to a limited extent, which means: unfortunately, there won't be any cheese pulls, but it's still very delicious! The base is similar to our vegan queso dip and the vegan cheese sauce for mac'n'cheese. So you won't need an expensive plant-based cheese substitute, but only potatoes, onions, and cashews. They are first boiled and soaked, then mixed with plant-based milk and vegan white wine, and seasoned with nutritional yeast, onion, and garlic powder. The preparation is done completely in the kitchen, so you can simply serve the pot with vegan fondue at the end.
As sides to dip into the fondue, we serve bread, blanched broccoli, and grapes – but you can basically choose whatever you like. If you should have leftover fondue, just use it as a vegan sauce for mac'n'cheese or as a dip for your potato chips while watching movies next time.
Vegan Cheese Fondue
4-6 servings
30 minutes (+ time for soaking the cashews)
Ingredients
For the fondue:
600 g (1.33 lbs) potatoes
3 onions
200 g (7 oz) cashews
100 ml (0.5 cup) plant-based milk
150 ml (0.66 cup) vegan white wine
4 tbsp nutritional yeast
1 tsp onion powder
1 tsp garlic powder
1 tsp mustard
1 tsp lemon juice
salt
pepper
For dipping:
bread
grapes
blanched broccoli
Instructions
Soak cashews in warm water for at least 30 minutes (or up to overnight), which will help with mixing them later.

Peel and roughly chop potatoes and onions. Add them to a pot, cover with water, and season with salt. Boil the vegetables until soft, then drain.

Add cooked potatoes and onions, soaked cashews, plant-based milk, vegan white wine, nutritional yeast, onion and garlic powder, mustard, and lemon juice to a blender. Blent until you get a very creamy mixture.

Transfer the creamy mixture to a pot and let it simmer over medium-low heat until it reaches the texture you prefer. Season with salt, pepper, nutritional yeast, or even more lemon juice to taste.

While the fondue simmers, prepare the side dishes. Slice bread and toast it if desired. Blanch broccoli until fork-tender. Wash and dry grapes.

Serve the pot of vegan fondue and all side dishes on the table, then use wooden skewers to dip in the bread and broccoli.
More Vegan Dips & Spreads