In Germany, baked cheese is quite a thing – for a good reason. Baked cheese is probably one of the more stylish yet super-simple convenience products that you just throw in the oven, and there you go. It's the perfect finger food for your upcoming game night! Unfortunately, vegan baked cheese is not available for purchase yet, so we just developped a recipe ourselves. Yes, it does take a bit more time than the store-bought product, but it's SO delicious and a great cheesy dinner option for an evening with family and friends.
Here's how it's done. The difficulty with this recipe is that you want that perfect combination of a nicely browned "cheese" crust on top and a yet runny inside that you can dip vegetables and bread in. Therefore, we go for a cashew base which we first soak in water to soften. This will lead to a creamier consistency of the baked "cheese" later. The soaked cashews are mixed with water and some spices – you can use a blender or an immersion blender for this step. Before you add the cashew mix to the oven, you need to bring it to a boil along with some tapioca starch. Tapioca is made from cassava roots and provides the chewy consistency, which we aim for to make baked "cheese" – this is also why you can't skip the tapioca starch, sorry! You can find it in organic stores or Asian supermarkets. And even if it's a bit pricey, it's definitely worth the purchase! Especially if you're interested to try out more plant-based cheese recipes, tapioca starch will come in handy more often that you might think. For baking our cashew mixture, you can either use a small cake pan or a small baking dish. Make sure it's not too big as otherwise your cashew cheese will bake through too quickly and becomes solid instead of keeping this lovely liquid center.
You can serve your vegan oven cheese as you like. We went for lots of colorful veggies, bread, and some fruit.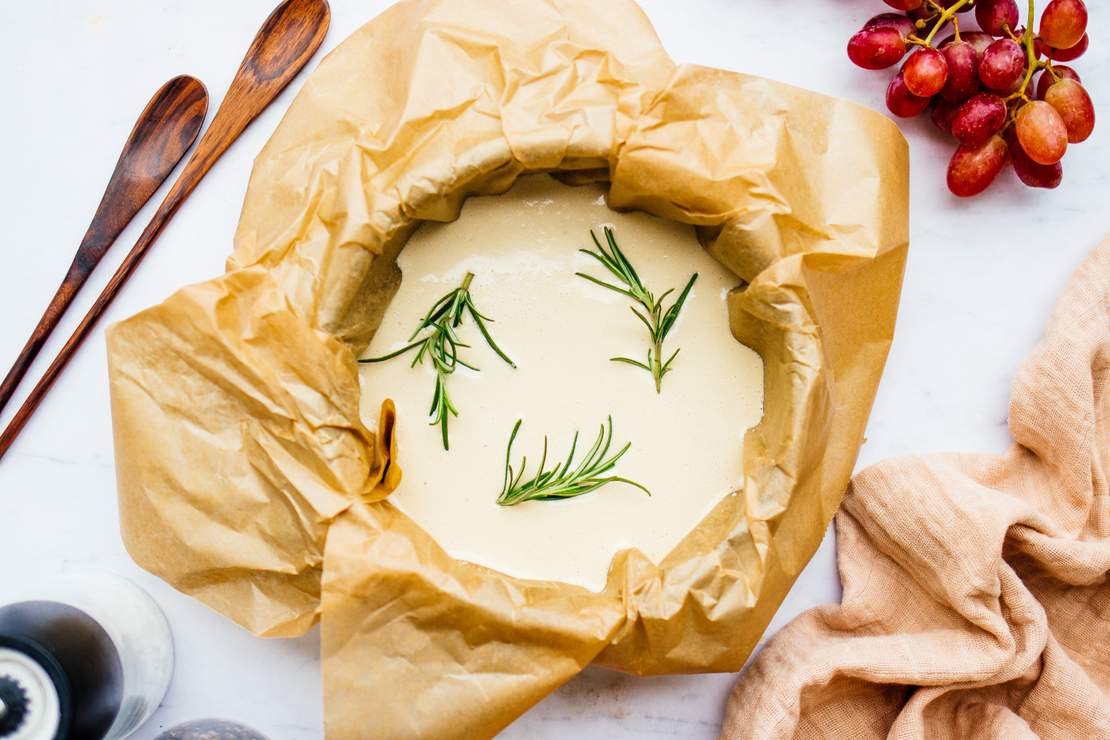 Vegan Baked Cheese
1 Vegan Baked Cheese (2 servings)
20 minutes (+20 minutes baking time)
Ingredients
For the cheese mixture:
150 g (5.25 oz) cashews
300 ml (1.5 cup) water
1 tbsp lemon juice
1 tbsp (10 g) miso paste
2 tbsp (15 g) tapioca starch
1 tsp (5 g) garlic powder
1 tsp (5 g) onion powder
3 tbsp (20 g) nutritional yeast
3 sprigs of rosemary
salt
Pepper
For serving:
fruit (e.g. grapes)
vegetables (e.g. cucumber, bell peppers, and carrots)
bread (e.g. baguette or ciabatta)
nuts (e.g. walnuts and pistachios)
Instructions
Line a small cake pan (diameter of 10-16 cm/4-6 inches) or a small baking dish with parchment paper. Soak cashews in water for at least 30 minutes, then drain.

Add cashews, fresh water, lemon juice, miso paste, tapioca starch, garlic powder, onion powder, nutritional yeast, salt, and pepper to a blender and mix until creamy.

Preheat your oven to 200°C/390 °F (convection). Pour the cashew mixture into a small saucepan, bring to a boil, and let it simmer over medium heat for at least 2 minutes. Season again with salt, pepper, and optionally any other seasons to taste.

Transfer the mixture into your prepared baking dish and top it with a few sprigs of rosemary. Bake in the preheated oven on the middle rack for approx. 15 minutes. Afterwards, turn on the grill function of your oven and let the vegan baked cheese brown on top for approx. 3-5 minutes.

In the meantime, wash and chop your fruits and vegetables. If desired, bake or toast some bread. Remove the vegan baked cheese from the oven and serve it with the side dishes of your choice.
More Plant-Based Cheese Alternatives