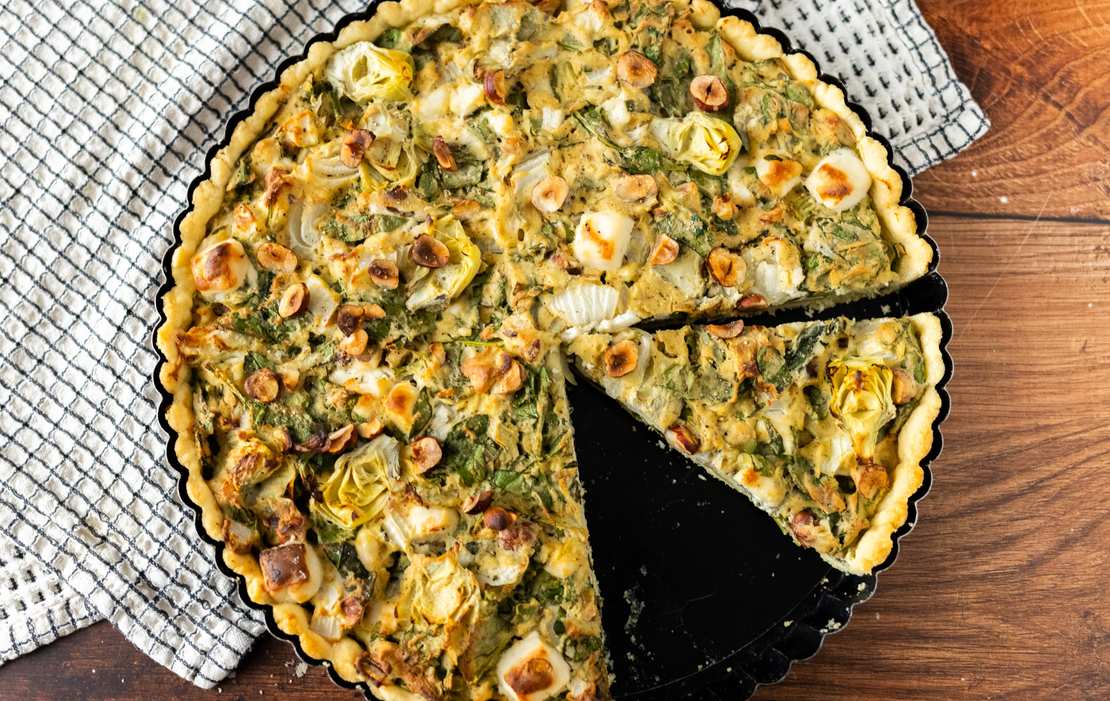 Vegan Quiche with "Feta Cheese", Spinach and Artichokes
Why don't we all make quiche more often? You can eat it hot and cold, prepare it for on the go, bake it in small or a large dishes or use the basic recipe for your leftovers. If you're in a hurry, you can even make the whole thing with ready-made dough. So after developing this recipe, I've come to the conclusion to put quiche on a higher position in my food pyramid from now on.
In this vegan quiche, the usual mixture of eggs and milk is composed of soy yogurt and natural tofu. However, you can find other options on our blog, such as a Quiche Lorraine with smoked tofu or a Chanterelle and Leek Quiche with silken tofu and vegan cream as the base.
We start with the dough for the base of the quiche. The vegan butter and the water must be cold. This is how you get a smooth consistency of the shortcrust pastry. If the dough is crumbly after chilling, let it stand at room temperature for about 5 minutes before rolling it out or putting it directly into the pan. To allow the heat to escape during baking, we poke a few more holes in the bottom with a fork.
As I mentioned at the beginning, you are entirely free with the filling of the quiche and can also simply use the leftover vegetables that your refrigerator still provides at the end of the week. Or you can be a little creative. How about an autumnal mix of pumpkin and pecans or the combination of beet and apple? We used some color inspiration. Our green quiche combines spinach, artichokes and vegan feta. We added chopped hazelnuts for some crunch and a nutty touch. You can put the filling on the raw dough and bake it all together.
Before you cut the quiche, let it cool down a bit to firm, and you're ready for your lunch, picnic, party, or trip (at least in terms of food)!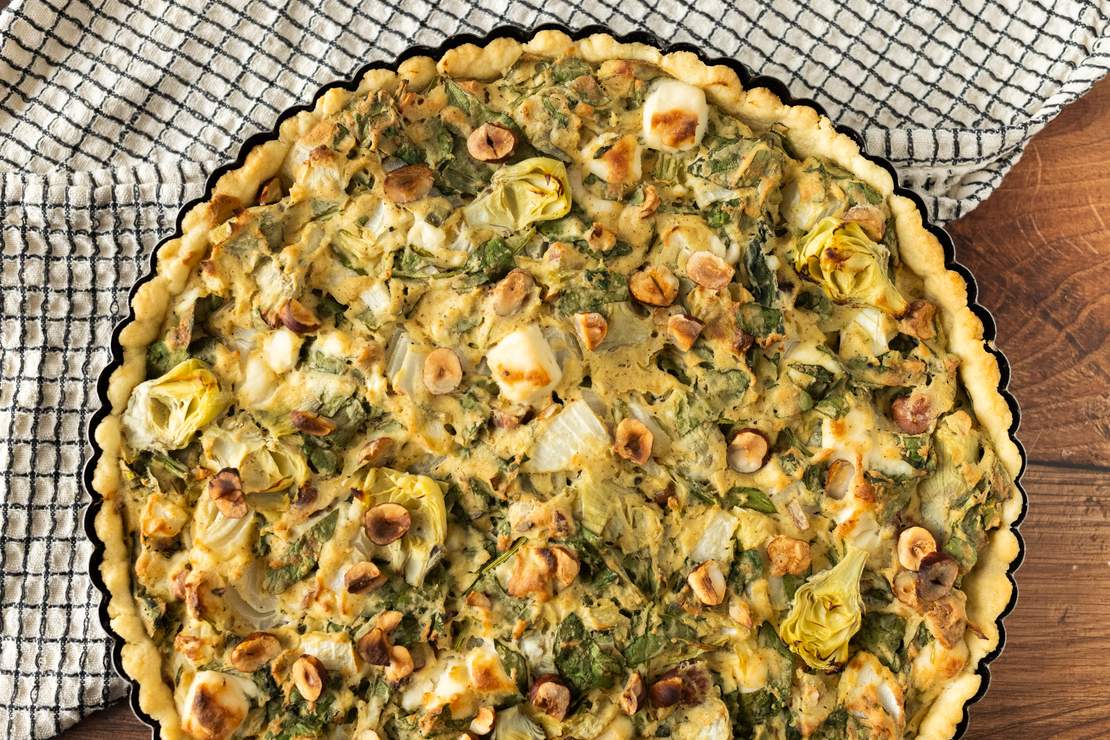 Vegan Quiche with "Feta Cheese", Spinach and Artichokes
1 Quiche (∅ 28 cm / 11 inch)
30 minutes (+ 30 minutes baking time)
Ingredients
For the dough:
300 g (2.5 cups) wheat flour (type 450 or 550)
1 tsp salt
180 g (1.66 sticks) vegan butter (cold)
approx. 4 tbsp cold water (as needed)
For the filling:
150 g (5.33 oz) soy yogurt (unsweetened)
200 g (7 oz) natural tofu
2 tbsp cornstarch
2 tbsp nutritional yeast
1 tbsp lemon juice
1 tsp nutmeg
1 onion
100 g (3.5 oz) baby spinach
165 g (5.75 oz) artichoke hearts
150 g (5.33 oz) vegan feta
30 g (1 oz) hazelnuts
salt
pepper
Instructions
For the base, knead flour, salt, vegan butter (in small cubes) and water for about 5 minutes until a smooth dough is formed. Add the water gradually until the dough has the desired consistency and is neither crumbly nor sticky. Let it chill in the fridge for about 30 minutes.

For the filling, puree the soy yogurt, tofu, cornstarch, yeast flakes, lemon juice and nutmeg. Cut the onion into small cubes and the spinach into strips. Halve the artichoke hearts, dice the vegan feta and roughly chop the hazelnuts. Add everything to the tofu-soy yogurt-mixture, mix and season with salt and pepper.

Roll out the dough or place it directly into a greased quiche dish and press down on the edges. Poke a few holes in the bottom with a fork and pour in the filling.

Bake at 180 °C (convection heat) for about 30 minutes. Allow to cool slightly before cutting.
More Vegan Brunch Recipes