Summer salad with grilled peaches
Today's recipe is a very quick and easy, but delicious salad that combines the best of both worlds, namely vegetables AND fruit. We grilled the peach wedges (you could also use nectarines) in a grill pan, but if you're doing a real barbecue, you could also throw them right on the grill. And if you want to keep it very, very simple, you don't even have to grill them and could just add the peaches to the salad as they are.
How to further adjust the salad: You can substitute the vegetables and salad to suit your taste. However, I want to say that the bitter arugula actually goes very well with the sweet peaches while the cucumber gives the salad a refreshing crunch. As a "creamy" counterbalance, we added vegan feta cheese – you can buy it in organic stores, or prepare our homemade tofu feta. If you're not into feta cheese, just leave it out or use vegan mozzarella instead (click here for the recipe).
The finish comes with crispy toasted pumpkin seeds and a drizzle of pumpkin seed oil. Did I hype pumpkin seed oil already enough on this blog? Pumpkin seed oil might not be one of the essential ingredients of every pantry, but I personally can't live and cook without it anymore. At days when I'm particularly lazy in the kitchen and don't want to prepare a proper salad dressing, it's enough for my taste to add salt, pepper, and pumpkin seed oil to a salad. It also tastes fantastic when drizzled on vanilla ice cream or creamy pumpkin soup. While it's a bit more expensive, it tastes so intense that you don't need much of it, so it will last quite long. Just note that pumpkin seed oil is not cooking oil, so it shouldn't be used for frying, but only added to your dishes for serving.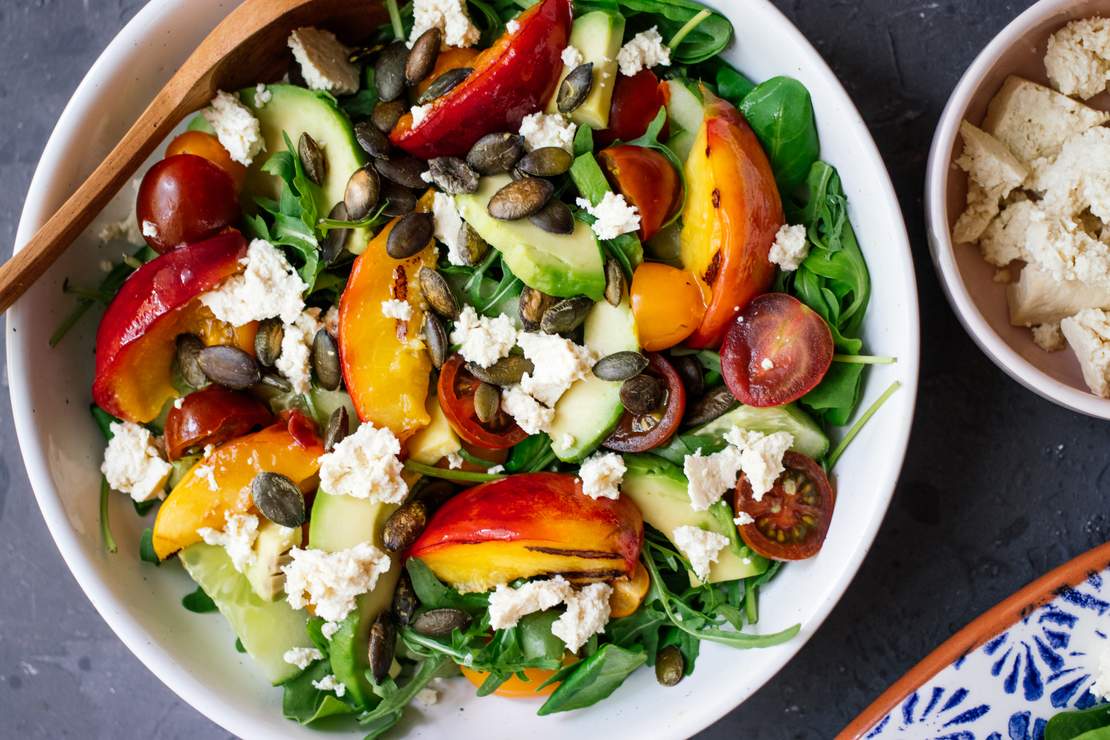 Summer salad with grilled peaches
Ingredients
For the salad:
3 peaches
1 cucumber
1 avocado
150 g (5.5 oz) cherry tomatoes
50 g (2 oz) arugula
50 g (2 oz) lamb's lettuce
50 g (2 oz) pumpkin seeds
200 g (7 oz) vegan feta cheese (optional)
vegetable oil for frying
For the vinaigrette:
3 tbsp olive oil
1 tbsp balsamic vinegar
1 tsp lime juice
1 tsp maple syrup
0.5 tsp mustard
salt
pepper
For serving:
Instructions
Slice cucumber and avocado or cut them into bite-sized pieces. Halve cherry tomatoes. Wash, dry, and prepare arugula and lamb's lettuce. Toast pumpkin seeds in a fat-free frying pan until browned.

For the vinaigrette whisk together olive oil, balsamic vinegar, lime juice, maple syrup, and mustard in a small bowl – season with salt and pepper to taste.

Pit peaches and cut into wedges. Heat some vegetable oil in a grill pan and roast peaches from both sides for approx. 3 minutes each, or until they are slightly charred and show grill marks.

Transfer all salad ingredients to a large serving platter. Add the vinaigrette and toss to coat. Add the grilled peaches, toasted pumpkin seeds, and, if desired, vegan feta cheese on top. Drizzle with some pumpkin seed oil for serving.