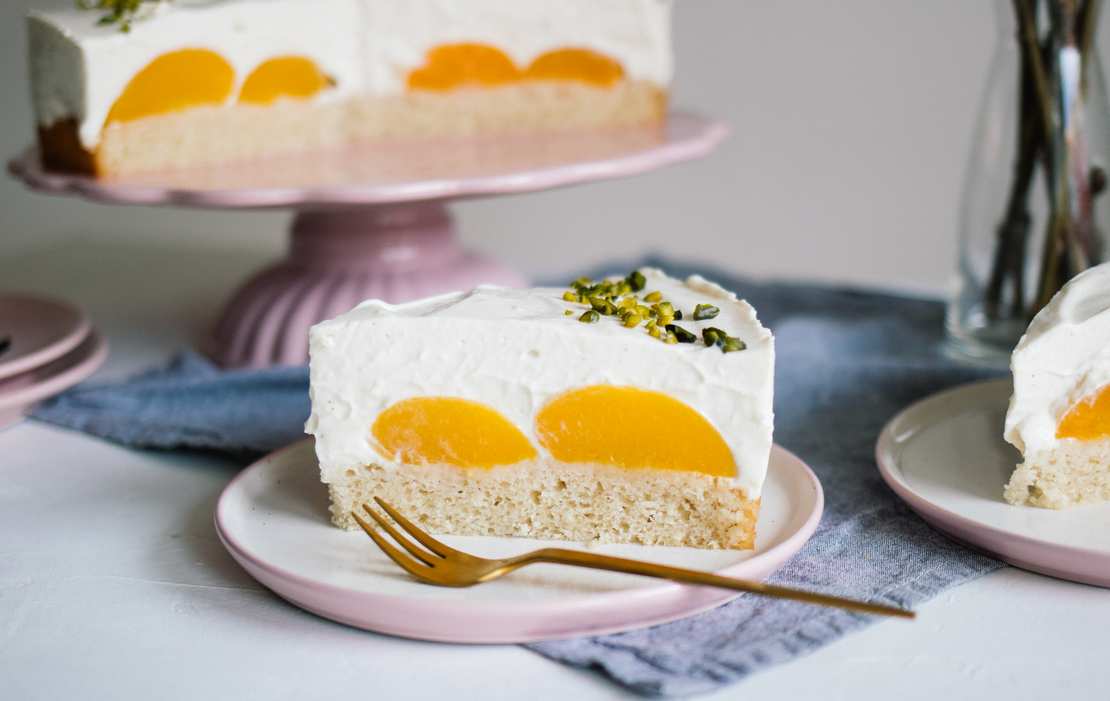 Vegan Peaches & Cream Cake
Thinking of a rich buffet for Easter brunch, we guess that some of the following recipes are coming to your mind: carrot cake, yeast bun, and waffles. Besides these recipes, I always have a fruity cake in mind too. In my family, this cake often consists of fluffy dough and a fresh cream made of quark, yogurt, or whipped cream.
So I tried to bake a cake that comes very close to the version I know from my family. To get a thick and rich but still smooth cream, I used plant-based quark and plant-based whipped cream. To get a firm cream, I used agartine, a plant-based gelatine substitute that consists of agar agar. I also added peaches, which brings a fruity sweetness to the cake. You can find all the ingredients for this recipe in organic markets, but I'll give you a few notes anyway:
The fruits: You can also use tangerines, berries, nectarines, or any other fruit you like. You can also place the fruits on top of the cream, cut them into small pieces and fold them into the cream or, like me, put them on the sponge cake base.
The cream: To get a firm cream, I mixed Agartine with water and cooked the mixture for at least 2 minutes. After that, I mixed it with the cream made of whipped cream and quark. The Agartine I used contains 25% agar agar. Make sure that you find agartine with a similar percentage of agar agar. If you use less agar agar the cream will not get firm. If you use too much agartine it will be too firm and therefore not creamy anymore.
The Topping: I topped the cake with chopped pistachios. You can also use fruit slices, nuts, or cocoa powder.
We are very happy that Byodo supported us with this recipe. Byodo is a natural food company from Upper Bavaria, which produces exclusively organic products and pays attention to a sustainable and environmentally conscious production. To get a fluffy dough, we have added the Back-Öl Klassik to our dough. The baking oil consists of 100% organic sunflower oil and is particularly heat-resistant and rich in valuable, unsaturated fatty acids due to their mixture of high oleic and linoleic sunflower seeds. It also makes your cake longer fresh, airy and juicy! On each bottle, you find a table with a butter-oil converter. You can use the baking oil as a vegan butter alternative for all types of batters and doughs. You can find Byodo products in organic markets and online. Check more information about the baking oils here.
Vegan Peaches & Cream Cake
12 pieces
60 minutes (+ 30 minutes baking time & cooling time)
Ingredients
sponge cake
225 g of flour
170 g of sugar
250 ml sparkling water
50 ml classic baking oil (e.g. from byodo)
8 g baking powder
8 g of vanilla sugar
peaches
cream
400 ml vegan whipped cream
16 g (2 sachets) of cream stiffener
16 g (2 sachets) of vanilla sugar
200 ml juice from the peach can
30 g agartine
100 g of sugar
800 g plant-based curd
toppings
50 g chopped pistachios (alternatively nuts)
Instructions
baking the sponge cake
Preheat the oven to 180°C/350°F (circulating air).
Mix the flour, sugar, vanilla sugar and baking powder in a large bowl.
Then add the baking oil and mineral water and stir in only briefly.
Grease a cake tin (24cm round spring form) and add the dough. Bake on the medium rack for 25-30 minutes. Let the cake cool down completely.
After the cake has cooled down, remove the cake tin (and the baking paper if necessary) and level the dome of the cake with a sharp knife. Place the sponge cake on a cake plate. Place a cake ring around the cake. If you don't have a cake ring, leave the cake in the cake tin.
Arrange the halved peaches on the sponge cake.
preparing the cream
Whip the vegan cream with cream stiffener and vanilla sugar and store it in the refrigerator.
Mix the peach juice from the can with agar agar in a large saucepan and bring to the boil. It should boil for at least 2 minutes. Stir continuously.
Now take the pot off the stove and stir in the sugar and vegan quark with a whisk.
If the mass has cooled down a bit carefully fold in the whipped cream.
Spread the cream over the peaches (use a cake ring or a cake tin). Let the cake chill in the refrigerator overnight, so the cream becomes firm.
Before serving, remove the cake ring or cake tin and top with chopped pistachios.
More Vegan Cakes & Cookies