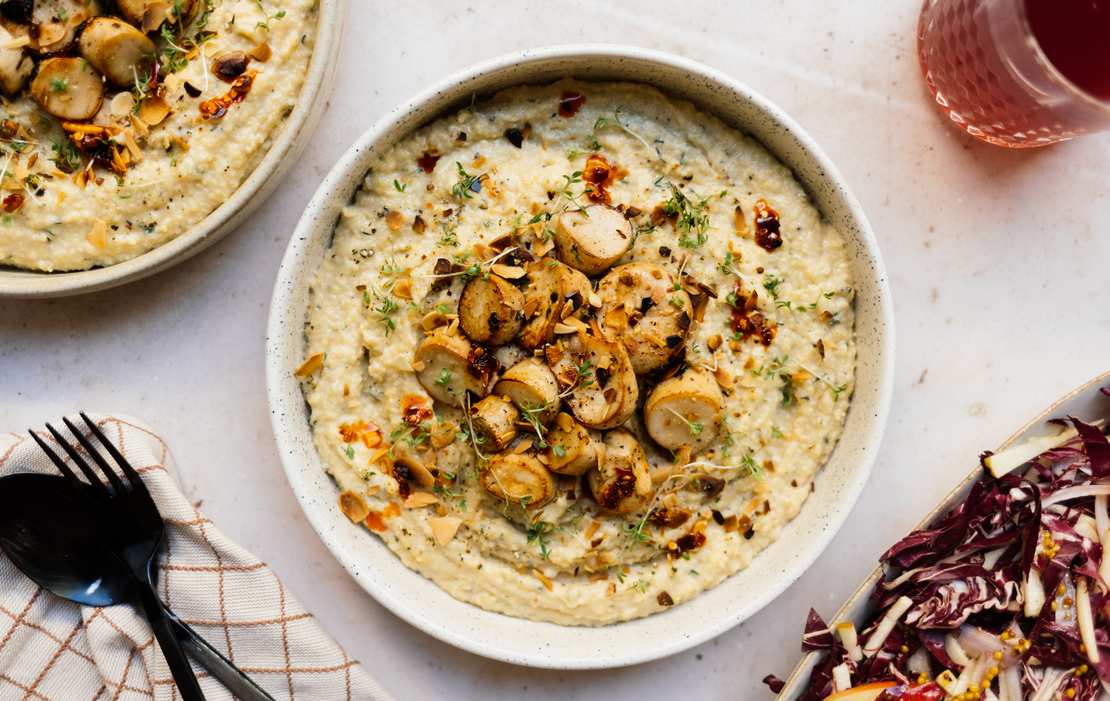 Vegan Herb Polenta with Mushroom Scallops & Radicchio Salad
When I was a child, I liked to eat only three "types" of fish: Canned tuna, canned fish fillets in tomato sauce, and fish sticks. As you can see, the less fishy, the better. Just nothing where you could actually recognize the fish. However, seafood was even more outlandish for me - I find the term seafood itself already strange. Lobster, shrimp, squid, or scallops - all of these are so far away from things I'd like to eat, especially in terms of consistency. That's why I don't even like their vegan alternatives if they come just a little too close to the originals. However, just outside my "pain threshold" are these mushroom scallops, which are along the lines of scallops. I like them quite a bit. They are made of king oyster mushrooms, which by nature have a rather "meaty" consistency. First, they are boiled briefly, then sit in a quick marinade that gives them that sea flavor, and finally sautéed. If you want the original look, just take the mushroom stems, but let's face it, we're not in a luxury restaurant here, so feel free to take the heads of the king oyster mushrooms as well and don't throw them away. They may not look quite as fancy, but they taste just as good.
Scallops may be popular with pasta or eaten plain with a little sauce or salad, but I had a big appetite for polenta. We already have another rather classic recipe for it here and you can find a breakfast version here. Today, however, the polenta gets a good portion of fresh herbs in the form of thyme and rosemary - I use them freshly chopped, but you can also resort to the dried form. You can see the preparation as a rough base, as it's best to look at the package instructions for your cornmeal. For example, preparation times can vary quite a bit - there's even polenta that's cooked in just 2 minutes. The same applies to the ratio of liquid to cornmeal. One usually assumes 4:1, which is why I initially added 600 ml of plant-based milk and cream to 150 g of corn semolina in the recipe. During test-cooking, I ended up adding 200 ml of water, though, when I noticed that the polenta was getting too firm for my taste. So cook intuitively here and add as much water until you like the consistency. Since I wanted the polenta to be as creamy as possible, this recipe uses plant-based milk, even some plant-based cream (a tip from Isa), and vegan butter on top. Of course, if you like it simpler, you can also use just water (or vegetable broth). If you don't like creamy polenta at all, you can also prepare polenta slices by spreading the finished cornmeal porridge in a mold and letting it cool. Afterward, you can cut it into pieces and fry it in a pan.
Mushroom scallops on creamy herb polenta sound like a good meal in itself, but I was missing something fresh. So I made a quick radicchio salad to go with it. Additionally, I served the polenta with toasted almonds, some chili oil (for some spiciness), and cress - this is optional, of course! Just do it as you like it!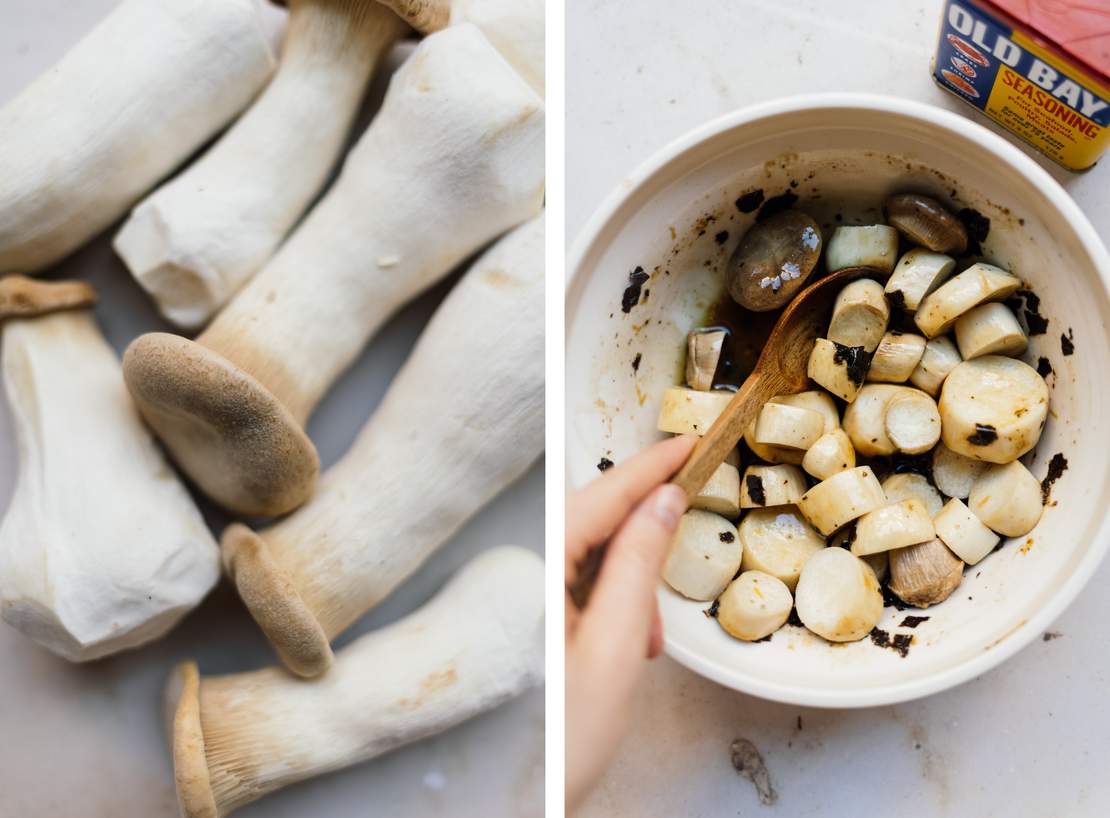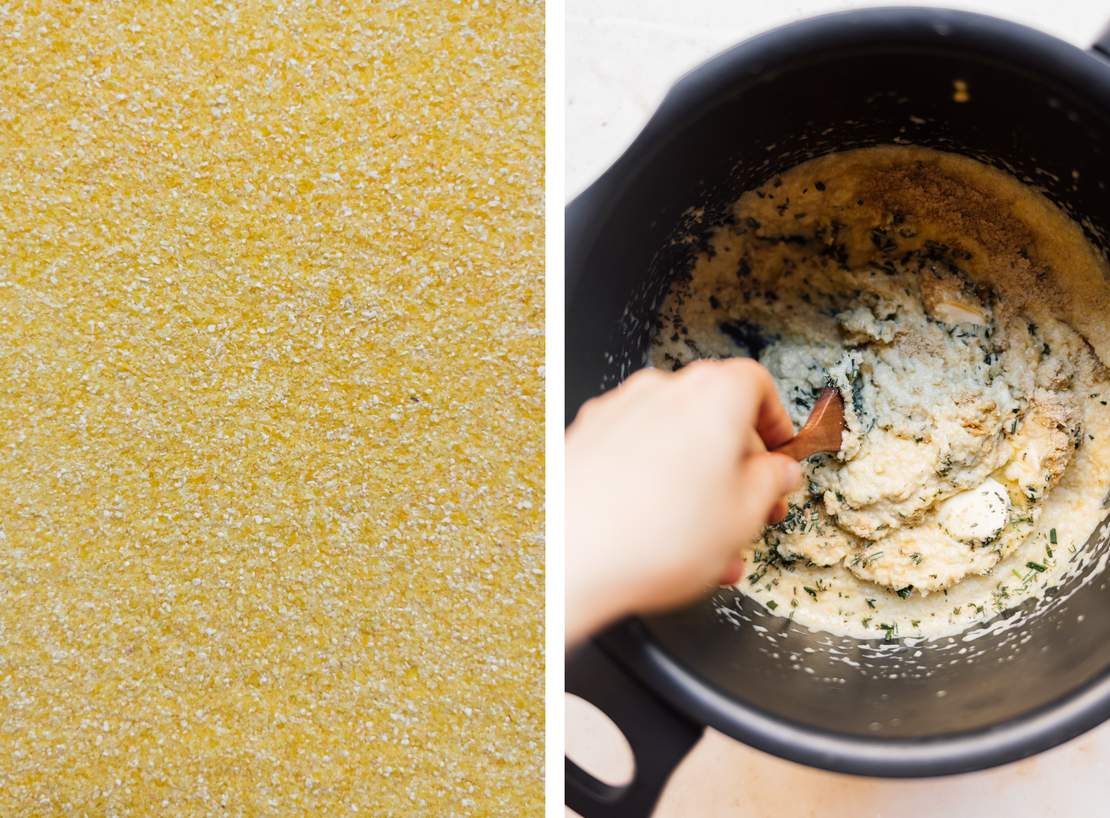 Vegan Herb Polenta with Mushroom Scallops & Radicchio Salad
Ingredients
For the mushroom scallops:
300 g (10.5 oz) king oyster mushrooms
0.5 nori leaf
1 tsp miso paste
2 tbsp olive oil
1 tsp lemon juice
1 tsp lemon zest
1 tsp rice vinegar
1 tsp agave syrup (or sugar)
0.5 tsp Old Bay Seasoning (optional)
1 tsp soy sauce
pepper
vegan butter for frying
For the herb polenta:
500 ml (2 cups) plant-based milk
100 ml (0.5 cup) vegan cream
0.5 tsp salt
150 g (1.25 cups) corn semolina
10 g (0.33 oz) thyme
2 small branches rosemary
3 tbsp vegan butter
3 tbsp yeast flakes
For the salad:
100 g (3.5 oz) radicchio
1 apple
2 shallots
3 tbsp olive oil
1 tbsp apple cider vinegar
1 tsp grainy mustard
2 tsp agave syrup
salt
pepper
To serve:
sliced almonds
chili oil
cress
Instructions
Clean the king oyster mushrooms and cut them into large pieces. Crumble the nori leaf with your hands and mix with miso paste, olive oil, lemon juice and zest, rice vinegar, and agave syrup. Season with pepper and, if you have it, with Old Bay Seasoning.
Tip: Often, the heads of the mushrooms are not used for this dish. They work just as well, but don't end up looking like scallops. So have a heart for mushroom heads and just use them anyway.
Bring a pan of water and soy sauce to a boil. Simmer the mushrooms in it for about 5 minutes over medium heat. Then drain them briefly in a colander, add them to the marinade and let them rest for approx. 15 minutes.

In the meantime, prepare the polenta. Bring plant-based milk and cream to a boil in a saucepan, add salt, and stir in the cornmeal. Simmer over low heat, stirring, until it thickens slightly. It takes about 5 minutes. If it gets too thick, add warm water. Place a lid on the pot and simmer the polenta over low-medium heat for about 20 minutes, stirring frequently. Add more warm water if the consistency gets too thick for you.
Tip: This is only a rough indication of cooking time. Be sure to check the package of your polenta to find out the exact cooking time.
Pluck thyme and rosemary leaves from the stems, chop finely and set aside.

While the polenta is cooking, finely chop radicchio, apple, and shallots and combine them in a bowl. Whisk together olive oil, apple cider vinegar, grainy mustard, and agave syrup and season with salt and pepper. Add the dressing to the salad and toss to combine.

Toast sliced almonds in a fat-free frying pan until golden brown.

Once the polenta is cooked and creamy, remove from heat and stir in chopped herbs, vegan butter, and yeast flakes. Season with salt and pepper, then cover again and let sit for about 5 minutes.

Meanwhile, heat vegan butter (or oil) in a skillet and fry the marinated mushrooms approx. 5 minutes until lightly browned. Season with salt and pepper to taste.

Serve the herb polenta with the mushroom scallops. Finally, sprinkle with toasted sliced almonds and cress and drizzle with chili oil.