Vegan Tarte Flambées 101 - Our 4 Favorite Recipes
What a nonsense to have tarte flambées only in autumn! Spring, summer and winter: it looks like you miss one of the best dishes in the world. A tarte flambée is so changeable, easy to prepare and not that heavy on the stomach – it is, like we said, just perfect. So we really have to bookmark these recipes for the rest of the year, even it's spring, summer or winter. At the time there are a lot of autumn-vibes around us, cause well, it's october, so we HAVE to give you our favorite recipes for tarte flambées. But only if you swear to have them not only this time of the year!
The dough
The most important thing: you need to get a thin and crispy dough in the end. And by the way: you can buy ready-to-cook-doughs now in supermarkets. But it's really easy to do them, so you can have your own dough within minuts. And it's way cheaper and healthier than the manufactured ones.
The creme
Traditionally you use sour creme for your tarte flambées. You can find vegan sour cremes in a lot oh vegan-friendly shops like Veganz, but they are actually quite expensive. So the easiest way to get a perfect, fresh creme is to do it by your own. We do not suggest to use soy cream, cause your tarte flambée won't work that well with it.
The toppings
At this point there are no boundaries anymore. Go crazy and do whatever your hot for! For a classy one, we prepared a tarte with onions and vegan "bacon". But there are also potatoes, figs, pumpkin, apples or berries and they also want to dance on your little tarte-party. You can find our 4 favorite recipes and toppings here: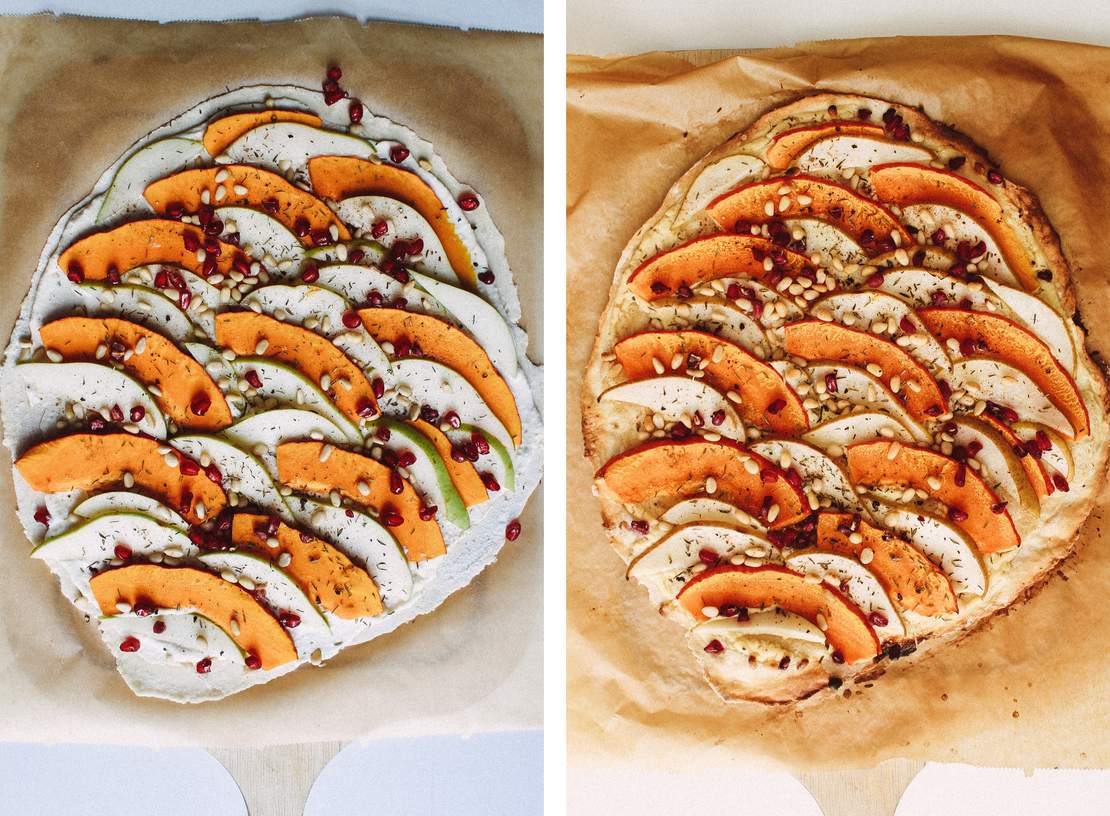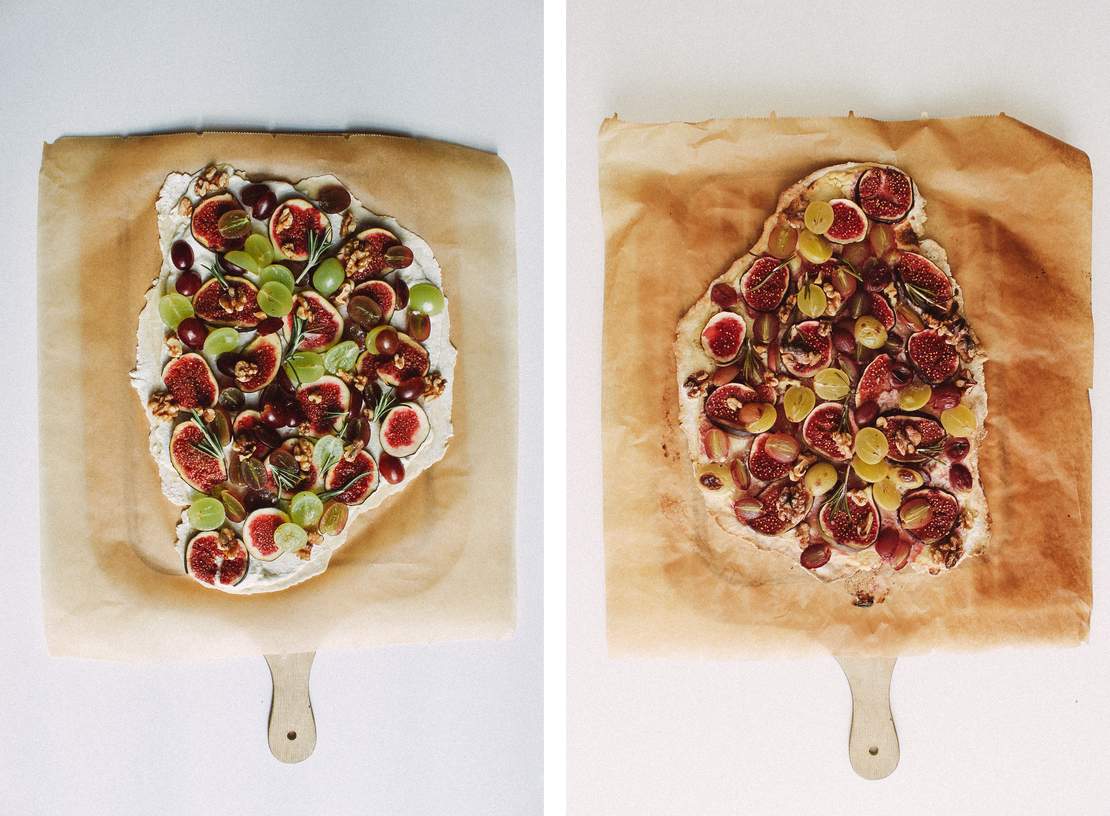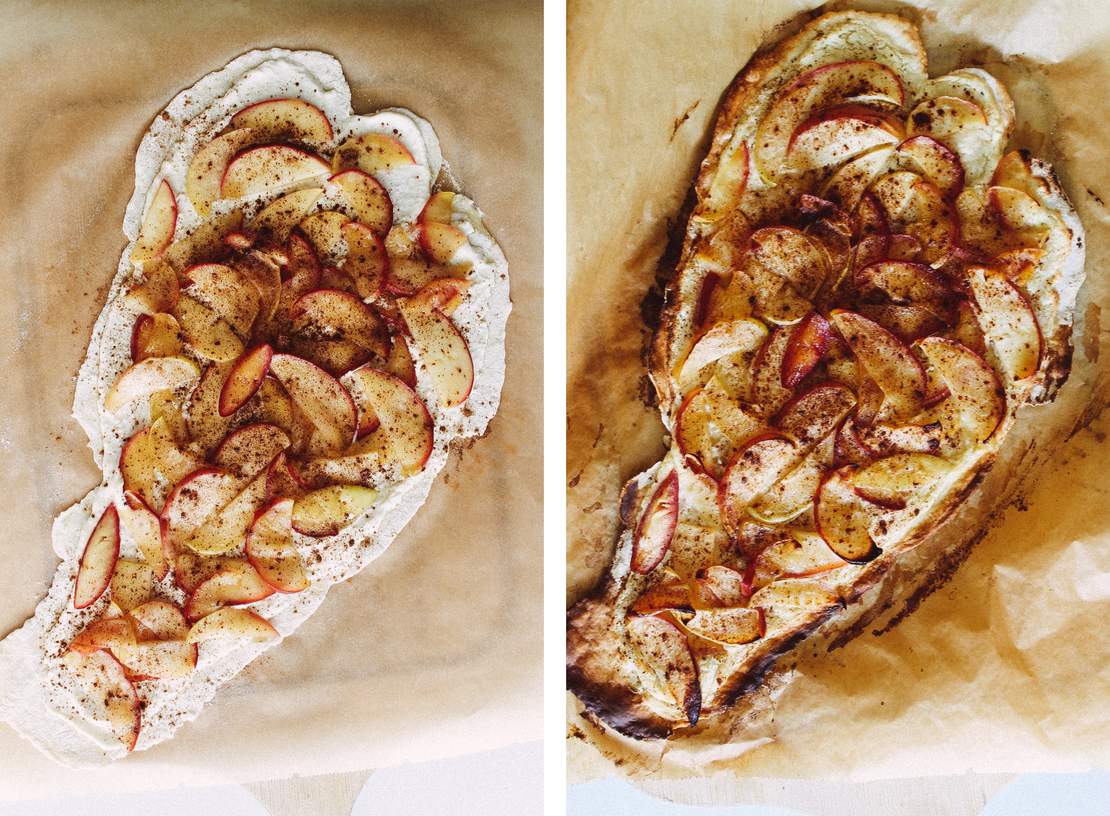 Vegan Tarte Flambée 101
4 Tarte Flambées
ca. 45 minutes each tarte flambée
Ingredients
DOUGH
250 g (2 cups) flour
100 ml (1/2 cup) warm water
2 tbsp oil
1 pinch of salt
CREME
400 g (14 oz) soy curd
150 g (5 oz) vegan cream cheese
200 g (7 oz) silken tofu
1 tsp garlic powder
1 tbsp apple vinegar
1 lemon (juice)
salt
pepper
Onions & Smoked Tofu
3 onions
100 g (3.5 oz) smoked tofu
3 tbsp soy sauce
pepper
Pumpkin & Pear
½ pumpkin
1 pear
1 handful of pine nuts
1/2 pomegranate
3-4 twigs of thyme
1/2 tsp nutmeg
Figs & Grapes
3 figs
1 handful of grapes
1 handful of walnuts
2-3 twigs of rosemary
Caramelized apple slices
3 apples
2-3 tbsp vegan butter
2 tbsp agave syrup
2 tbsp brown sugar
2 tbsp cinnamon
Instructions
BASIC
Mix all your ingredients for the dough in a big bowl and knead until well combined.
Divide your dough in four and roll out on a well floured surface.
For the creme mix all the ingredients in a smaller bowl. Season with salt and pepper.
Spread the cream all over the rolled out dough.
Add your toppings.
Bake at 350° for 10-15 minutes or until golden brown and crispy.
Onions & Smoked Tofu
Peel and dice onions and dice your block of smoked tofu.
Heat oil in a pan and brown onions and tofu.
After 2-3 minutes, deglaze with soy sauce and season with some pepper.
Spread the topping after 3 minutes on your dough and bake!
Pumpkin & Pear
Wash and finely slice pumpkin and pear and spread all over your dough.
Add some pome granate seeds and pine nuts all over.
Top with thyme and nutmeg and bake.
Figs & Grapes
Wash and slice figs and wash and halve grapes. Spread them all over your tarte flambée.
Chop walnuts and top with thyme.
Bake! Bake! Bake!
Caramelized apple slices
Wash and finely slice apples.
Heat vegan butter in a pan and brown apple slices.
Sauté for 2-3 minutes, add agave syrup and sugar and let caramelize.
Add cinnamon and combine everything well for 2-3 minutes.
Spread the mixture all over your dough and bake.