Carrot Tart with Puff Pastry and Vegan Feta Cheese
Welcome to the much-anticipated week of vegan cheese alternatives, in which we'll show you seven plant-based "cheese" recipes. Some of them are a snack on their own, while others are just waiting for you to use them in your favorite recipes. To kick off the week, however, we're showing you a full recipe using homemade vegan feta cheese that is based on nuts. You may already know our vegan feta cheese made with tofu, but we wanted a soy-free version for today's recipe.
I've tested several recipe ideas. Some of them were based on coconut oil, and while they were initially promising, they didn't convince me in terms of taste. Plus, since the vegan feta cheese in this recipe will be baked, it needs to withstand high temperatures, but coconut oil melts pretty quickly, so these tests ended up being rather unappetizing. This is why I ended up with a quite free interpretation of vegan feta cheese, which I love nonetheless! It's based on blanched almonds and cashews – a combination you may already know from this basic recipe of us. This time, however, our vegan feta cheese isn't left to rest overnight but firms up thanks to agar-agar. You could eat it right away, but I actually think it tastes best once it's baked.
Now, all we need is a comfy bed for our vegan feta cheese! We decided to make a colorful carrot tart with crispy vegan puff pastry and a no-waste cream, for which we will use the carrot greens directly. No worries, we won't make it unnecessarily complicated today, so instead of making homemade puff pastry, we're happy that "Tante Fanny" already did the work for us and sells fresh vegan puff pastry. All you need to do is to roll it out, top it, and bake it. We can only recommend you to always keep one of these doughs in your fridge as you can use them for savory or sweet dishes. Whether you use it for a savory tart like today (which you could top with any vegetables of your choice) or for sweet snacks like homemade apple pockets – they always come in handy when you don't want to make a time-consuming effort in the kitchen.
And if you think that this vegan puff pastry is already practical, just look at how many vegan doughs "Tante Fanny" offers – we ourselves were quite surprised by this large selection. From pizza dough, strudel dough, and yufka dough to tarte flambée and croissant dough, you should find the matching dough for every recipe you have in mind. Plus, if you live in Germany, they have a special feature on their website which you can use to quickly find out in which supermarket in your area you can buy their doughs.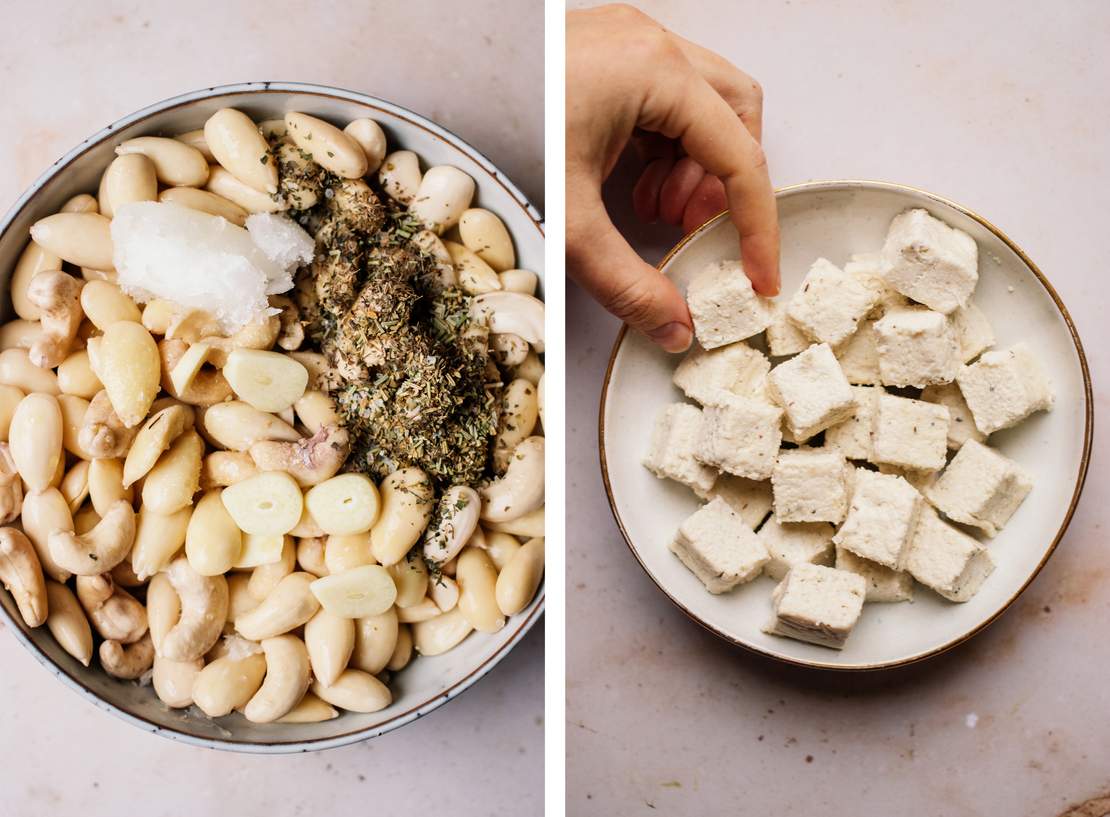 Carrot Tart with Puff Pastry and Vegan Feta Cheese
1 puff pastry sheet
30 minutes (+35 min. baking time + soaking and cooling time)
Ingredients
For the vegan feta cheese:
100 g (3.5 oz) blanched almonds
50 g (2 oz) cashews
1 tsp lemon juice
1 tbsp olive oil
1.5 tbsp coconut oil
1 garlic clove
2 tsp dried herbs (e.g. oregano, rosemary, thyme, and basil)
30 g (1 oz) agar-agar
75 ml (0.33 cup) water
salt
For the crust:
1 puff pastry (e.g. spelt puff pastry by Tante Fanny)
For the carrots:
750 g (1.66 lbs) colorful carrots
2 tbsp olive oil
1 tsp maple syrup
salt
pepper
For the cream:
150 g (0.66 cup) plant-based unsweetened yogurt
20 g (1 oz) carrot greens
1 garlic clove
salt
pepper
Also:
walnuts
fresh parsley for serving
Instructions
Add blanched almonds and cashews to a bowl and cover with warm water. Let soak for approx. 1 hour, then drain and rinse nuts under clear water.
Tip: If you can't find blanched almonds, you can peel almonds yourself: bring a pot of water to a boil, add almonds, and let them simmer for approx. 2-3 minutes. Drain and rinse under cold water. Afterward, you're able to push the almonds out of their skin easily.
Add soaked blanched almonds and cashews, lemon juice, olive oil, coconut oil, garlic, dried herbs, and a pinch of salt to a liquid measuring cup, and blend until smooth.

Add agar-agar and water to a small pot and bring to a boil. Let the mixture simmer for approx. 2-3 minutes, then add it to the nut mixture and blend once more. Transfer the mixture to a baking dish lined with plastic wrap, smooth out, and let cool down in the fridge for a few hours or overnight until the mixture is rather firm.

Preheat oven to 200°C/390°F circulating air. Remove vegan puff pastry from the fridge and let it warm at room temperature for approx. 10 minutes. In the meantime, halve carrots (if they should be quite thick, feel free to quarter them or cut them into thicker slices) and add them to a lined baking sheet. Mix olive oil and maple syrup, and season with salt and pepper. Brush carrots with the mixture and let them bake for approx. 15 minutes to soften them. Roll out vegan puff pastry and transfer it to a second lined baking sheet. Score the dough approx. 1 cm / 0.4 inches from the edge, but don't cut it through. Pre-bake puff pastry for approx. 5 minutes.

In the meantime, finely grate garlic for the cream. Blend plant-based yogurt, carrot greens, and grated garlic until smooth and season with salt and pepper to taste.

Remove puff pastry and carrots from the oven. Spread the cream on top of the pre-baked puff pastry, add carrots, and sprinkle vegan feta cheese and walnuts on top. Brush the edges of the puff pastry with olive oil. Bake for another 20 minutes, or until the vegan puff pastry is golden brown and the carrots tender. Serve with freshly chopped parsley on top.
More Vegan Brunch Recipes