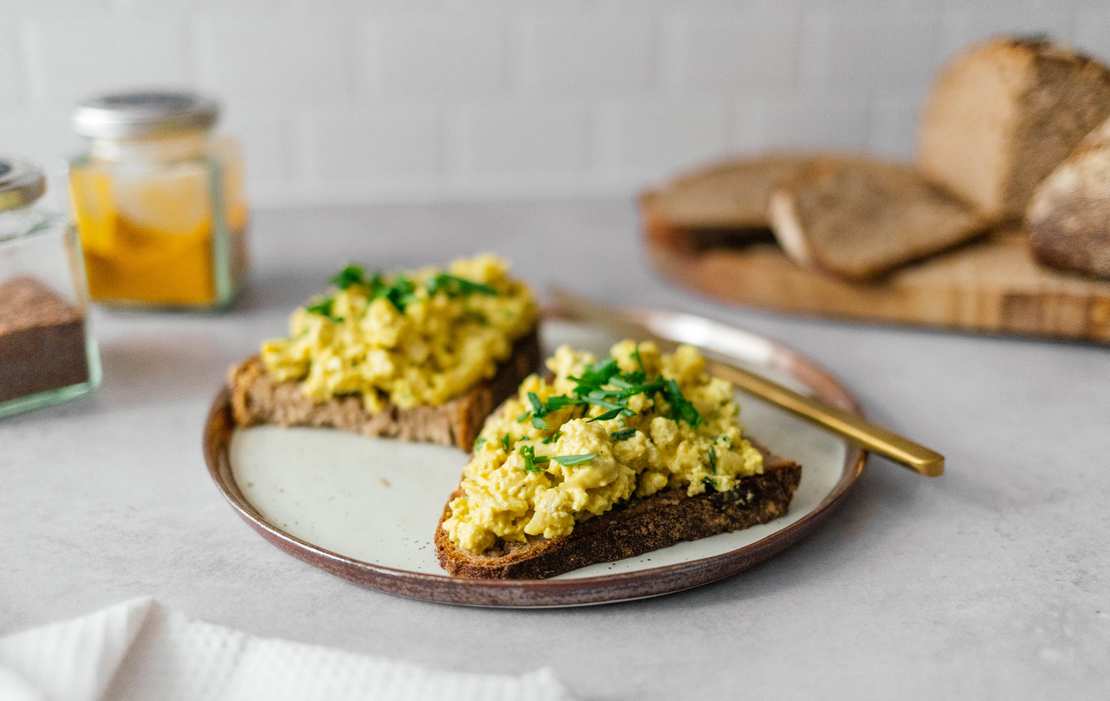 I used to be the egg salad lady at family gatherings. I don't know why, though, because I was not too fond of mustard and mayo back then, only in combination with egg salad. Today I can't stop eating vegan mayo and mustard, but no more eggs. I guess you can't please everyone.
There are a few ways to make vegan egg salad. I used to like the simplest version with just tofu the best, but over time I've experimented with other ingredients like chickpeas and cooked pasta. And so our recipe changed again for our cookbook, by adding macaroni. I ate this for the first time thanks to Björn Moschinski's vegan egg salad recipe. Nothing else has changed in the rest of our previous recipe - we just don't use tofu alone anymore but have replaced some of it with cooked pasta , which are chopped up until they are slightly chunky. For this, you should use a noodle with some "volume" - spaghetti, for example, wouldn't be the best idea.
In the end, it doesn't matter whether you use tofu, cooked pasta , or chickpeas for your vegan egg salad - as long as you use Kala Namak! The Indian black salt is available in organic food stores and larger supermarkets and tastes AND smells suspiciously like egg. We can't live without it anymore.
Preparing the salad a day in advance so it can soak in the fridge is best. his patience will definitely pay off in the end! Taste again before serving it since the flavor can change overnight.
The vegan egg salad is perfect for any brunch, an extensive snack, and any other time of day when you feel like egg salad! However, if you're looking for more inspiration for brunch or snack recipes, we have plenty more ideas: How about vegan grainy cream cheese, vegan ground pork, vegan cream cheese or vegan obazda?
Vegan Egg Salad
approx. 350 g (12.33 oz) of vegan egg salad
25 minutes
Ingredients
100 g (3.5 oz) macaroni (or other short tubular pasta)
200 g (7 oz) natural tofu
1 tsp ground turmeric powder
1 tbsp mustard
5 tbsp vegan mayonnaise
10 g (0.33 oz) chives
1 tsp kala namak / black salt
salt
pepper
Instructions
Bring salted water to boil and cook the macaroni al dente according to package directions.

In the meantime, crumble the natural tofu in a bowl and mix it with turmeric, mustard, and vegan mayonnaise. Finely chop the chives and add to the mixture.

Drain the pasta and briefly rinse them under cold water. Then grind them with a blender until they are still slightly chunky. Add the chopped pasta to the bowl as well.

Season the vegan egg salad with salt, pepper, and Kala Namak. Then let it sit in the refrigerator overnight.