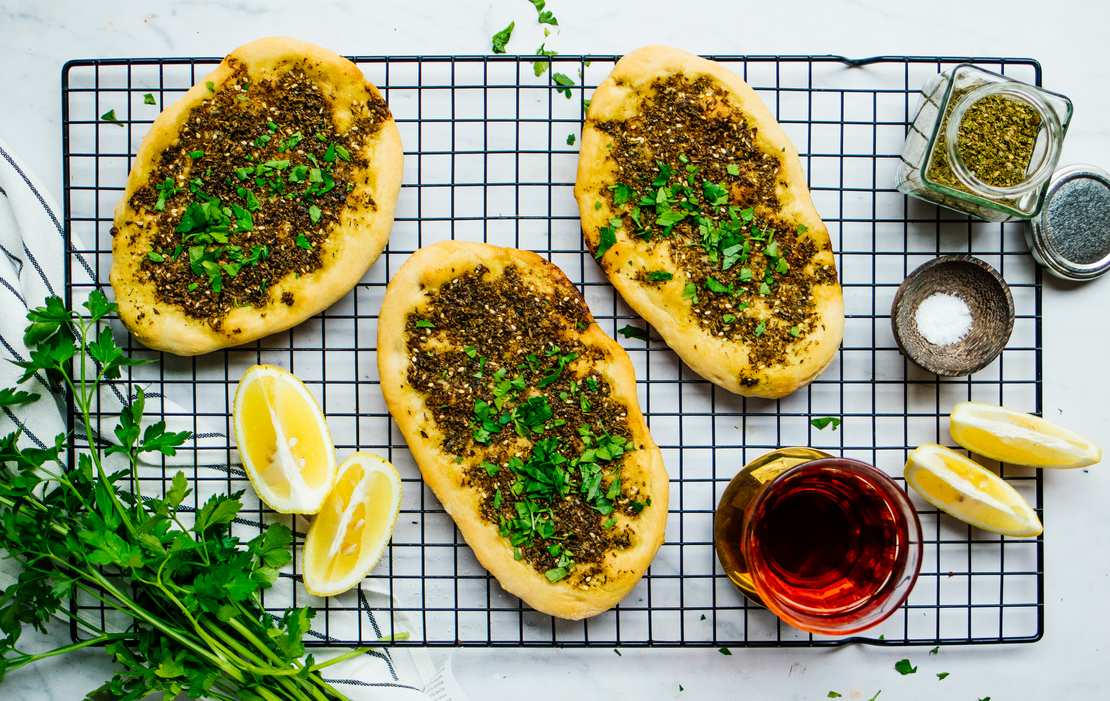 Vegan Manakish with Za'atar
Here in Berlin, we're surrounded by diverse cuisines and cultures. Whether you're looking for Cuban, Sri Lankan, Arabic, or Chinese food – one is spoilt for choice. We regularly scan the menus of a wide variety of restaurants to find vegan dishes. Over the years, we've developed a special affection for the Arabic cuisine and now know quite well which dishes we can order without hesitation. This includes not only hummus, falafel, foul, stuffed vine leaves, and mujaddara but also manakish.
Manakish originate in Levantine cuisine and are Lebanese flatbreads made from yeast dough. Manakish can be topped with cheese, meat, or tomatoes, but we prefer the ones with za'atar, which is why we want to introduce it to you today. Za'atar is a spice mixture that's mainly used in Arabic and North African cuisine. The main ingredients of the mixture are dried leaves of Syrian hyssop (a wild type of thyme), sesame seeds, sumac, and salt. We like to buy za'atar in Arabic supermarkets, but you can also find it in "regular" supermarkets.
So how do you prepare manakish at home? It all starts with the yeast dough, of course, and for this, we used the "Titanium Chef Patissier XL" stand mixer from Kenwood. With a few clever built-in features and programs, you can save yourself some time and energy. The stand mixer has an integrated "EasyWeigh scale" which weighs all ingredients directly inside the mixing bowl. Afterwards, you can select the "knead dough" program via touch screen which helps you to knead a super smooth yeast dough without any effort. But our favorite function is actually the rising function for dough. With this function, the bowl heats up to the ideal temperature to ensure that the dough is rising optimally which works faster than at room temperature. Once the yeast dough has doubled in volume, we top it with a thick paste of za'atar and olive oil. After only ten minutes of baking, the manakish are ready-to-eat.
We highly recommend serving these manakish with chopped parsley and fresh lemon juice which add some freshness. They taste best when you serve them fresh from the oven when they are still warm, but you can enjoy them even after a few hours. Still, we recommend to eat manakish within 24 hours as the yeast dough can get a bit dry afterwards. If you want to prepare them ahead of time, prepare the yeast dough the day before, then let it rise overnight in the fridge. The next day, add toppings and bake the flatbreads. Manakish are eaten for breakfast or lunch, but are also a great snack to go, for a picnic, or a barbecue.
Vegan Manakish with Za'atar
4 servings
30 minutes (+ 60 minutes to rise)
Ingredients
For the yeast dough:
150 ml (0.66 cup) warm water
4 g (1 tsp) active dry yeast
1 tsp sugar
250 g (2 cups) flour (type 550)
1 tsp salt
2 tbsp olive oil
For the topping:
For serving:
Instructions
For the yeast dough, add warm water, sugar, and active dry yeast to the bowl of a stand mixer. Let the mixture sit for approx. 5-10 minutes.

Add flour, salt, and olive oil, then knead for approx. 5 minutes. Remove the dough attachement from your stand mixer and let the dough rise for approx. 60 minutes, or until doubled in volume.
Tip: We prepared the dough in the "Titanium Chef Patissier XL" stand mixer from Kenwood and could use the programs "knead dough" and "let dough rise" (level 3) which saved us a lot of time and energy. It helped us with kneading and resting the dough with its self-heating bowl that creates the perfect temperature conditions.
As soon as the dough has doubled in volume, preheat the oven to 200°C/390°F (top and bottom heat). Divide the dough into four equal-sized pieces. Dust a working surface with flour and roll out each part of the dough until it's approx. 1 cm/0.4 inches thick. Transfer them to a lined baking sheet and use your fingertips to dimple the surface.

Mix za'atar and olive oil in a bowl until you get a thick paste. Spread the mixture on top of the flatbreads, then bake at 200°C/390°F for approx. 10 minutes. Serve directly with a drizzle of fresh lemon juice and sprinkle with finely chopped parsley.