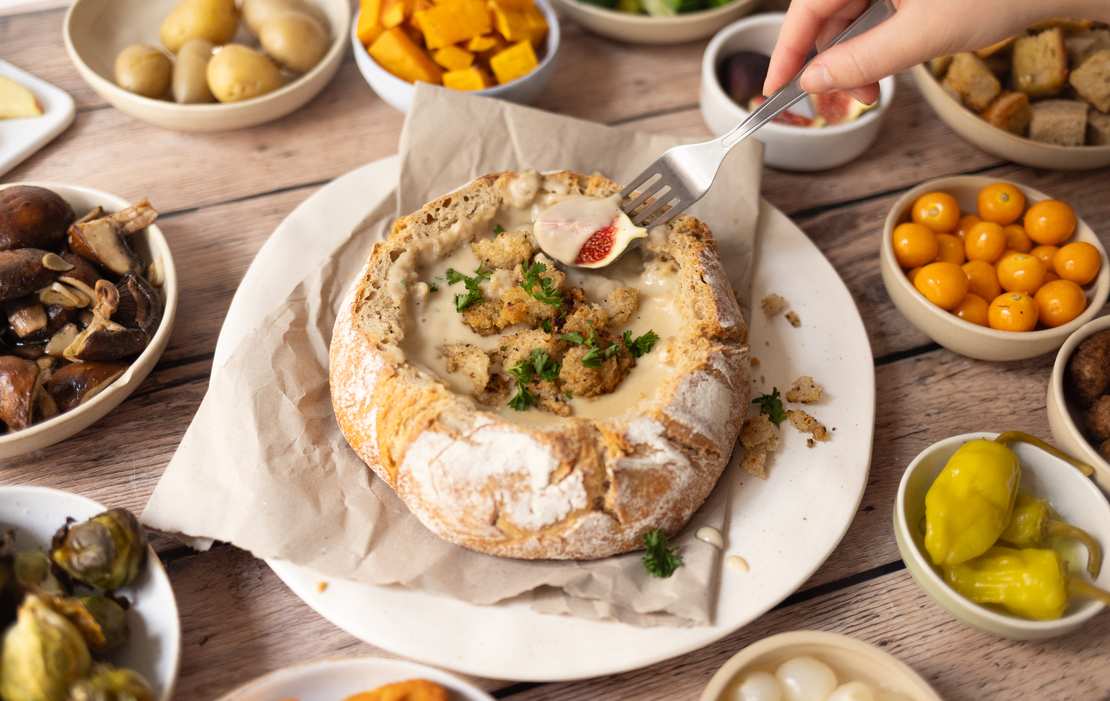 Vegan Cheese Fondue from Bread with Crunchy Topping
Summer, sun, and sunshine are all good, but what about dumplings, casseroles and vegan roasts? We may miss summer, but we're already looking forward to all the culinary highlights of the winter season. And there's one specialty we're particularly looking forward to – vegan cheese fondue! Because after a quick dip in a creamy, vegan cheese sauce, everything tastes better. All is well and good, but how do you prepare vegan cheese fondue? We're taking a shortcut this year and using the new La Fondue Vegan the award-winning cheese fondue from New Roots, a small company from the heart of the Swiss Alps. Not only is the fondue ready in five minutes, but it tastes so incredibly good that it's just as quick to polish off (at least in our office). It's really nice and creamy and tastes quite deliciously cheesy. The fondue is traditionally made and fermented in the Swiss Alps. Since it's made with organically grown cashews, you can save yourself the fondue nap afterward since it's rich but easy to digest! You can buy the fondue here.
We serve the fondue in a bread bowl for that extra wow factor (and to save some washing up, ha!). To do this, simply scoop out an entire loaf of bread and re-bake it in the oven so it doesn't get soggy. For the same reason, you should also use dark, fine-pored bread for your "bowl." The fondue may spill out if you use very loose, fluffy bread. We then conjure up a crunchy topping from the inside.
The fondue is ready, but what do we dip into it now? We prefer a wide selection, so we can sometimes run out of room on the table. Cooked broccoli, potatoes and breadcrumbs are simply part of the cheese fondue, but have you tried croquettes, artichoke leaves or physalis? If not, you should change that as soon as possible. We also love any form of oven vegetables, such as baked Brussels sprouts, beetroot or pumpkin. Many fruits, such as figs, apples or persimmons, are also great. Pickles such as mild jalapenos or silver onions also work well. There are no limits to your freedom here. So get to the bread and bring on the fondue!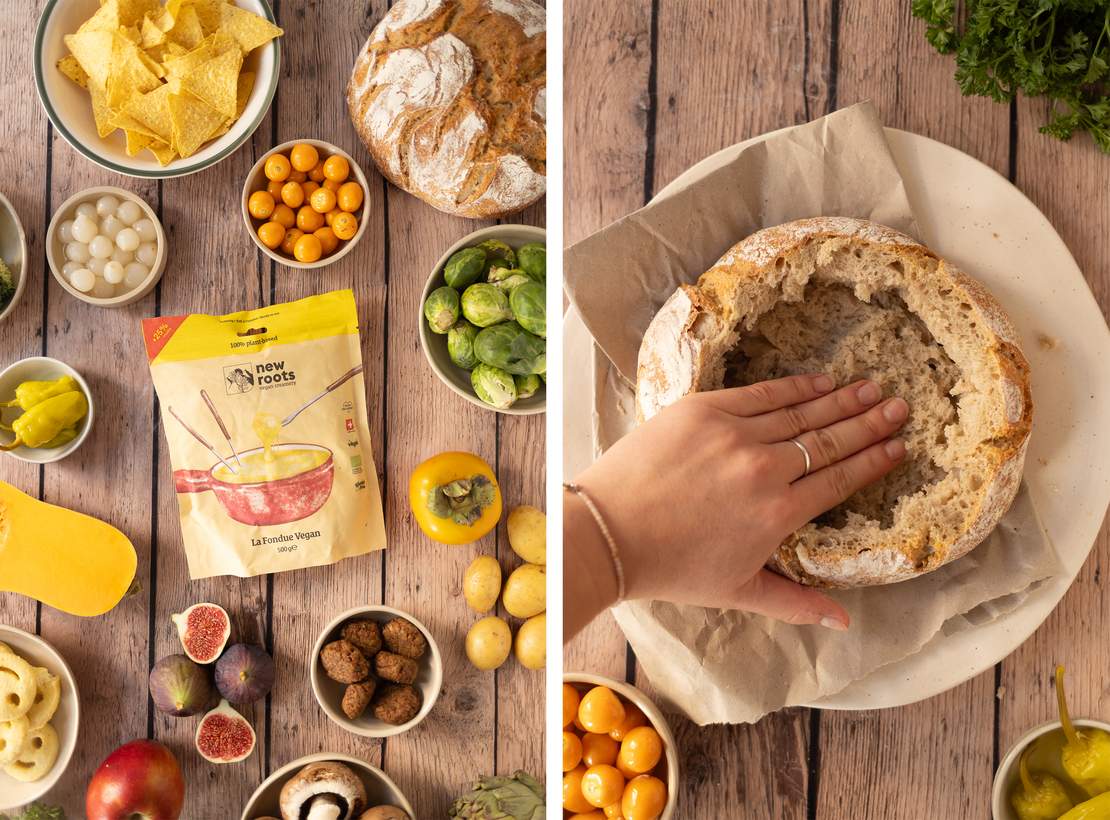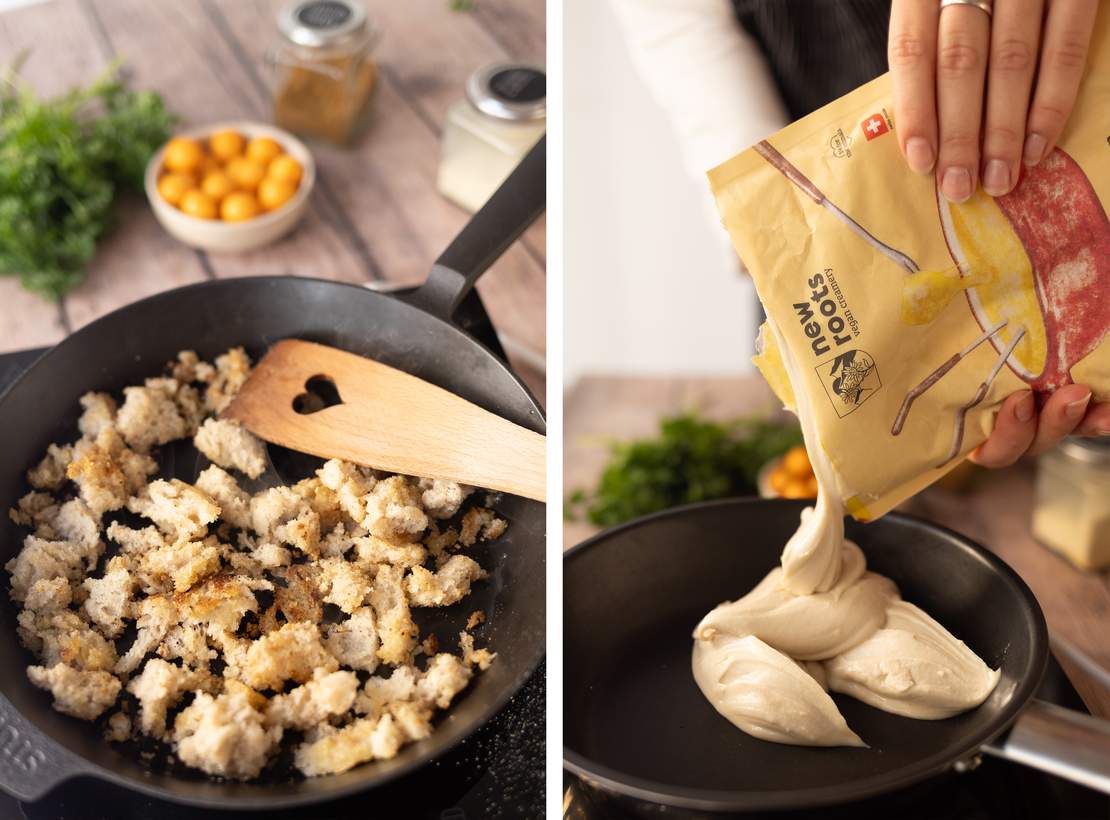 Vegan Cheese Fondue from Bread with Crunchy Topping
Ingredients
For the fondue:
1 round, fine-pored bread
1 tsp onion powder
0.5 tsp garlic powder
0.5 tsp cumin
1 vegan cheese fondue (e.g. from New Roots)
olive oil (for frying)
salt
pepper
For the side dishes:
broccoli (blanched)
artichoke cooked
mushrooms (sautéed)
potatoes (boiled)
jalapenos
silver onions
oven vegetables (e.g. pumpkin, sweet potato, Brussels sprouts, beet)
persimmon (sliced)
apple (sliced)
figs
physalis
tortilla chips
bread cubes
croquettes (baked)
Instructions
Preheat oven to 180 °C / 355 °F (convection heat). Cut the top of the loaf horizontally with a bread knife. Remove the inside of the bread so that the wall of the loaf is still about 1 cm thick. Bake the bread shell for 10 minutes at 180 °C / 355 °F.
Tip: You can dice the top of the loaf and dip it into your fondue.
For the crunchy topping, crush the inside of the bread by hand. Then fry the crumbs in a skillet with plenty of olive oil for 5–7 minutes on medium heat until crispy. Season with onion powder, garlic powder, cumin, salt and pepper.
Prepare side dishes of your choice. Then heat the cheese fondue on the stove over medium heat and pour into the bread bowl. Cover the fondue with the crispy topping and serve with garnishes of your choice.