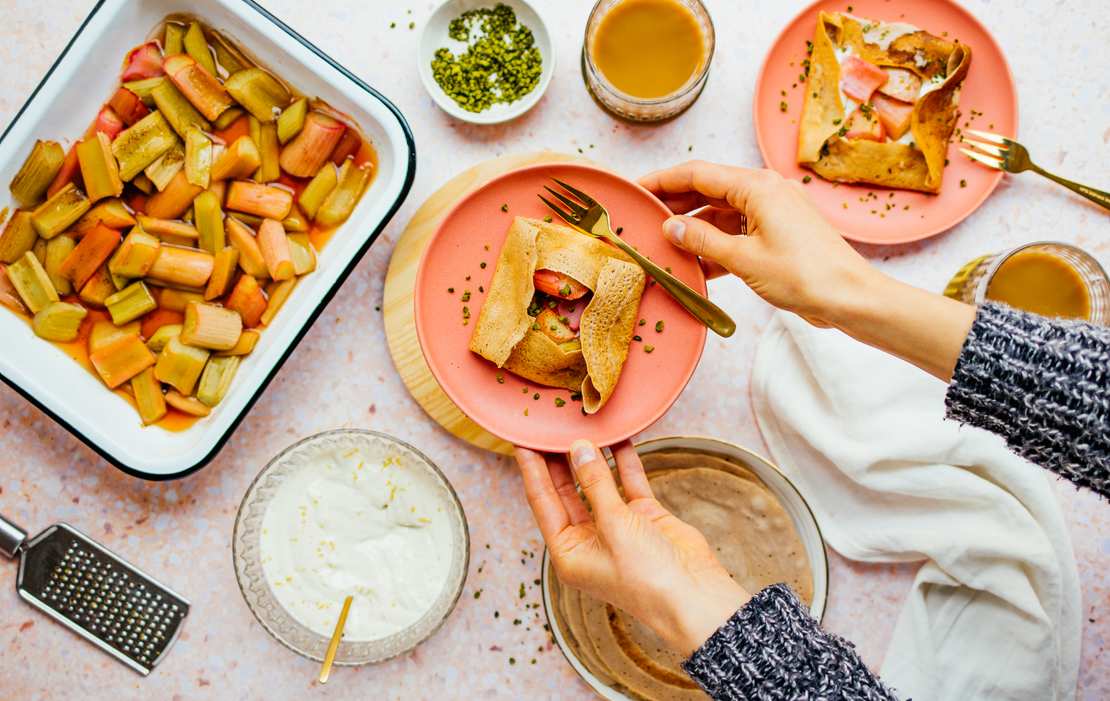 Vegan Buckwheat Galette with Rhubarb
We already have a few galettes on the blog – you may have baked our vegan galette with nectarines, plums and blackberries, with pear and persimmon, and the savory version with tomatoes. They are all baked with shortcrust pastry, but this time everything will be a bit different.
When you search for a "galette" online, you will find two completely different dishes. One variant is made with shortcrust pastry, as described above, and is often filled in a rustic way with sliced fruit or vegetables. Variant two, on the other hand, is completely different: a very thin pancake, beautifully folded and usually served with a fried egg. This "Galette Bretonne" comes from France and is a kind of thin crêpe made from a fermented buckwheat batter. The dough is vegan... except for the fat paste called "lardigenn", which consists of a mixture of lard and egg and which French people swear by when greasing the pan. I still shudder at the thought of it. We will skip this secret ingredient and instead just go for a simple non-stick frying pan. In the original recipe, the galette is filled savory with ham, cheese, eggs, or mushrooms. But here comes our sweet and seasonal interpretation with rhubarb and a delicious vanilla cream.
A few more notes on the recipe:.
In the original recipe, the buckwheat batter is fermented. To do this, let it sit in your fridge for at least 1-2 days, or at room temperature overnight. This provides even more flavor, but the crêpes can also be prepared directly.
We bake the rhubarb in the oven – a convenient way of preparation, where you just have to throw everything together. While it's baking, you can bake the galettes and whip up the vanilla curd.
The buckwheat batter is baked only on one side. We use a non-stick frying pan for this, but if you don't have one, just be sure to grease the bottom of your pan well.
This recipe is really quick and leaves a lot of room for adjustments. You prefer it even sweeter? No problem. The rhubarb compote, batter, and vanilla curd can be seasoned to your taste, so the amount of sugar can be adjusted. Feel free to swap out the rhubarb for strawberries, stone fruits like peaches, and even apples or pears. If you prefer it savory, feel free to try a hearty version.
I think my next project will be a vegan version of the French original. After all, there's already a recipe for vegan fried eggs on the blog. If you test it, feel free to share your experience with us in the comments!
Vegan Buckwheat Galette with Rhubarb
4-6 small galettes
15 minutes (+ 18 minutes baking time)
Ingredients
For the baked rhubarb:
500 g (1 lb) rhubarb
8 g (1.5 tsp) bourbon vanilla sugar
50 g (0.25 cup) cane sugar
For the batter:
150 g (1 cup) buckwheat flour
0.5 tsp salt
1 tsp bourbon vanilla sugar
300 ml (1.25 cups) water
For the topping:
400 g plant-based curd
8 g (1.5 tsp) bourbon vanilla sugar
2 tbsp cane sugar
1 lemon (zest)
pistachios
Instructions
Preheat oven to 180°C/355°F (top and bottom heat). Wash rhubarb and cut it into larger chunks. Mix rhubarb with vanilla sugar and cane sugar. Transfer to a baking dish and bake rhubarb for approx. 18 minutes on the middle rack of your oven.

Add buckwheat flour, salt, vanilla sugar, and two thirds of the water to a bowl. Beat with a hand mixer until foamy, stirring in the remaining water. Keep mixing for approx. 10 minutes.

Heat a non-stick frying pan over medium heat. Add the batter ladle by ladle to fry galettes. Pour a ladle of the batter into the pan and spread it out evenly. Fry until the bottom side of the galette is crispy, browned, and comes off the pan easily. Don't flip the galette, but only fry it from one side. Remove the galette from the pan and repeat this step with the remaining batter.

For the topping, add plant-based curd, vanilla sugar, and cane sugar to a bowl and your hand mixer to beat until airy. Season with lemon zest to taste.

Transfer a buckwheat galette on a plate. Spread some of the vanilla curd in the center and top it with baked rhubarb. Fold the galette from the top, bottom, left, and right side to cover some of the filling. You should get a rectangle and still see the filling in the center of your galette. Sprinkle with chopped pistachios, if desired.
More Vegan Recipe with Rhubarb