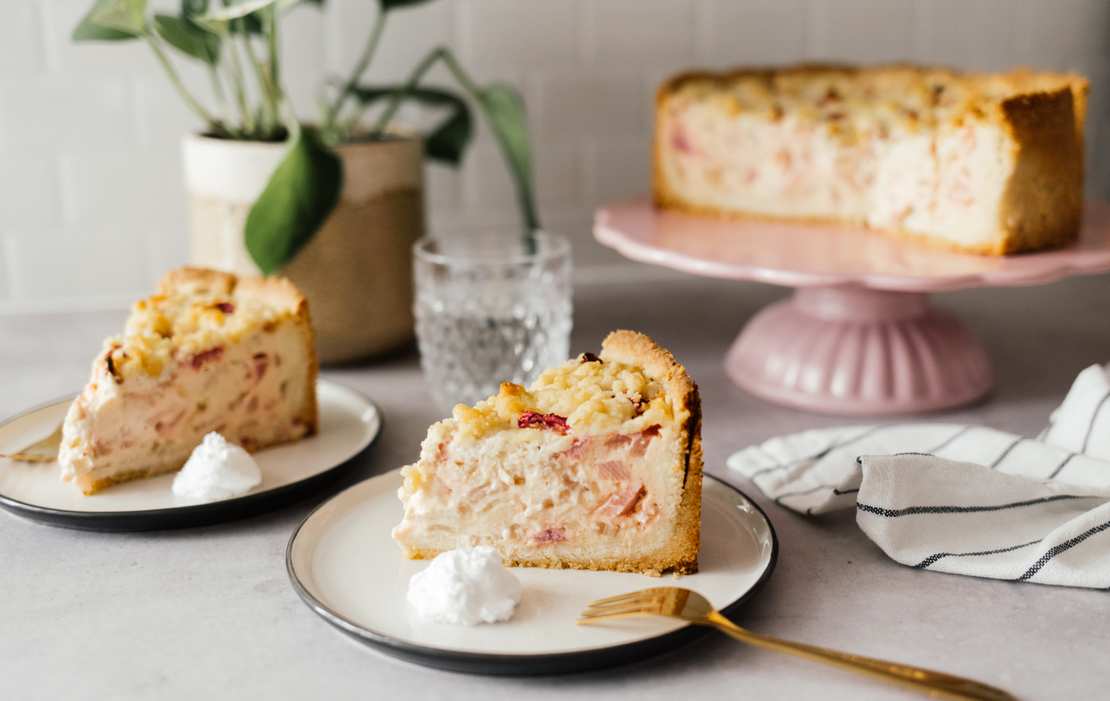 Vegan Rhubarb Crumble Cheesecake
When I develop cake recipes, I like to do it according to the building block principle. There are usually four components that I go through one by one: dough, filling, fruit, and toppings. Some cakes only need two or three components, some all four or even more. The hardest part during the process is usually making decisions: yeast dough, shortcrust pastry, or sponge dough? Cheesecake filling, custard filling, or cream cheese filling? Strawberries, peaches, or rhubarb? Who can make a decision here? Not to mention the sheer endless topping possibilities...
In this vegan rhubarb curd crumble cake recipe, I opted for a shortcrust pastry, a cheesecake cream, rhubarb, and a crumble topping. If you wonder whether you can make the cake with other fruit components, a chocolate shortcake, or without sprinkles on top? Absolutely!
But before we get started, I have a few hints for you:
Flour: In the recipe, we use the all-rounder wheat flour type 405, but you can also use spelt flour type 630. If you use whole wheat flour, you may need to add a little more moisture to the dough, otherwise it will be too crumbly. You can adjust this intuitively.
Vegan skyr: We like the cake best with vegan skyr. Skyr is a milk product from Iceland which has the consistency of strained yogurt, but a milder flavor. In case you don't find any skyr just use plant-based curd or yogurt. Just remember: The fattier the curd or yogurt, the creamier the cake filling will be. If you like it even crazier, you can also reach for a plant-based curd or yogurt with vanilla flavor or a fruit component.
Vegan margarine: To get a firm but smooth dough, we use vegan margarine, which you can also get in almost any supermarket. However, we don't mean plant-based butter, which is firm and really looks like butter. For the dough, it's best to use a creamier version that has a much softer consistency.
If you follow these instructions, your rhubarb-quark crumble cake will be just perfect!
Vegan Rhubarb Crumble Cheesecake
1 springform pan (∅ 26 cm / 10 inches)
45 minutes (+ 60 minutes baking time)
Ingredients
For the dough:
425 g (3.5 cups) wheat flour type 405
120 g (0.5 cup) sugar
8 g (1.5 tsp) baking powder
8 g (1.5 tsp) vanilla sugar
1 pinch of salt
250 g (2.25 sticks) vegan margarine
For the vegan curd layer:
150 g (1.33 sticks) vegan margarine
74 g (2.66 oz) vanilla pudding powder
100 ml (0.5 cup) plant-based milk
800 g (28.25 oz) plant-based skyr
50 g (0.25 cup) sugar
Also:
500 g (17.66 oz) rhubarb
vegan margarine for greasing
Instructions
For the dough, mix flour, sugar, baking powder, vanilla sugar, and salt in a bowl. Add the vegan margarine and knead with your hands until you get a smooth dough. Grease a springform pan (∅ 26 cm / 10 inches) with vegan margarine.

Add half of the dough into the cake pan and press firmly with your fingers to form an even crust. Next, form three-quarters of the remaining dough into several long rolls and press them against the edge of the cake, creating a high rim. Connect the rim of the cake well to the bottom crust. Refrigerate the remaining dough. It will end up as crumbles on top of the filling.

For the filling, melt vegan margarine and mix vanilla pudding powder with plant-based milk until smooth. Mix vegan skyr, melted margarine, sugar, and the vanilla pudding powder mix in a large bowl until smooth.

Preheat the oven to 180°C/355°F (convection heat). Wash the rhubarb, trim the dry ends, and cut the rhubarb stalks in half or quarters lengthwise, depending on how thick they are. Cut the rhubarb into pieces about 1 cm (0.4 inches) thick and mix 400 g (14 oz) of it into the curd filling.

Pour the vegan curd filling into the springform pan and spread the remaining 100 g (3.5 oz) rhubarb and crumbles on the filling. Bake the cake at 180°C/355°F (convection heat) for 60 minutes and let it cool out completely before cutting. The cake will keep in the refrigerator for up to five days.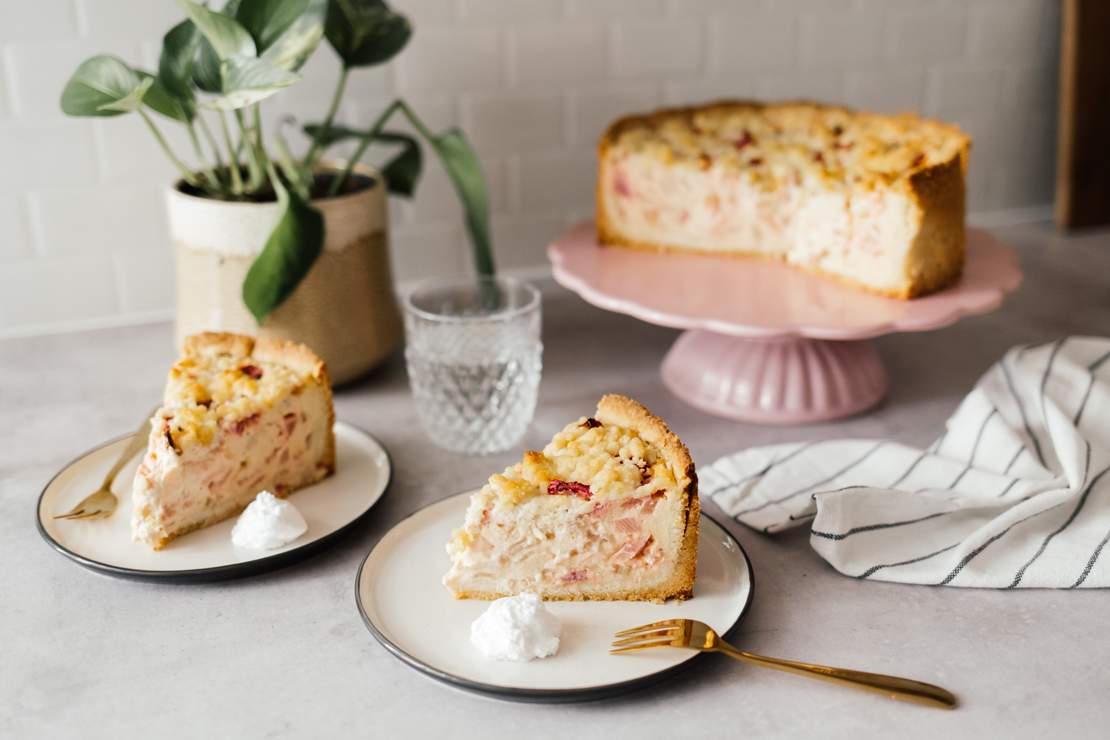 More Vegan Recipe with Rhubarb