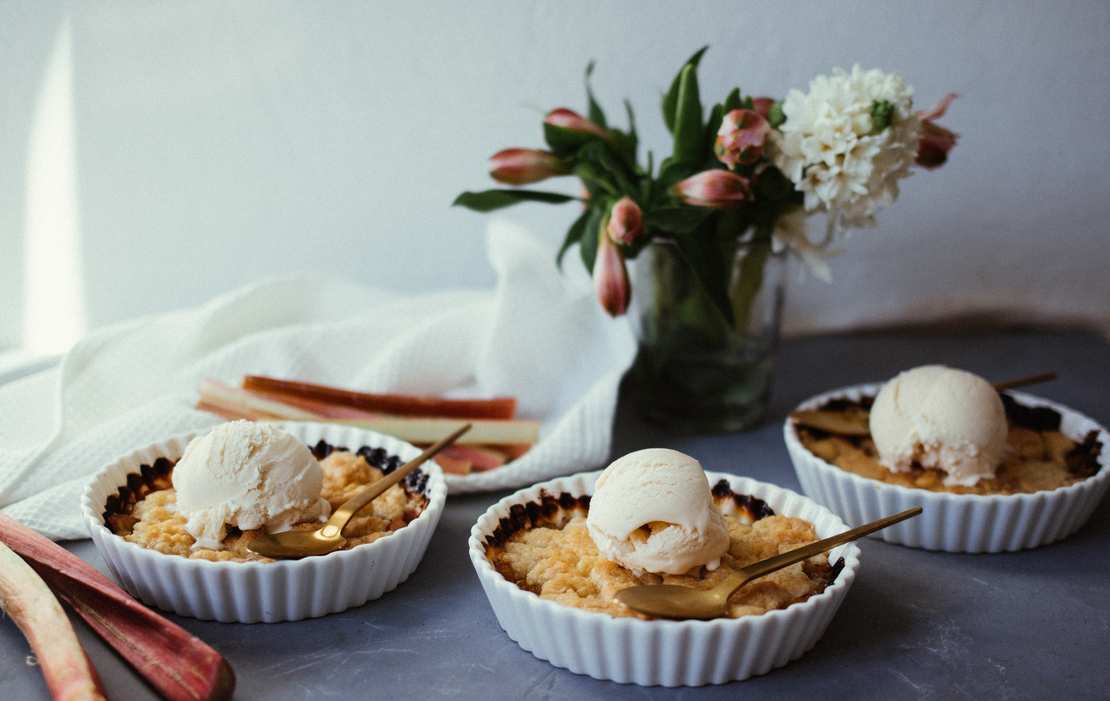 Vegan Rhubarb Crumble with Vanilla Ice Cream
Imagine yourself, sitting on the balcony, craving for a sweet dessert for the evening. Would you choose a) cake, b) ice cream or c) fruit compote? It's a hard decision, right. If you think a) takes too long, b) is too easy and c) is too boring, sit back and relax, cause we show you the best recipe that combines all of the three sweets: a vegan rhubarb crumble with vanilla ice cream!
Vegan rhubarb crumble with vanilla ice cream
Ingredients
3 scoops of vegan vanilla ice cream
rhubarb compote
350 g (12.3 oz) rhubarb
2 tbsp sugar
2 tbsp water
1 tbsp lemon juice
crumble
150 g (5.3 oz) flour
100 g (3.5 oz) sugar
100 g (3.5 oz) vegan, soft butter
Instructions
Wash and cut the rhubarb into small chunks and remove woody ends. 300 g (10.5 oz) should remain in the end.
Place the rhubarb chunks into a saucepan, add water, lemon juice, and sugar and cook until the rhubarb is slightly caramelized, for 3-4 minutes. Set aside.
In a bowl mix flour, plant-based butter and sugar, use a fork or your hands to form a crumble.
Grease three small cups and spoon the rhubarb mixture into the ovenproof dishes. Top with crumbles.
Bake for 20-30 minutes at 180°C/350°F.
Let crumbles cool down for 5-10 minutes and serve with vegan vanilla ice cream.