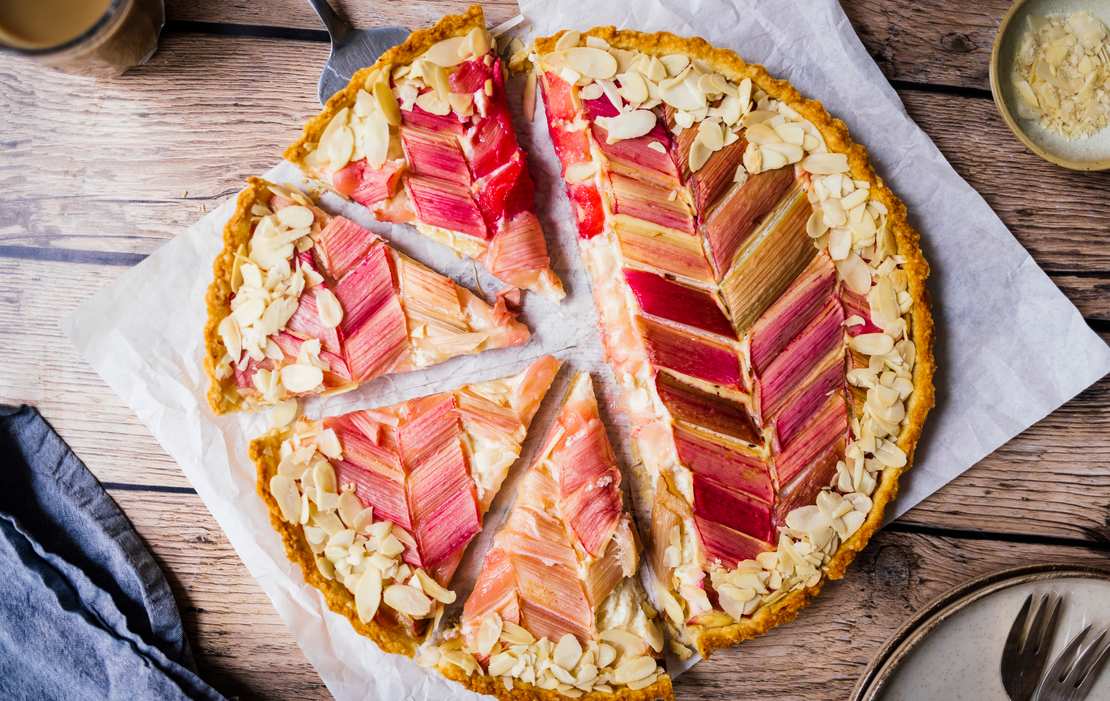 Simple Vegan Rhubarb Tarte
We are approaching summer in tiny little steps. The first harbingers reach us in April and are called asparagus, wild garlic and rhubarb. With them, the regional variety of fruits and vegetables at the markets and on supermarket shelves begins again until it says goodbye to us in August with fresh cherries. Today we turn our attention to the finely acidic, reddish stalks of rhubarb, which we would like to use as much as possible until their short season ends again. Because, unlike apples, pears and co., they are not available all year round. We have therefore prepared a very simple rhubarb tarte for you, which you will easily bake on your own even without great baking talent – and it still gets a lot of attention!
The tarte consists of three components. The base is a classic shortcrust pastry made of flour, sugar and vegan butter. On top, we put a slightly sweetened cream, which we left very simple. Usually, you could add some lemon zest to this; however, rhubarb tastes so sour already that you don't need any additional tartness at all. With a bit of cornstarch, we ensure that the cream is solid enough and not too liquidy at the end. The tarte is then topped with rhubarb stalks – of course, you can choose the pattern yourself. You could cut the rhubarb into strips and arrange them next to each other, or cut it into pieces and place them in a zigzag pattern on the tart. Or you simply don't arrange them at all and place them wildly on the cream – anything works! We cut our rhubarb stalks into diamonds and arranged them like a "herringbone parquet". This is quite fiddly work, and we can only recommend it if you bring some time and patience.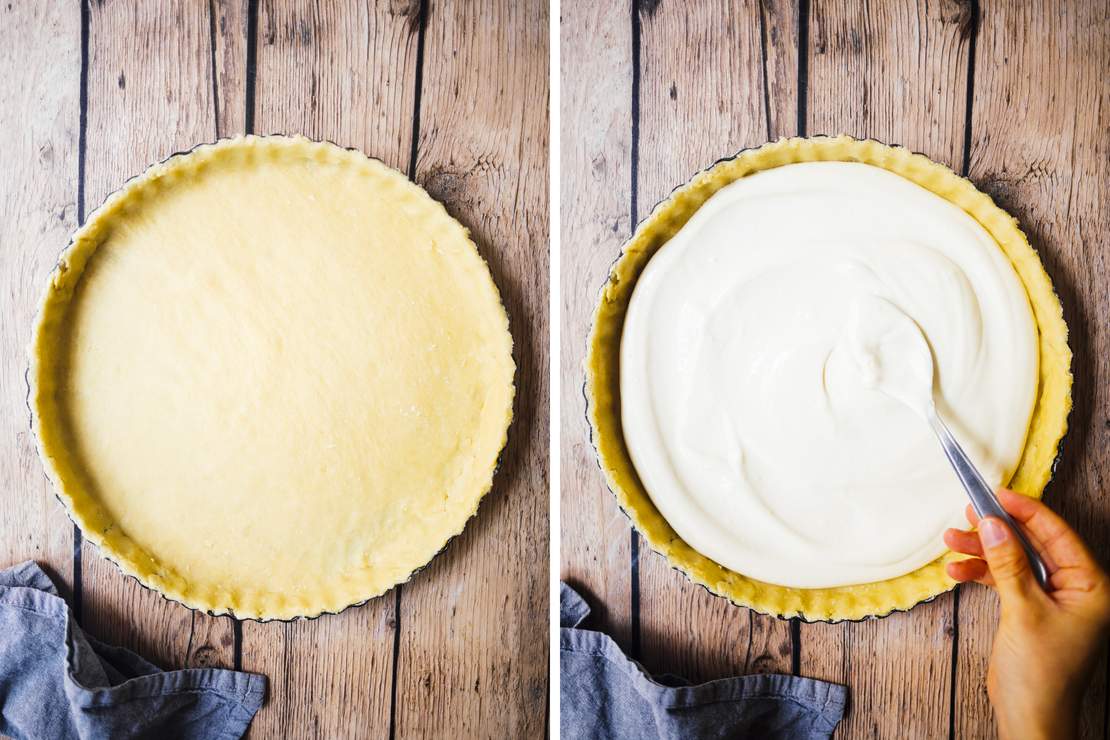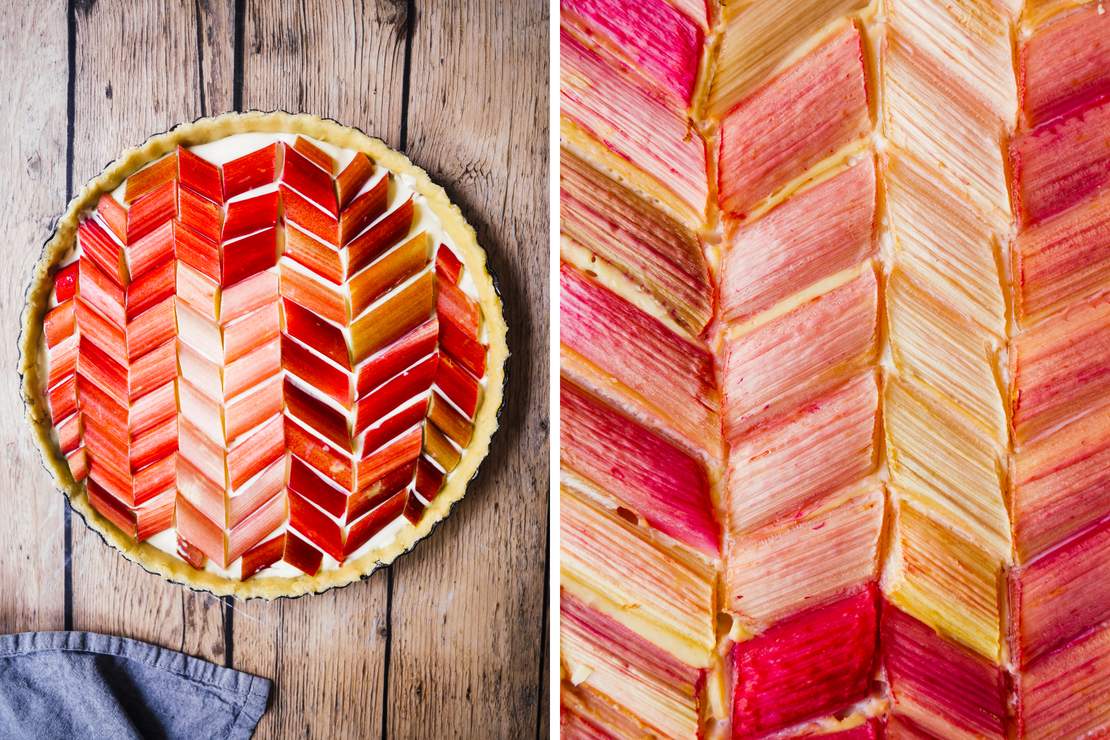 Simple Vegan Rhubarb Tarte
1 tarte (∅ 28 cm / 11 inches)
30 minutes (+ 30 minutes cooling time + 30 minutes baking time)
Ingredients
For the shortcrust pastry:
250 g (2 cups) wheat flour (type 405)
75 g (0.33 cup) white sugar
125 g (1 stick) vegan butter (cold)
For the vegan cream layer:
400 g (14 oz) vegan curd / skyr
15 g (2 tbsp) cornstarch
50 ml (2.5 tbsp) agave syrup
For the rhubarb layer:
300 g (10.5 oz) fresh rhubarb
sliced almonds
Also:
vegan butter for greasing
Instructions
For the shortcrust pastry, mix wheat flour and sugar in a large bowl. Add cold vegan butter and knead the dough with cold hands. Add a little cold water as needed and mix all ingredients together to form a smooth dough. Let it rest in the refrigerator for at least 30 minutes.

In the meantime, prepare the cream. For this, mix vegan curd, cornstarch and agave syrup in a bowl until smooth.

Wash the rhubarb and remove any dry or woody ends. Cut the rhubarb stalks into lozenges so you can lay a "herringbone parquet" with them. It is best to prepare and test this pattern before.

Preheat the oven to 180 °C / 355 °F (convection oven). Grease a ∅28 cm tarte pan. Remove the dough from the refrigerator and roll it out on a floured surface until it is large enough to cover the bottom and sides of the tarte pan. Place the dough in the pan and press down lightly on the bottom and sides. Spread the cream evenly in the pan and top with the rhubarb pieces.

Bake the tarte for approx. 30–40 minutes on the middle shelf. 10 minutes before the end of the baking time, decorate the edge with sliced almonds.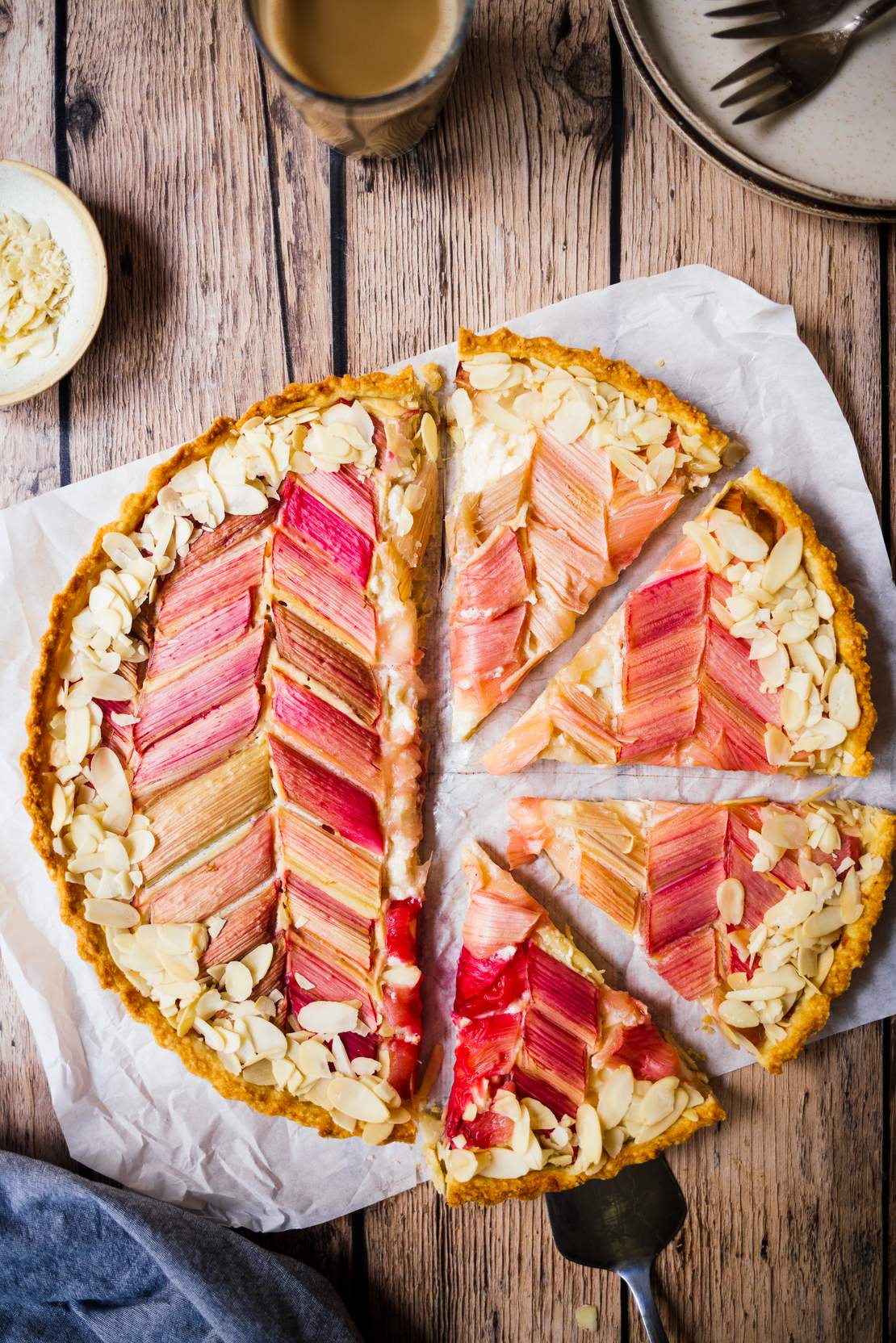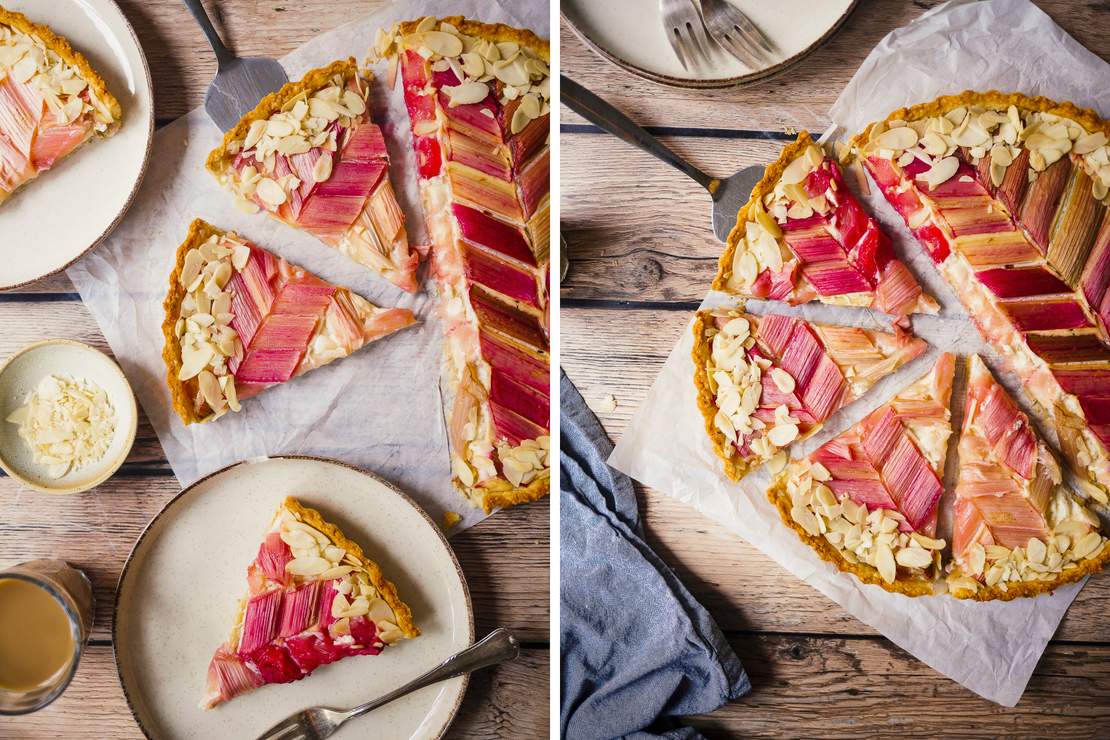 More Vegan Cakes & Cookies