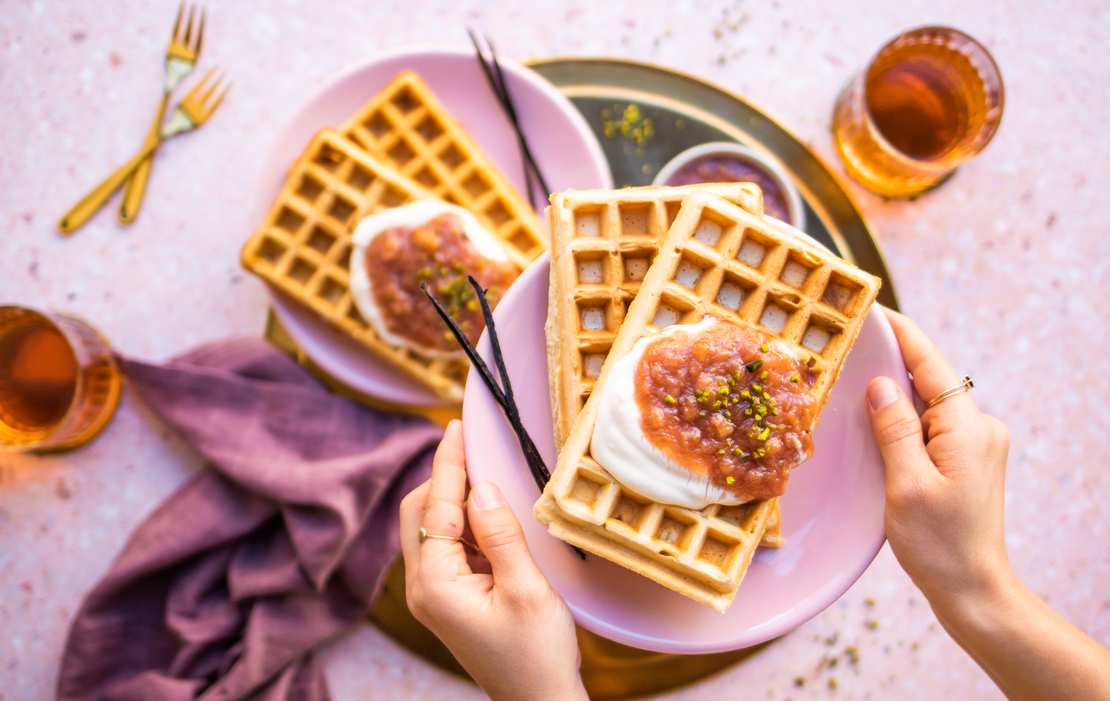 Vegan Vanilla Waffles with Rhubarb Compote
Maybe you've already discovered it at the market in the last few weeks: rhubarb season is on! From April until the end of June, you still have time to stock up on the spring vegetable and prepare delicious, sweet-sourish desserts with it. Yep, you've read correctly – botanically speaking, rhubarb is actually not a fruit.
These delicious vegan vanilla waffles are quick and easy to make, and topped with rhubarb compote and chilled vegan curd. Depending on whether you prefer it more sour or sweet, you can season the compote to taste. We used a relatively large waffle iron for the recipe and therefore only got out five waffles. This varies, of course, depending on the size of your waffle iron.
In case you run across this recipe in fall or winter and still get a craving for vegan vanilla waffles, you can still make them, of course. Enjoy them plain, with chocolate cream, vegan whipped cream, or replace the rhubarb compote with applesauce. During summer, they also taste great with all kinds of other seasonal fruits, so get creative! We're excited to read about your waffle combinations in the comments below!
For more waffle creations, we highly recommend checking out our other recipes. How about these vegan cinnamon bun waffles, vegan oat waffles with apple pear compote, or vegan french toast waffles? If you're more into savory recipes, we have crispy potato waffles or vegan chicken & waffles to offer. So let's go to the kitchen and get your waffle irons ready!
Vegan Vanilla Waffles with Rhubarb Compote
Ingredients
For the waffles:
290 g (2.25 cup) flour type 405
50 g (0.25 cup) brown sugar
8 g (1.5 tsp) baking powder
8 g (1.5 tsp) vanilla sugar
2 vanilla beans
200 ml (1 cup) plant-based milk
15 ml (2 tbsp) vegetable oil
100 ml (0.5 cup) sparkling water
For the rhubarb compote:
500 g (1 lb) rhubarb
50 g (0.25 cup) sugar
50 ml (0.25 cup) water
1 pinch of salt
Also:
500 g (18 oz) plant-based curd
vegetable oil for frying
Instructions
Wash and clean rhubarb, trim the ends, and chop the remaining stalks.

Add rhubarb, sugar, water, and a pinch of salt to a deep frying pan or a pot. Simmer over medium heat for approx. 10 minutes. If the compote gets too thick, add some more water. The rhubarb should be very soft in the end. Season with sugar to taste and remove the pot from heat. You can serve the compote lukewarm or chilled, but if you prefer it warm, just keep it over low heat until serving.

While the compote simmers, prepare the waffles. Mix flour, brown sugar, baking powder, and vanilla sugar in a large bowl. Halve the vanilla pods lengthways and scrape out the pulp. Add the vanilla pulp, plant-based milk, vegetable oil, and sparkling water to the bowl and stir to combine until you get a smooth batter.

Preheat the waffle iron, grease with vegetable oil and bake the waffles one by one until they're golden brown.

Serve waffles with a dollop of plant-based curd and rhubarb compote.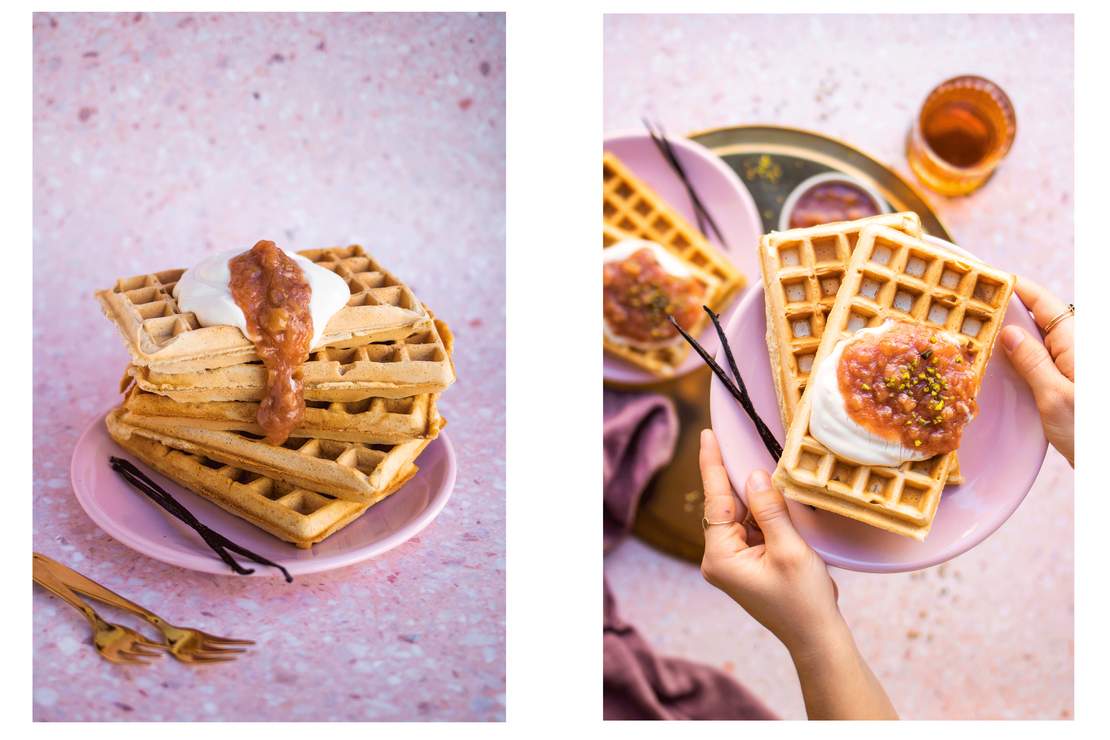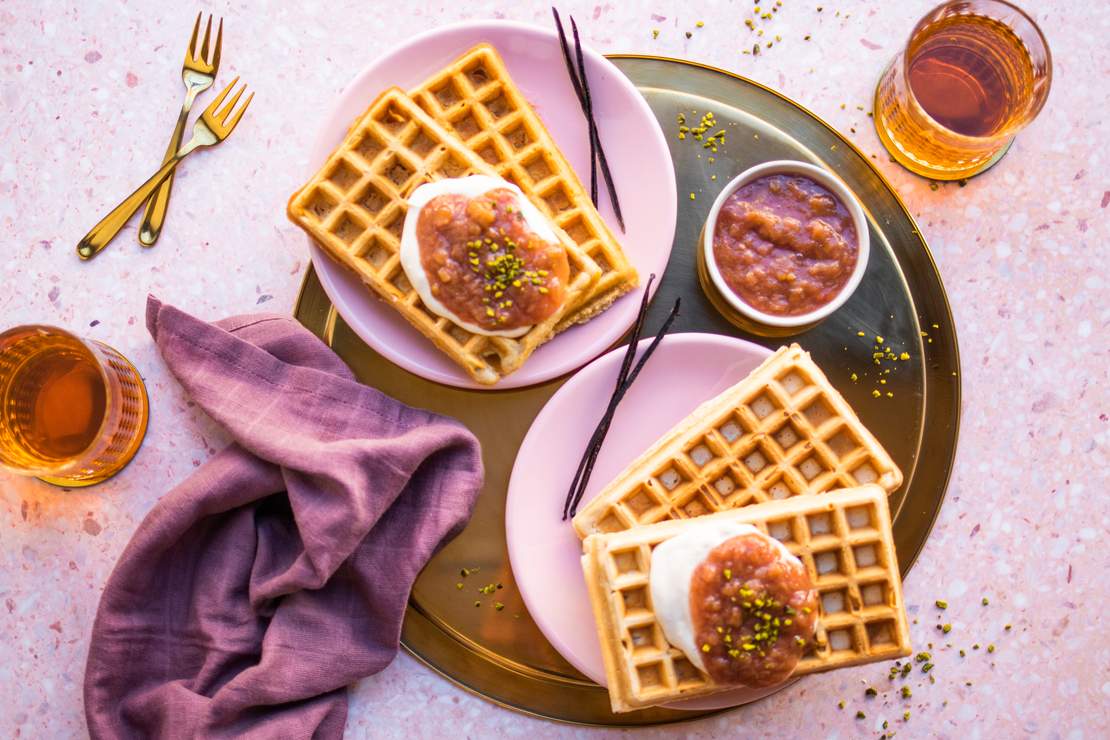 More Vegan Brunch Recipes