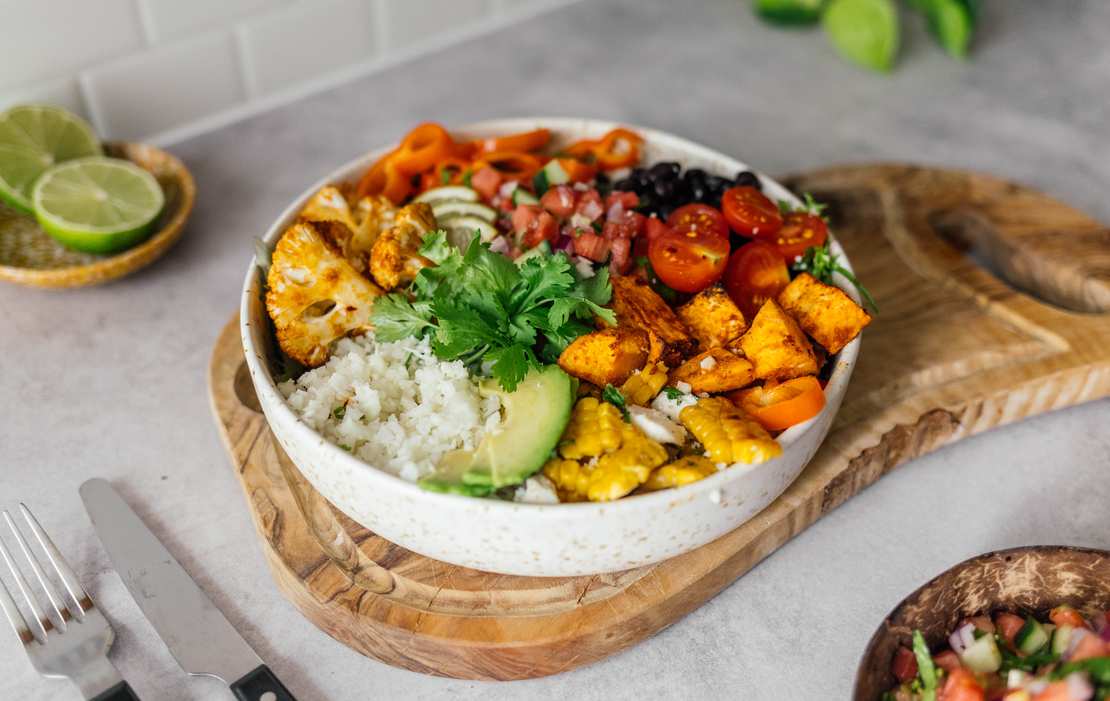 Burrito Bowl with Watermelon Salsa
What could be better than a refreshing burrito bowl on a hot summer day? This quick and easy bowl combines the best of summer: fresh, sweet watermelon meets lime, crunchy cucumber, buttery corn, and spicy vegetables. Delicious!
However, the main ingredient in this bowl is cauliflower, a beloved vegetable in our office. Most of the time, we only use the florets, and the stalk ends up in the trash. What a waste! This time we use the stem to make delicious cauliflower rice. If you don't have a suitable food processor at home, you can use a knife instead to shred the cauliflower, which takes a little longer but works well too. Of course, you can also use regular rice. We pair the remaining cauliflower with sweet potato, add lots of seasoning, and bake both in the oven until it's crispy. If you don't like either or want to mix it up, you can also use marinated and fried tofu. My favorite part of the bowl whatsoever is the delicious buttery corn, inspired by Mexican corn salad called "esquites". Vegan butter, plant-based feta, and garlic: an unbeatable combination.
We also like to add black beans, tomatoes, avocado, and a little lettuce to our bowls. But as always, you can adjust the ingredients as you want. To top it all off, we add a watermelon-cucumber salsa. The combination of fresh cucumber, sweet watermelon, and lime is SO delicious. Ensure you drain the melon well after slicing it; otherwise, the salsa will turn out too watery.
If you like this recipe, you will probably also enjoy our version of vegan enchiladas, spinach quesadillas or one of our many taco recipes!
Summery Burrito Bowl with Watermelon Salsa
4 servings
20 minutes (+ 20 minutes baking time)
Ingredients
For the salsa:
400 g (14 oz) watermelon
0.5 cucumber
1 red onion
1 garlic clove
10 g (0.75 oz) cilantro (optional)
1 pickled jalapeño
3 limes (juice and zest)
salt
For the baked vegetables:
300 g (0.66 lb) sweet potato
300 g (0.66 lb) cauliflower
1.5 tsp ground coriander
1.5 tsp ground cumin
1.5 tsp sweet paprika
1.5 tsp hot paprika
1 tsp garlic powder
1.5 tsp onion powder
1 tsp salt
50 ml olive oil
For the "rice":
500 g (1 lb) cauliflower
salt
For the corn:
1 tbsp vegan butter

150 g (5.5 oz) canned corn

1 tsp garlic powder

0.25 tsp chili flakes

75 g (2.5 oz) vegan feta cheese

1 lime

cilantro (optional)

salt
Also:
240 g (0.5 lb) canned black beans
200 g (0.5 lb) cherry tomatoes
1 avocado
limes
Instructions
Preheat oven to 180°C/355°F (convection heat). To prepare the salsa, finely dice the watermelon and cucumber and let both drain in a sieve. Meanwhile, finely dice onion and garlic and finely chop the cilantro and the pickled jalapeño. Mix watermelon, cucumber, onion, garlic, and the jalapeño in a bowl and add the juice of three and the zest of one lime—season with salt to taste and add cilantro.

Wash sweet potato and cut into bite-sized chunks. Separate cauliflower florets from the stalk and cut them into bite-sized pieces as well (the stem can be used later on for the cauliflower rice). Place both on a baking tray. Mix together ground coriander, ground cumin, sweet paprika, hot paprika, garlic powder, and onion powder in a bowl. Add olive oil and spices to the vegetables and toss evenly with your hands until everything is covered well.Bake at 180°C/355°F (convection heat) for approx. 20 minutes.

In the meantime, roughly chop the remaining cauliflower with a knife and add it to a food processorProcess until the cauliflower is about the size of rice grains. Place the cauliflower rice in a pot of salted boiling water and simmer for about 7-8 minutes, then drain and set aside.

While the "rice" is simmering, heat vegan butter in a pan, add corn, and season with garlic powder, salt, coriander, and chili flakes. After approx. 3-4 minutes, remove the pan from heat and add vegan feta cheese and lime juice.

Drain and wash the canned black beans. Cut tomatoes in half, slice avocado, and quarter limes. Arrange the bowls as desired and serve with the watermelon salsa.
More Vegan Recipes with Rice