Creamy Vegan Mushroom Risotto
Many people are afraid of risotto – but it's actually not as difficult as they think, and with a few basic rules, you can make any risotto of your dreams.
First of all, there is one very simple rule: risotto rice is not an invention. There are different types of rice, and you will be annoyed if, for example, you use your basmati rice for risotto. It won't be as creamy as you want it to be. Basmati rice is long grain rice, and for risotto, you should always go for short, round rice, which has a soft core and gives off a lot of starch, making your risotto wonderfully "sticky."
And that brings us to the following rule: you should not wash risotto rice in advance. Usually, washing removes the finest dust (which develops during production) and starch from the rice grains – so the rice doesn't stick as much. But this is precisely the effect we want in risotto. Meaning: you should wash long-grain rice before cooking, but not risotto rice.
You will spend most of the cooking adding broth to the rice, letting it simmer, and then add another ladle of broth. The broth must be warm or hot. It is best to put a second pot on the stove to keep the broth warm. Why all this? If you keep adding cold liquid to the rice, the cooking temperature will be lowered each time and will stop the cooking process again and again.
By the way, you don't have to stir risotto constantly – it's enough to do it regularly so that the starch separates better from the rice grains and the risotto becomes creamy.
However, to avoid it becoming TOO creamy, you should not overcook a risotto. Just like pasta, risotto can also be cooked al dente, which is firm to the bite. Since rice will get softer after you remove it from the pot, you should not let it simmer for too long. So always taste the risotto towards the end of the cooking time. You can also test whether you can pull a wave through the risotto – the Italians call this "all-onda". Take a spoon, draw a small wave through the rice, then observe whether it remains visible for a short time and slowly dissolves. When that happens, your risotto is ready.
Once you have the basic procedure for risotto in mind, you can not only cook it from scratch but also modify it as you like and add other ingredients. But enough of the theory – let's take a look at the practical example.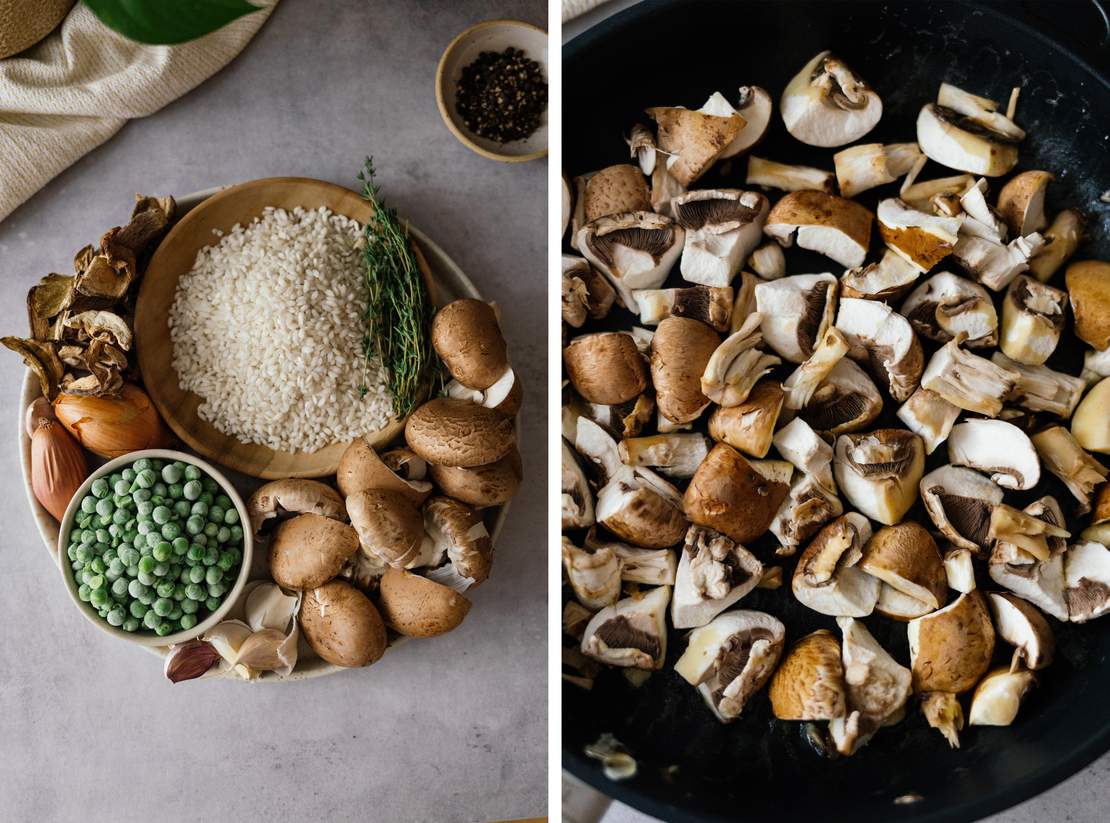 Creamy Vegan Mushroom Risotto
Ingredients
15 g (0.5 oz) dried porcini
300 ml (1.25 cups) hot water
2 shallots
1 garlic clove
3 twigs thyme
250 g (9 oz) brown button mushrooms
3 tbsp vegan butter
125 g (0.5 cup) risotto rice
100 ml (0.5 cup) vegan white wine
100 g (3.5 oz) frozen peas
salt
pepper
vegetable oil for frying
vegan Parmesan cheese (or nutritional yeast) for serving
Instructions
Soak dried porcini mushrooms in hot water and let them steep for at least 30 minutes. Then drain through a sieve, but save the broth and set it aside.

In the meantime, peel and finely dice the shallots and garlic. Pluck thyme leaves from the twigs and finely chop them. Clean and quarter the mushrooms – or just tear them apart by hand.

Heat vegetable oil in a frying pan over medium heat and sauté the mushrooms for about 10 minutes until browned. Then add the soaked porcini mushrooms and fry for another 2-3 minutes—season to taste with salt and pepper.

In parallel, melt vegan butter in a large pot over low heat and sauté the shallots for about 4-5 minutes. Then add rice and garlic and sauté for another 5-7 minutes until the rice is slightly translucent – keep stirring to ensure nothing burns.

Add vegan white wine and let simmer for about 5 minutes. In the meantime, heat the reserved mushroom broth in a pot. Gradually add the warm mushroom broth, but only enough to cover the rice. Then simmer over low heat, stirring regularly until the rice has absorbed most of the liquid. Only then add another ladle of the broth and repeat the process. In the last addition, add frozen peas and mix them in. The risotto rice will be done after about 15-20 minutes.

Season the risotto with salt and pepper to taste. Mix in the sautéed mushrooms along with chopped thyme and stir in vegan Parmesan cheese or nutritional yeast.