Vegan Pilaw with Chickpeas and Mushrooms
Have you ever tried pilaw, or even cooked it yourself? If not, then it's about time! This rice dish is not only easy to cook, but so versatile and flavorful! Pilaw is known, beloved, and cooked all over the world in different variations. Traditionally there are three components that shouldn't be missing: long-grain rice, broth, and a protein (such as meat/fish or, as in vegan options, vegetables).
We usually always use onions, garlic, spices and, of course, rice and a vegetable broth in our pilaw recipes, but when it comes to vegetables, it's nice to play around and go for any type of veggies that we currently find in the kitchen. We love to use jackfruit in this dish, but this time, we're going all in with chickpeas and mushrooms. The recipe is easy as that: fry vegetables, add rice, deglaze with vegetable broth, and simmer until the grains are cooked.
As special extras, nuts or dried fruits are often added to the pilaw (e.g. raisins, dried apricots, or barberries), which you can also add to this recipe up to your taste. But today, we decided on a parsley pesto with almonds, which provides a herby freshness when served as a topping for this pilaw.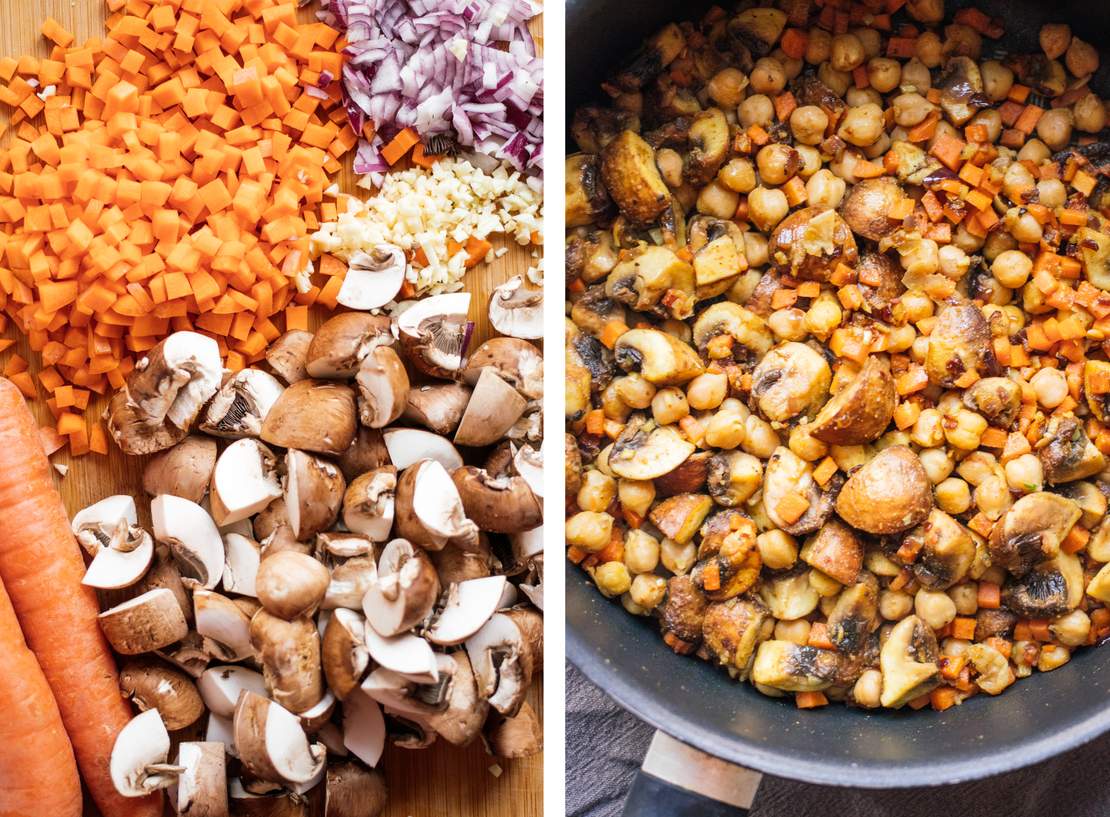 Vegan Pilaw with Chickpeas and Mushrooms
Ingredients
2 garlic cloves
1 red onion
1 carrot
200 g (7 oz) brown button mushrooms
250 g (9 oz) canned chickpeas
1 tbsp coriander
1 tsp turmeric
1 tbsp cumin
0.5 tsp chili flakes
200 g (1 cup) long grain rice
500 ml (2 cups) warm vegetable broth
100 g (3.5 oz) fresh spinach
1 lemon
vegetable oil for frying
plant-based yogurt for serving
salt
pepper
For the pesto:
50 g (2 oz) chopped almonds
50 g (2 oz) parsley
15 g (0.5 oz) cilantro
1 garlic clove
0.5 lemon (juice)
4 tbsp vegan Parmesan cheese (optional)
approx. 150 ml (0.66 cup) olive oil
salt
pepper
Instructions
Peel and finely chop garlic and onion. Chop carrot and button mushrooms, and drain canned chickpeas.

Heat vegetable oil in a large frying pan (you will need a lid for this pan later). Fry onion for approx. 2-3 minutes, or until translucent. Add coriander, turmeric, cumin, chili flakes, and garlic. Keep frying for 2 minutes before adding the carrot, button mushrooms, and drained chickpeas. Season with salt and pepper and fry for approx. 3 minutes.

Add rice and fry for another 2-3 minutes. Now add the warm vegetable broth, bring to a boil, then place a lid on top of the frying pan and simmer over medium heat for approx. 10-15 minutes, or until the rice is done.

In the meantime, prepare the parsley pesto: toast chopped almonds in a fat-free frying pan until golden brown, then add them to a food processor. Add parsley, cilantro, garlic, lemon juice, and vegan Parmesan cheese (if you're using it). Start to blend this into a pesto and add as much olive oil as needed until the pesto reaches the desired consistency of your choice. Season the pesto with salt and pepper to taste.

Remove the lid from the pan, loosen the rice with a fork, then add fresh spinach and heat for approx. 2-3 minutes, or until the spinach starts to wilt. Before serving, season pilaw with salt and pepper to taste. Serve with a dollop of plant-based yogurt and the parsley pesto.