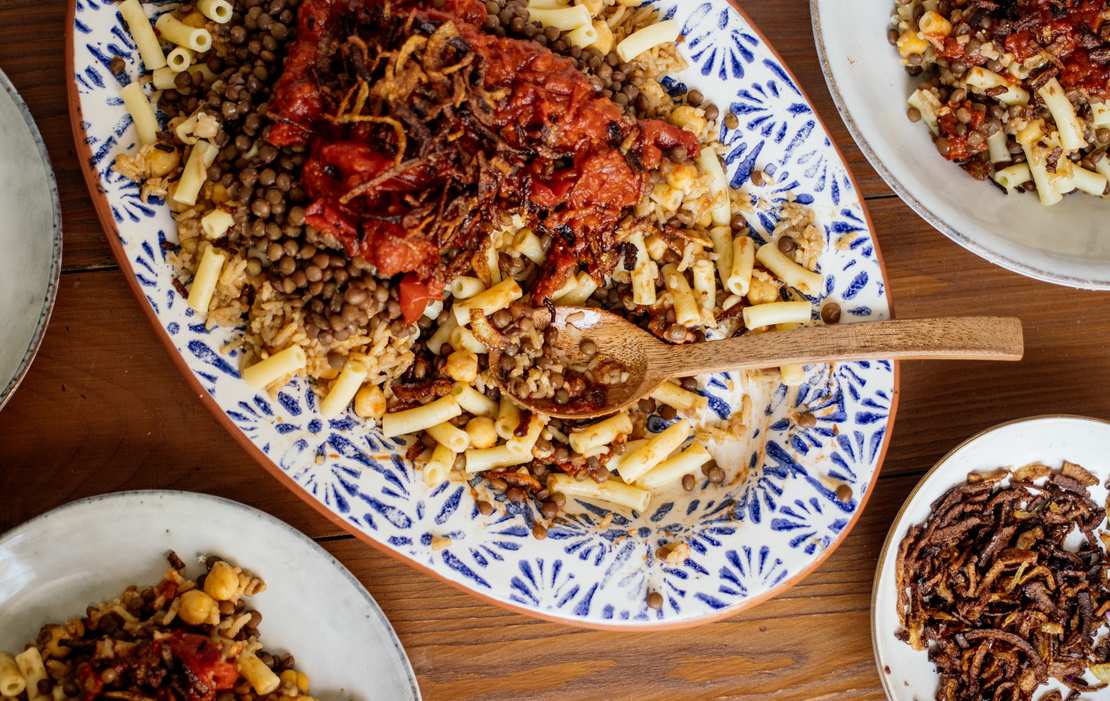 Vegan Kushari (A Dream of Pasta, Rice, Lentils, and Chickpeas)
Sometimes you see a dish online, in a cookbook, or on the plate of your neighbor in a restaurant, and you just can't get rid of its image anymore. That's exactly what happened to me with koshari when I was scrolling on Instagram. The combination of pasta, rice, lentils, chickpeas, and fried onions basically forced me to cook this dish and try it for myself. Thanks for that because this is comfort food at its best!
Kushari is a national dish from Egypt and popular street food there. The components are prepared separately and come together on the plate. This dish combines your whole pantry in one meal. In the beginning, you might wonder how pasta and rice go together, but it's just great, trust me!
The preparation of the individual components isn't difficult (cooking rice, lentils, pasta, and preparing a tomato sauce), but mastering all of this parallelly is probably the biggest challenge of this dish. If you want to make it a little easier, use bought fried onions and a marinara sauce, or maybe you find some leftover tomato sauce in your fridge, which will save you a few steps.
Vegan Kushari (A Dream of Pasta, Rice, Lentils, and Chickpeas)
Ingredients
For the fried onions:
2 onions
vegetable oil for deep-frying
For the lentils:
150 g (0.75 cup) beluga lentils
For the rice:
1 tbsp ground cumin
1 tsp sweet paprika
1 tsp spicy paprika
1 tsp coriander
0.5 tsp nutmeg
0.5 tsp cinnamon
100 g (0.5 cups) long-grain rice
200 ml (1 cup) water
200 g (7 oz) canned chickpeas
1 tbsp vegan butter
vegetable oil for frying
salt
pepper
For the tomato sauce:
1 onion
1 tsp chili flakes
1 bay leaf
2 cloves garlic
2 tbsp tomato puree
800 g (1.75 lbs) canned whole tomatoes
1 tsp sugar
1 tsp white wine vinegar
olive oil for frying
salt
For the pasta:
150 g (5.5 oz) elbow pasta
salt
Instructions
For the fried onions peel and halve onions, then thinly slice them. Add them to a bowl with a pinch of salt. Massage them for approx. 30 seconds to soften them. Squeeze out as much liquid as possible or dry with paper towels and set aside. Heat vegetable oil in a deep frying pan, approx. 2-3 cm high. To test if the oil is hot enough, carefully dip a wooden skewer inside the hot oil. If the oil starts to bubble, you've reached the right temperature. Deep-fry onions in batches until they're crispy and golden brown. Remove from hot oil with a slotted spoon and drain on paper towels. Set aside for serving.

Add beluga lentils and the double amount of water to a pot. Bring to a boil, then reduce to medium-low heat and simmer with the lid on for approx. 25 minutes, or until the lentils are done. Keep warm until serving.

Mix ground cumin, sweet and spicy paprika, coriander, nutmeg, cinnamon, salt, and pepper in a bowl. Heat some vegetable oil in a pot over medium heat and add rice and half of the spices mixture for approx. 2-3 minutes. Add water and simmer with the lid on until the rice is done. Approx. 5 minutes before the rice is done, add drained chickpeas and 1 tbsp vegan butter to the pot. Once the rice is done, use a fork to fluff it. Afterward, keep warm until serving.

While lentils and rice are cooking, prepare the tomato sauce. Peel and finely dice the remaining onion. Heat olive oil in a frying pan and fry onion, chili flakes, and bay leaf over medium-low heat until the onion is translucent. Grate garlic directly into the frying pan. Add remaining spices mixture and fry for approx. 3-4 minutes. Add canned tomatoes, tomato puree, sugar, and white wine vinegar. Simmer for approx. 15 minutes and smash the whole canned tomatoes during the cooking process. Before serving, season with salt and pepper to taste.

You're almost done! While the sauce is simmering, cook pasta in a pot of salted boiling water according to package instructions until al dente.

For serving: distribute rice with chickpeas on a serving platter and top with pasta, lentils, tomato sauce, and fried onions.