Vegan Tater Tot Casserole with Mushrooms
Here's a perhaps unpopular opinion: if it were up to me, all fries would be replaced with tater tots. There, I've said it. For our blog, I've already created homemade tater tots, combined them with broccoli, and topped them with jackfruit, gravy, and red cabbage. So what's next?
It's time for a tater tot casserole! Since store-bought tater tots are prepared in the oven anyway, it seemed pretty obvious to combine them with a baked recipe right away – and a casserole is just what we need right now. Unfortunately, many store-bought tater tots aren't vegan as they contain lactose, egg powder, or other animal ingredients. So don't just grab them at random but make sure to check the ingredient list first.
But now, let's talk about the creamy bed of mushrooms on which the tater tots are allowed to make themselves comfortable. In principle, it's nothing but pan-fried mushrooms with sauce, so all you have to do is to chop mushrooms, onions, and garlic first, then fry them with thyme. We used button mushrooms and soaked porcini mushrooms, but you can use any type of mushroom you like (the same applies to the dried mushrooms). If you don't want to use dried mushrooms at all, just use more fresh mushrooms and water or vegetable broth instead of the mushroom stock. This is the great thing about this dish: you don't have to stick strictly to our recipe. Instead, you can adapt and change a lot of these ingredients without compromising the result. For example, omit the vegan white wine completely and add some lemon juice to the fried mushrooms at the end. The only important thing is to make sure that your mushrooms are surrounded with some sauce at the end, so they don't get dry in the oven.
We used a cast-iron skillet for preparing the mushrooms as it's also oven-safe. If you don't have an oven-safe frying pan, just transfer the mushroom mixture to a baking dish. Last but not least, sprinkle a layer of vegan cheese on top of the mushrooms and cover it with your frozen tater tots. For the following 20 minutes, you can look forward to your casserole, which will be wonderfully juicy below and slightly crispy on the top.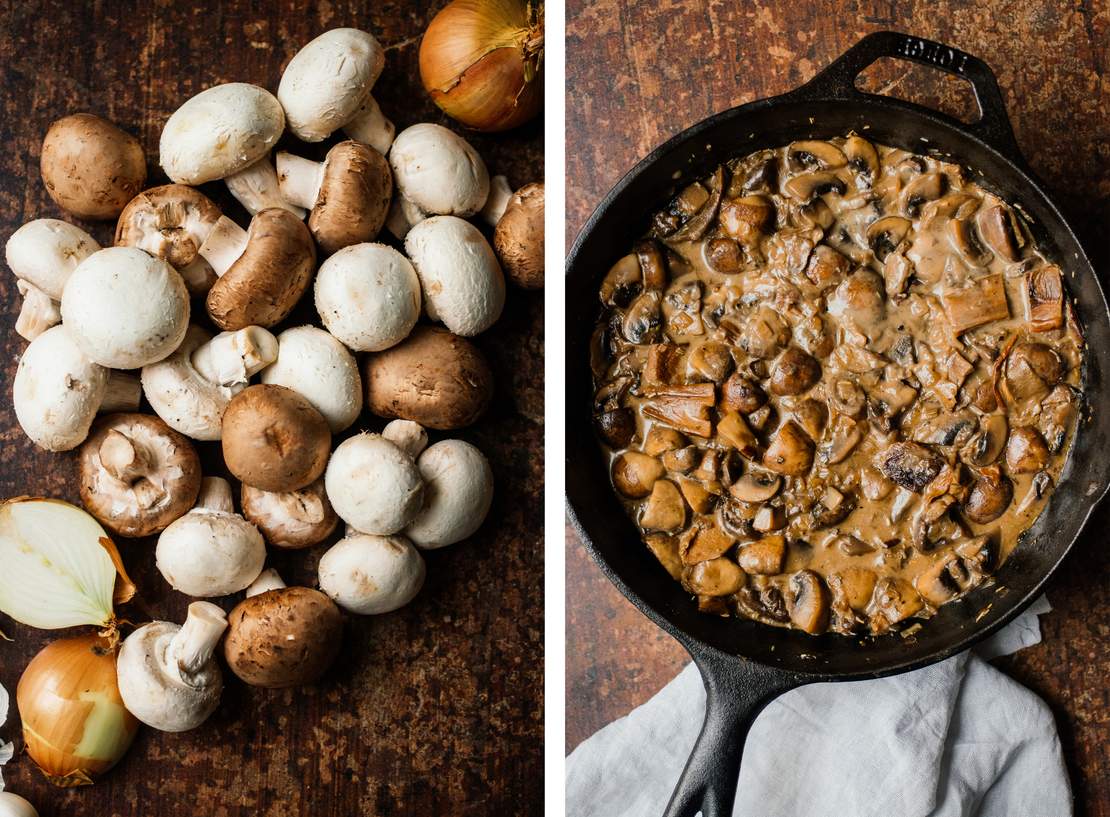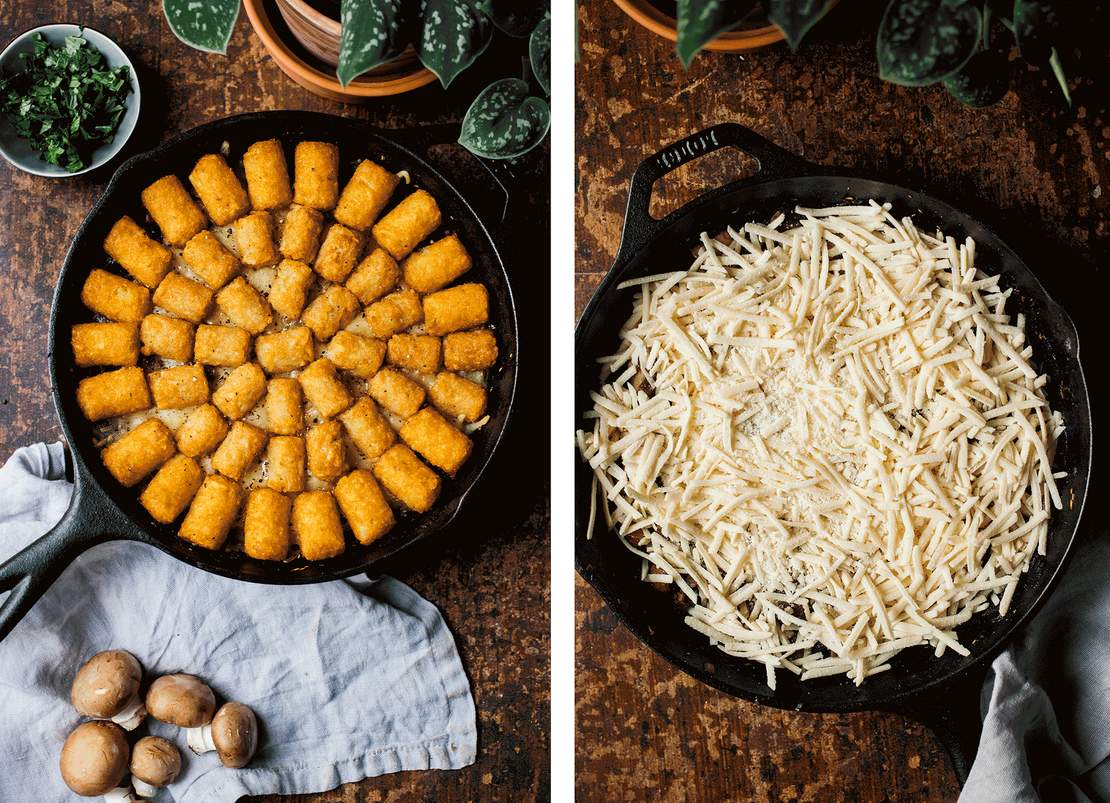 Vegan Tater Tot Casserole with Mushrooms
4 servings
35 min. (+20 min. baking time)
Ingredients
20 g (0.75 oz) dried porcini
200 ml (0.75 cup) hot water
600 g (1.33 lbs) button mushrooms
2 onions
3 garlic cloves
0.5 tsp dried thyme
50 ml (0.25 cup) vegan white wine
100 ml (0.5 cup) plant-based heavy cream
200 g (7 oz) vegan shredded cheese
750 g (1.66 lbs) vegan tater tots
vegetable oil for frying and greasing
parsley for serving
salt
pepper
nutmeg
Instructions
Soak dried porcini in hot water for approx. 30 minutes. In the meantime, clean and roughly chop button mushrooms. Peel and finely dice onions and garlic.

Heat vegetable oil in a large frying pan over medium heat. Fry diced onion with dried thyme for approx. 3-4 minutes, or until the onion is translucent. Add button mushrooms and garlic and keep frying for approx. 10 minutes, or until all the leaking liquid is evaporated and the mushrooms start to brown.

Deglaze browned mushrooms with vegan white wine and let it simmer for approx. 5 minutes. Add soaked porcini, including the broth and plant-based heavy cream. Stir to combine and season generously with salt, pepper, and nutmeg to taste. Let the sauce simmer for approx. 5 minutes before removing the frying pan from heat.

Preheat oven to 200°C/390°F (circulating air). Since we used a cast-iron frying pan, we could use it directly for baking as well. Alternatively, grease a baking dish with some vegetable oil and transfer the mushroom mixture to the baking dish. Mix vegan shredded cheese with a bit of vegetable oil, then sprinkle it on top of the mushrooms and cover it with a layer of frozen vegan tater tots.

Bake at 200°C/390°F for approx. 20 minutes, or until the tater tots are golden brown and crispy. Sprinkle with freshly chopped parsley for serving.