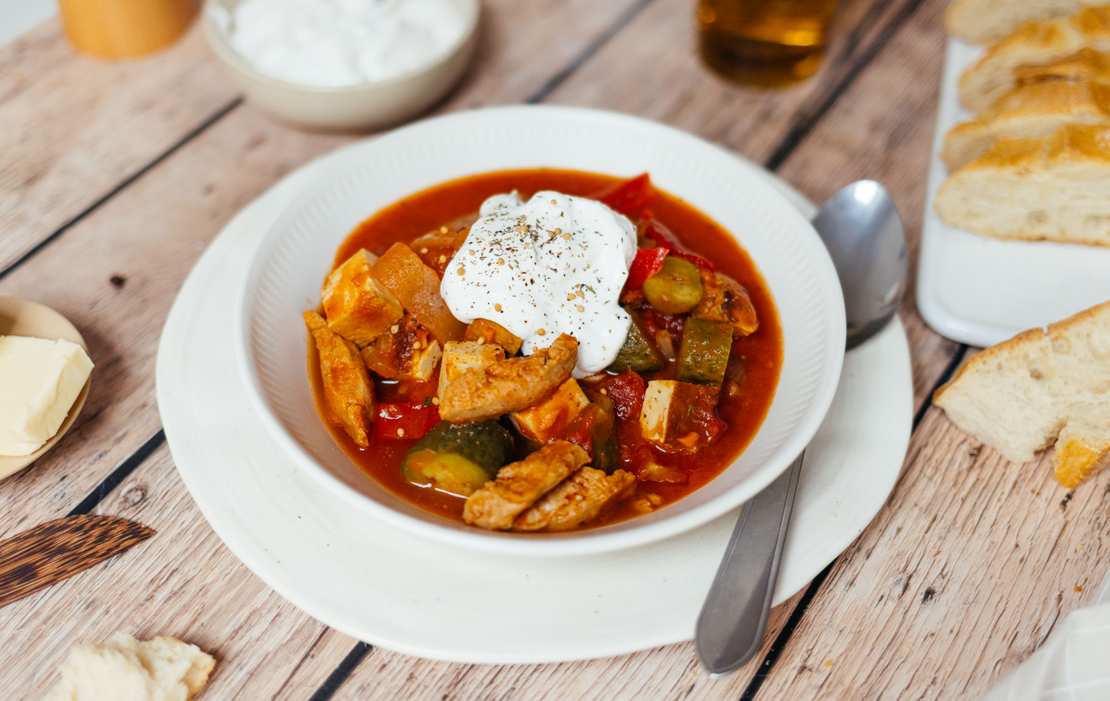 Vegan Settlers' Soup (Solyanka)
For some, it's pure childhood; for others, it's absolute horror, and some can't imagine it at all. Until the week before last, I belonged to group three in any case. Then, while writing the recipe, I switched to group two. But after the first plate, I had taken them to my heart, and it almost felt like I grew up with them. So give this stew a chance to win your heart, too.
The simplicity of this recipe makes it easy to get started. All you have to do is chop up whatever vegan meat substitutes you have at home and sauté them in a large pot. We opted for smoked tofu and soy cutlets. But my thorough research at the office and on the internet revealed that pretty much any "meat" may be used. For example, Lina used to have a version with "smoked pork chop". Then add onions and garlic and season with tomato paste, mustard and paprika powder. The whole thing is infused with letcho vegetables, vegetable broth, the pickling water of cucumbers and chopped tomatoes from the can. You can find letcho vegetables in most supermarkets, but you can also make them yourself. You can find many recipes for it on the internet. Now, all that's missing are a few finely chopped pickles. Sure, why not? Let it simmer for at least 15 minutes, and your stew is ready. Very tasty!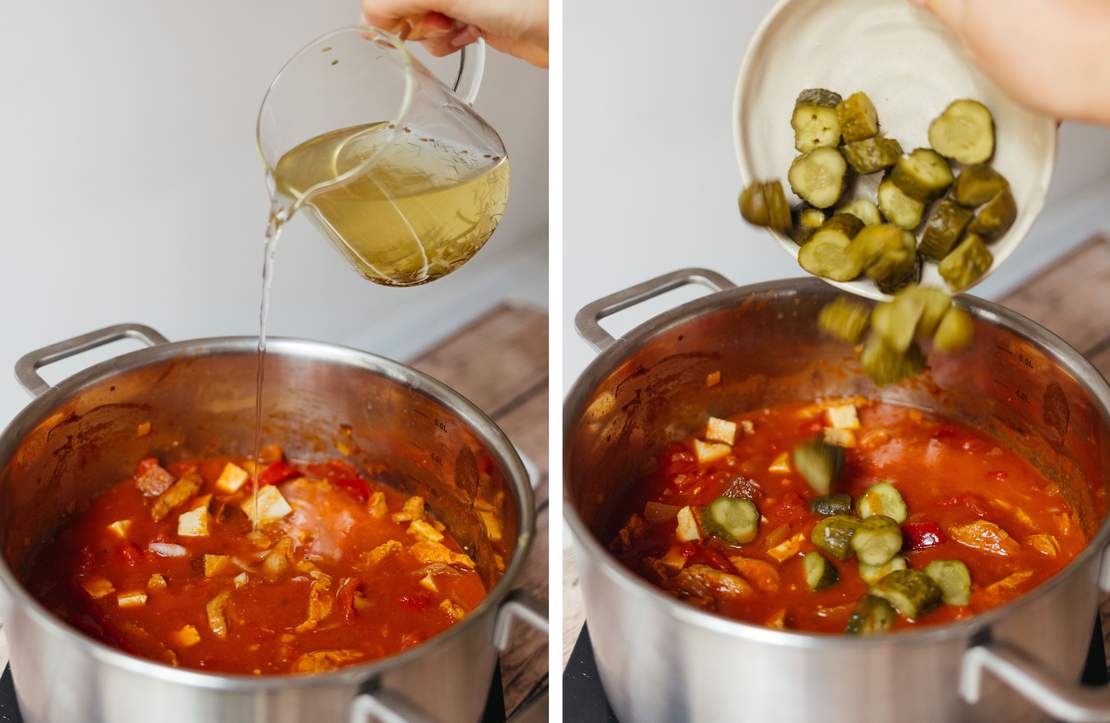 Vegan Settlers' Soup (Solyanka)
Ingredients
For the Settler's Soup:
50 g (1.75 oz) soy cutlets
1 onion
250 g (8.75 oz) smoked tofu
3 cloves of garlic
4 tbsp tomato paste
2 tsp mustard
1 tbsp sweet paprika powder
1 bay leaf
680 g (1.5 lb) letcho vegetables from a jar
800 g (1.77 Ib) chopped tomatoes from a can
400 ml (1.66 cups) vegetable broth
100 ml (0.5 cups) pickling water of cucumbers
200 g (7 oz) pickles
salt
pepper
vegan butter for frying
For serving:
baguette
vegan crème fraîche
Instructions
Soak the soy cutlets in 400 milliliters of warm vegetable broth for 10–15 minutes. Then drain and collect the vegetable broth. In the meantime, finely dice the onion and chop the garlic. Cut the smoked tofu into pieces about the size of a thumb.

Heat the vegan butter in a saucepan and fry the smoked tofu and the soy cutlets. Once everything is lightly browned, add the onions and garlic and fry until the onions become translucent. Then add tomato paste and mustard and fry for another 3–4 minutes. Season with paprika powder and add the bay leaf. Then add letcho vegetables, chopped tomatoes, vegetable broth and pickling water and simmer on medium heat.

In the meantime, cut the pickles into thumb-sized pieces and add them to the pot. Simmer the soup on medium heat for at least 15–20 minutes.

Serve the finished soup with vegan crème fraîche and baguette slices.