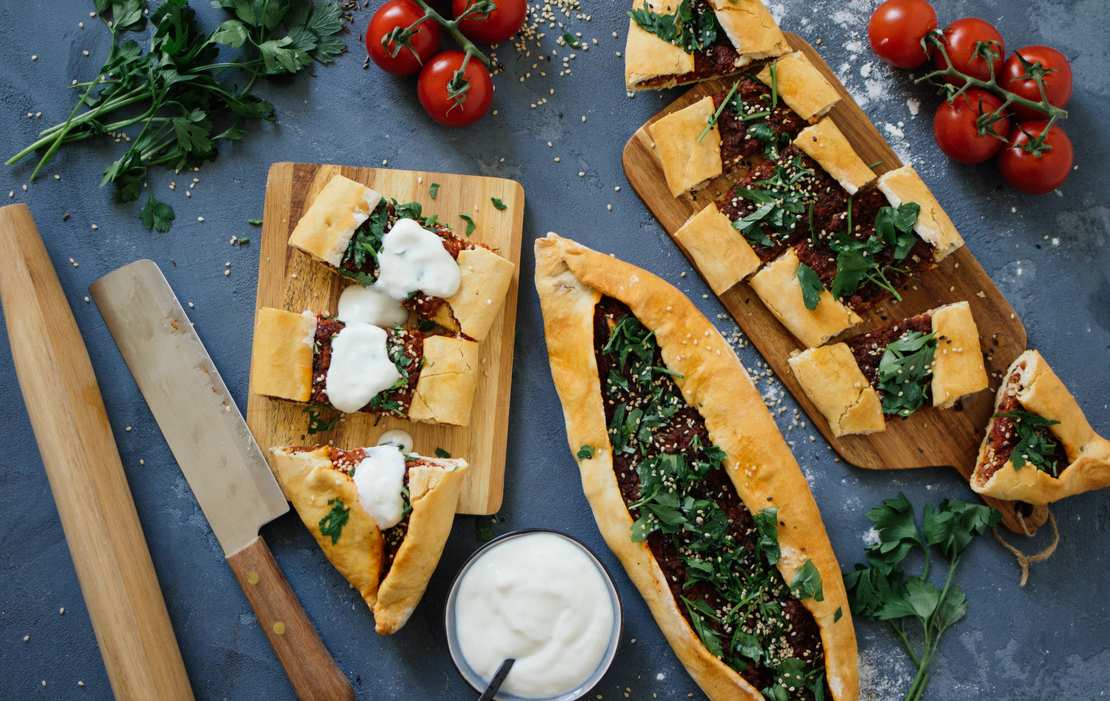 Vegan pide with minced meat & tomatoes (Turkish flatbread)
We bet that a lot of people in big cities already came across pide. The small Turkish pizzas are traditionally served with minced meat, spinach, and cheese or sucuk (garlic sausage). We really would like to try pide but never found a plant-based one. Cause most of the time, they are not vegan.
So we had a look at the classic "Kiymali Pide" and tried to create a recipe without dairy products and meat. The base of the recipe is a simple yeast dough. In contrary to the sweet yeast dough, we reduced the water and replaced it with unsweetened yogurt. That ensures a firm and smooth texture.
There are a lot of meat substitutes out there to use for the filling. We chose plant-based minced meat that only needs to get fried (and not the one you have to soak at first). But if you like to select another substitute, go for it! So, in the end, we were surprised the recipe worked out so good, cause it was our first try ever! Cross your pide heart, and you should try this recipe, too.
We are pleased that "Mutti Parma" supports this recipe. All of their products are completely plant-based, originated in Italy and produced sustainably and environmentally friendly. They celebrate "tomato day" on the 29th of September and still search for the best tomato recipes. You can win a trip to Italy with lots of pasta, pizza, and tomatoes. Oh yes! Check more information here.
Vegan pide with ground meat & tomatoes (Turkish flatbread)
Ingredients
Dough
160 ml (0.6 cups) water (lukewarm)
1 tsp refined sugar
20 g (0.7 oz) fresh yeast
500 g (2.25 cups) flour
1 tsp salt
75 g (2.6 oz) plant-based natural yogurt
2 tbsp plant-based oil
3 tbsp plant-based milk
Filling
3 tbsp plant-based oil
1 onion
1 garlic clove
350 g (12.3 oz) plant-based ground meat
20 g tomato paste e.g. Mutti
1 tsp paprika powder
1/2 tsp dried thyme
1 tsp oregano
1 tsp pul biber or chili powder
1/2 tsp cumin seeds
500 ml (2 cups) tomato pulp e.g. Polpo Mutti
15 g (0.5 oz) fresh parsley
salt & pepper
Toppings
white & black sesame seeds
fresh parsley
olive oil
plant-based natural yogurt
Instructions
Preparing the dough
Fill lukewarm water in a big bowl. Sprinkle sugar and fresh yeast into the water and let sit for 10 minutes at a warm place.
Add plant-based yogurt, salt, and oil. Gradually knead in the flour.
Cover the bowl with a wet kitchen towel and allow the dough to rise for 30 minutes.
Filling
Peel and finely dice onion and garlic.
Heat plant-based oil in a big pan and steam onions until translucent. Add minced garlic and fry for 2 minutes.
Now add the vegan minced meat. Fry for 4 minutes. Add the tomato paste and all the spices. Sauté lightly for another 1-2 minutes.
Add tomato pulp and let simmer for 3-4 minutes.
Wash, shake dry and finely chop parsley. Add parsley to the tomato-meat-mixture. Season with salt and pepper. Take the pan from the cooker.
Fill & Bake
Once the dough has risen, place the dough on a lightly floured surface. Knead the dough again for 1 or 2 minutes. Divide into four pieces and roll into four balls. Roll balls into oval shapes.
Place baking paper and two flatbreads on one baking tray. Spread the filling over the flatbreads, leaving a 2 cm border around the outside.
Fold the edge over the filling and pinch the top and bottom ends together.
Brush each pide with plant-based milk, so they turn golden-brown in the oven.
Bake for 30 minutes at 220°C/430°F. Serve with fresh parsley, olive oil, plant-based yogurt, and sesame seeds.