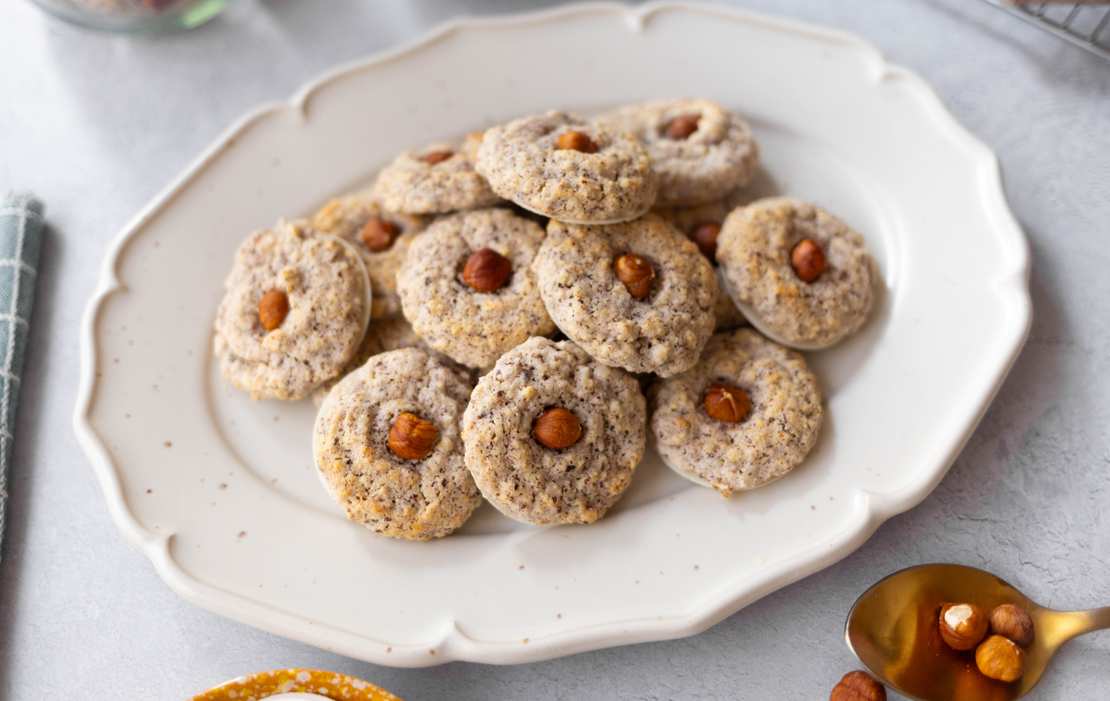 I don't need to tell you that macaroons are an absolute German classic. It's all the more astonishing that I've never encountered one of these in my life. As if Julia had suspected this, she entrusted me with developing this recipe. I have to admit first, I wasn't that enthusiastic because, firstly, I'm rather skeptical about most nuts, and, secondly, recipes with beaten egg whites are always rather difficult to veganize.
So you can imagine how surprised I was when the recipe turned out well the first time I tried it. I also discovered that nut macaroons are dangerously delicious. It's the kind of delicious where you always have to secretly hide a portion so that you can still get one.
So that you too can enjoy these tasty treats, I'll take you by the hand, and together, we'll discover the (not so scary) world of vegan egg whites, aka aquafaba.
Aquafaba is a miracle ingredient in vegan cuisine and is currently the most effective way to replace egg whites. So, it's no wonder that it can be found in so many ingredient lists on our blog. My favorites are definitely vegan mallomars and meringues.
We also use chickpea water for this recipe. Add a little baking powder and whisk it into a firm foam. If you've done everything right, you should be able to safely hold your bowl upside down over your head (do it at your own risk, hihi). Slowly sifting in the powdered sugar turns the fine-pored foam into a sticky, white mass: the perfect base for our macaroons. A little vanilla extract or vanilla sugar can be added for flavor. Then, carefully fold in the ground hazelnuts (or other ground nuts of your choice) to create a firm, creamy nut mixture. You can now spread this on your wafers using a spoon or piping bag.
Vegan Nut Macaroons
15 cookies
15 minutes (+10–12 minutes baking time)
Ingredients
50 g (0.25 cup) aquafaba (water from the can of chickpeas)
0.25 tsp baking powder
75 g (0.75 cup) powdered sugar
0.25 tsp vanilla extract
200 g (7 oz) ground hazelnuts
15 thin wafers ("Oblaten")(ø 5 cm / 2 inches)
15 whole hazelnuts
Instructions
Preheat the oven to 180 °C / 355 °F (convection heat). Place the aquafaba and baking powder in a large bowl and beat with a hand mixer or food processor until a firm consistency is achieved.

Gradually sieve in the powdered sugar and carefully fold in. Add the vanilla extract and fold in together with the ground hazelnuts.
Tip: The consistency of your dough is crucial for this recipe. It is best to add the hazelnuts a little at a time to keep an eye on the consistency of the dough. It should be soft enough to work easily with the piping bag. However, it should stay intact after piping. The consistency should be similar to that of toothpaste.
Spread the wafers on a lined baking sheet. Then, place the nut mixture in a piping bag with a large piping nozzle (approximately 1 centimeter). Place the piping nozzle slightly above the center of each wafer. Then, squeeze out the mixture without moving the tip of the nozzle. This way, the nut mixture should spread evenly over the entire wafer. The macaroons should be about 0.5 centimeters high.

Place a hazelnut in the center of each macaroon and bake the cookies for 10–12 minutes at 180 °C / 355 °F (convection heat). Leave to cool well after baking, as they are still very soft when fresh from the oven.
More Vegan Cakes & Cookies