Simple, vegan gingerbread ("German Lebkuchen")
There are supposed to be people who complain about the fact that speculoos and gingerbread find their way back into our supermarkets at the end of August. To come straight to the point, we are definitely not one of them. After all, what could be better than cherry bombs and speculoos? And what else have we been eagerly anticipating over the past few months?
But before we get bogged down, let's quickly get to our own recipe for vegan gingerbread **because not all gingerbread you find in the supermarket is vegan. **Sometimes, they contain milk powder, sometimes pure butter, and sometimes milk chocolate. But maybe you just want to avoid the often-contained additives and E-lists or are still looking for a gift or a baking project for the weekend. Our recipe for vegan gingerbread is perfect for all of these occasions!
You can actually find the ingredients you need for our recipe in any supermarket. You don't need any special substitutes, either. Sometimes, it's a bit complicated to find gingerbread spice – but you need it in any case to make your gingerbread taste like gingerbread. A simple solution is to make it yourself! A good recipe can be found here. But let it be said: You can also find gingerbread spice in the supermarket as early as August, so the circle closes again!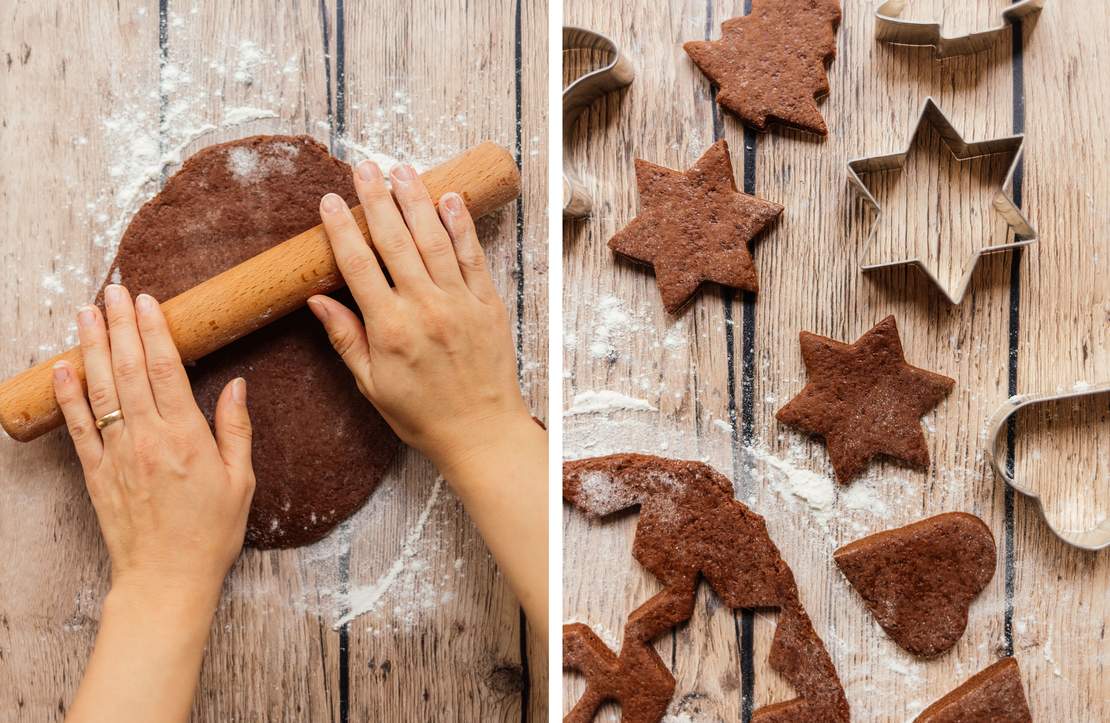 Simple, vegan gingerbread ("German Lebkuchen")
30 gingerbread cookies
30 minutes (+ 15 min. baking time, + 60 min. cooling)
Ingredients
500 g (4 cups) flour
1 tbsp baking powder
200 g (1 cup) brown sugar
40 g (1.33 oz) unsweetened cocoa powder
15 g (0.5 oz) gingerbread spice
40 ml (0.33 cup) vegetable oil
250 ml (1 cup) plant-based milk
300 g (10.5 oz) dark chocolate
2 tbsp coconut oil
Instructions
Preheat the oven to 180 °C / 355 °F (convection heat). Mix flour, baking powder, sugar, cocoa powder and gingerbread spice in a bowl. Add vegetable oil and plant-based milk and knead into a dough.

Roll out the dough on a floured surface to at least 5 millimeters thick and cut out stars, circles, hearts or other shapes with cookie cutters. Place the gingerbread cookies on a lined baking sheet and bake in a preheated oven at 180 °C / 355 °F (convection heat) for 10-15 minutes.
Tip: If you don't have cookie cutters, shape the dough into small balls and flatten them a bit. This way, you can easily get circular gingerbread.
Once the gingerbread has cooled, melt the chocolate and coconut oil in a water bath. Dip the gingerbread cookies in the chocolate and let them drip off on a cooling rack. Leave to rest until the chocolate has set.

Store the gingerbread in an airtight container and eat within 3-5 days.
More Vegan Christmas Recipes