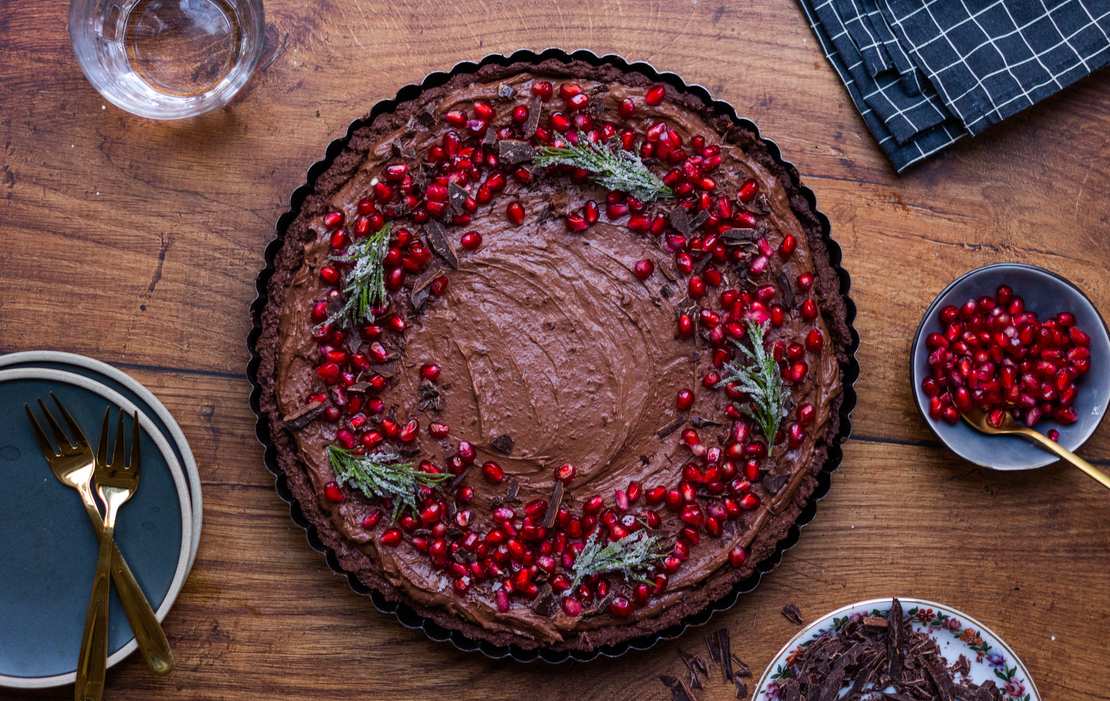 Vegan Chocolate Pomegranate Tart
When planning a Christmas menu, you're bound to quickly think of a few dessert classics: Tiramisu, panna cotta, baked apples and the like. At least, that's how I feel. However, we always want to give you new ideas and inspiration along the way, so today, we show you a Christmas chocolate pomegranate tart, which you can prepare perfectly one or two days in advance. The tart has three components:
The dough: First, we prepared a simple dough using flour, cocoa powder, sugar and vegan butter. You can put the dough into your tart pan and flatten it with your hands, or you can roll out the dough beforehand and then place it in the pan. Method number two looks more even and more neat in the end. If you don't have a tart pan diameter of 28 cm (11 inches), you can also use a springform pan.
The chocolate layer: We really love cremes made from a mix of whipped cream and cream cheese, because they combine a light and airy creaminess with a great freshness and acidity. To make the cream nice and chocolaty, we added baking cocoa and melted dark chocolate. A feast!
The decoration: For the decoration we use pomegranate seeds, chopped dark chocolate and sprigs of rosemary, which are coated in sugar.
So, now you know everything you need. We look forward to seeing this tart on your table this holiday season!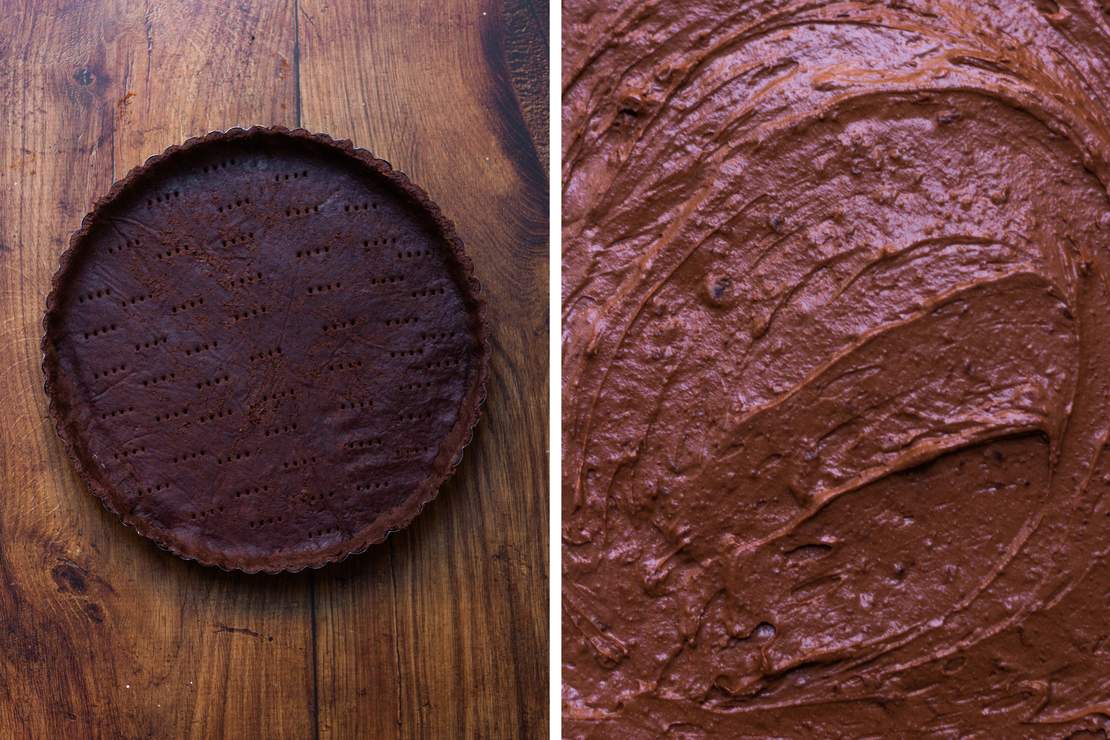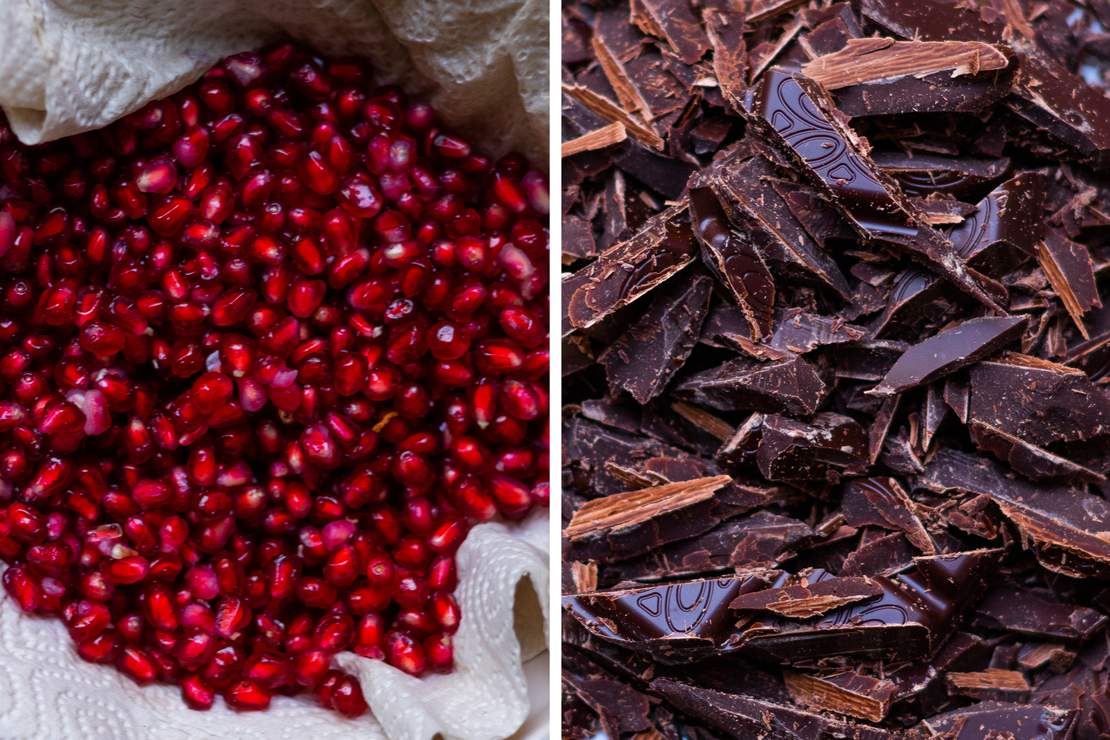 Vegan Chocolate Pomegranate Tart
1 tart (∅ 28 cm / 11 inches)
45 minutes (+ 30 min. cooling time + 20 min. baking time)
Ingredients
For the base:
250 g (2 cups) wheat flour type 405
20 g (0.25 cups) cocoa powder
75 g (0.33 cup) sugar
125 g (1 stick) vegan butter (cold)
cold water as needed
vegan butter for greasing
For the chocolate cream:
200 ml vegan cream for whipping
8 g cream stiffener
8 g vanilla sugar
300 g (10.5 oz) vegan cream cheese
50 g powdered sugar
20 g baking cocoa
100 g dark chocolate
For the decoration:
rosemary sprigs
sugar
1 pomegranate
chopped chocolate
Instructions
Mix wheat flour, cocoa powder and sugar in a large bowl for the dough. Add cold vegan butter and knead with your hands. Add cold water as needed to form a smooth dough. Let sit in the refrigerator for at least 30 minutes.

Preheat the oven to 180 °C / 350 °F (convection heat) and grease a tart pan (∅ 28 cm / 11 inches). Remove the dough from the refrigerator and roll it out between two sheets of parchment paper until it is large enough to cover the bottom and sides of the tart pan. Place the dough in the pan and lightly press down on the bottom and sides. Trim off any excess dough. Prick the bottom of the dough several times with a fork to prevent bubbles forming during baking. Bake the tart base for about 15–20 minutes. Then let it cool completely.

While the base is in the oven, remove the seeds from the pomegranate in a water bowl. Then drain on a kitchen towel.

For the chocolate creme, whip the vegan cream with cream stiffener and vanilla sugar, add the vegan cream cheese, powdered sugar and baking cocoa and mix everything into a smooth cream. Melt the dark chocolate and stir in quickly.

Let the cream chill for at least 30 minutes and then spread on the base. Hold the rosemary sprigs briefly under water, shake them out a little and then coat in sugar. Top with pomegranate seeds, chopped chocolate and the rosemary sprigs and chill until ready to serve.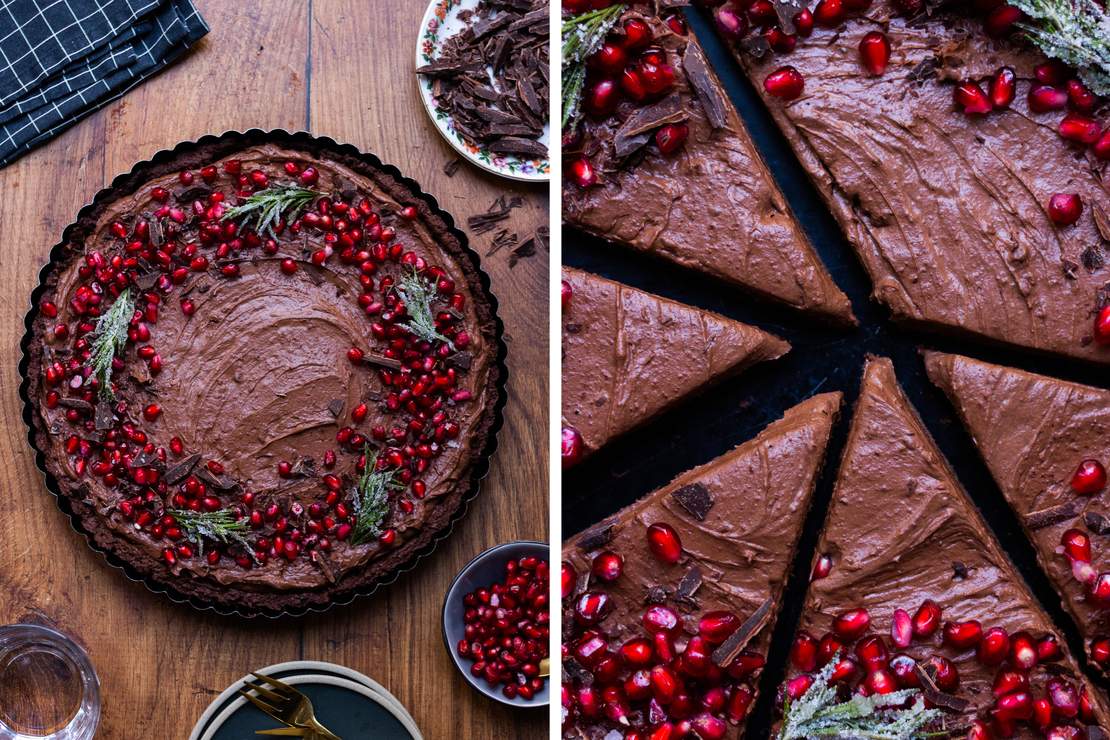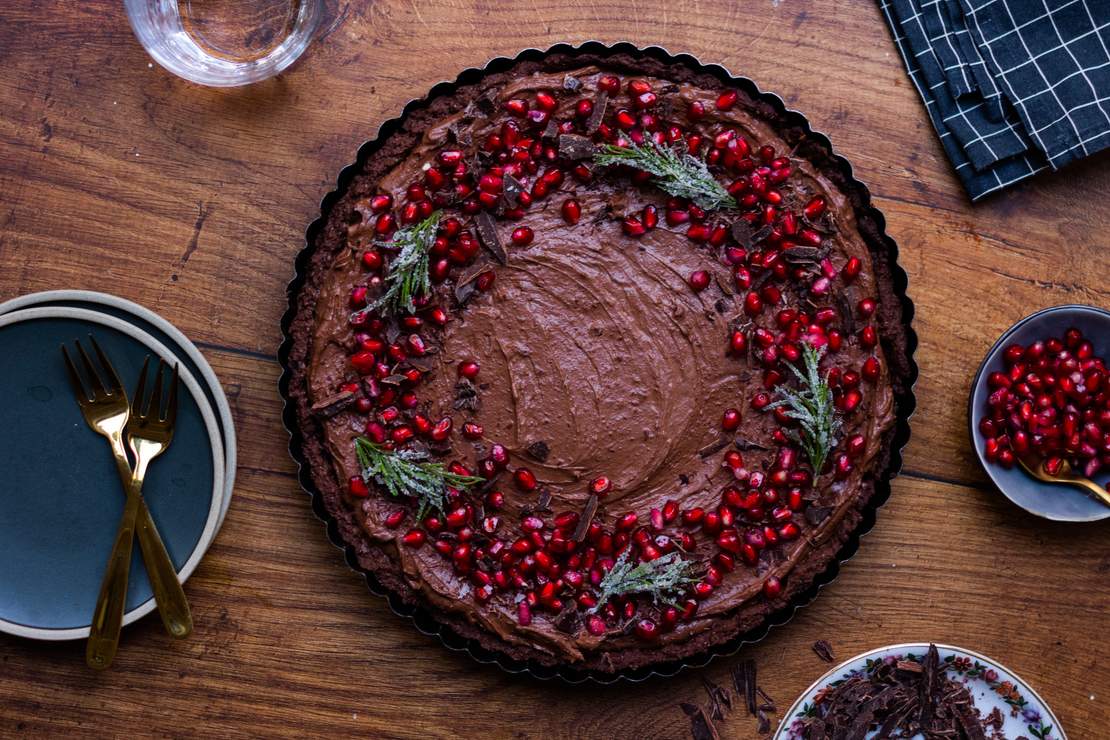 More Vegan Cakes & Cookies