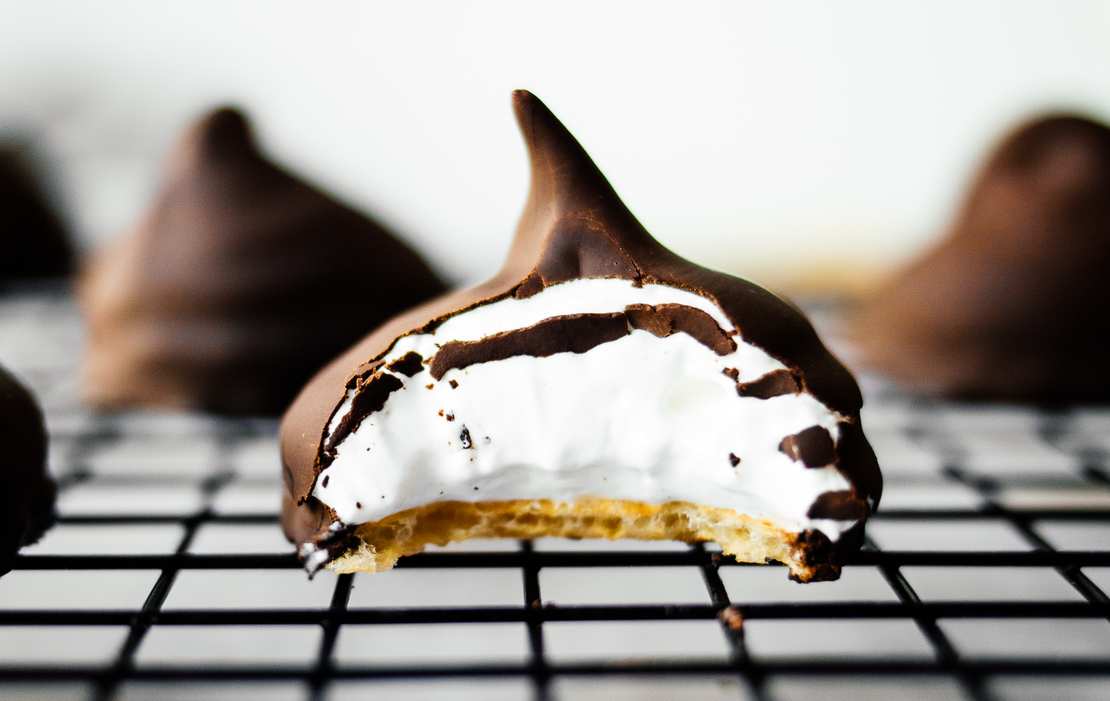 Hallelujah, it's a wrap! It took me no less than four months to develop and shoot this recipe. At some point, I stopped counting my attempts (it must have been around ten) and often had to think of Julia's Baumkuchen-Odyssee. You see, the thing about mallomars is: They consist of 97% beaten egg whites. For our vegan version, the egg whites are replaced with aquafaba, the water from chickpeas. We give you more details about this here. Unfortunately, aquafaba does not behave 1:1 like an egg. In confectionery and patisserie recipes, a lot of sensitivity, know-how, and experience are required. This is true artisanship. To all pastry chefs: I salute you all. My first attempts with hot sugar syrup and agar agar always melted away in front of my eyes before I could coat them with chocolate (yes, my baker's heart broke each time). So I've discarded that approach (for now) and instead proceed as the following:
Reduce the aquafaba by two-thirds on the stove, as this makes it more concentrated, loses water, and becomes more like egg whites.
Whip the mass over a hot water bath.
In addition, I use cream of tartar, as it provides extra stability.
Between each step (adding powdered sugar, cream of tartar, ...) whip the mass for at least 10 minutes.
Work fast when piping the mixture! We put the beaten aquafaba mass in a piping bag and transferred it directly to the already prepared wafer bases. Speed is required here so that the vegan mallomars do not lose their shape.
Melt the chocolate glaze together with coconut oil – we are looking for a runny consistency. Because the chocolate coating keeps the malomars in their shape, a too-thick glaze will flatten them down.
By the way, we cut the vegan wafer bases with a round cookie cutter (ø 5 cm / 2 inch) from flat wafer sheets. You can find these online, or if you're lucky, in Turkish or Russian supermarkets or gourmet food sections. However, not all of those are vegan, so double-check the ingredient list. Instead of wafers, you can just as easily use vegan cookies or simply small rice cakes.
These are the technical details. What's essential for me left to say is this: Please don't despair if you don't succeed with this recipe right on the first attempt. As I said, it took me many tries before they were a winner. Aquafaba is a diva, don't get frustrated. If it doesn't work right away, try again. And the good news is, even failed malomars taste delicious. I promise!
Homemade Vegan Mallomars
12-16 mallomars
60 minutes
Ingredients
For the aquafaba mixture:
350 ml (1.66 cup) aquafaba
200 g (1.66 cup) powdered sugar
1 pinch of salt
1 tsp cream of tartar
Also:
400 g (14 oz) vegan chocolate glaze
2 tbsp coconut oil
vegan flat wafer sheets (1-2 flat wafers 25x25 cm / 10x10 inch)
Instructions
Heat aquafaba in a saucepan and simmer until reduced to 125 g (0.66 cup). Using a round cookie cutter (5 cm / 2 inch ø), cut out bottoms for the mallomars from the wafer sheets.
Heat a saucepan with water and place a heatproof bowl over the bain-marie. Beat the aquafaba in the bowl for at least 5 minutes until stiff. Add the powdered sugar and salt.
Continue beating for another 5 minutes, then add the cream of tartar and beat for 5-10 more minutes. Melt the chocolate glaze with the coconut oil and mix it.
Pour the mixture into a piping bag with a round tip. Spread the flat wafer bases on a grid and place a sheet of baking paper underneath. Pipe the filling directly onto the bottoms and cover with chocolate glaze. Let the mallomars set until the chocolate coating is firm. Store the vegan mallomars at room temperature and eat them in 1-2 days.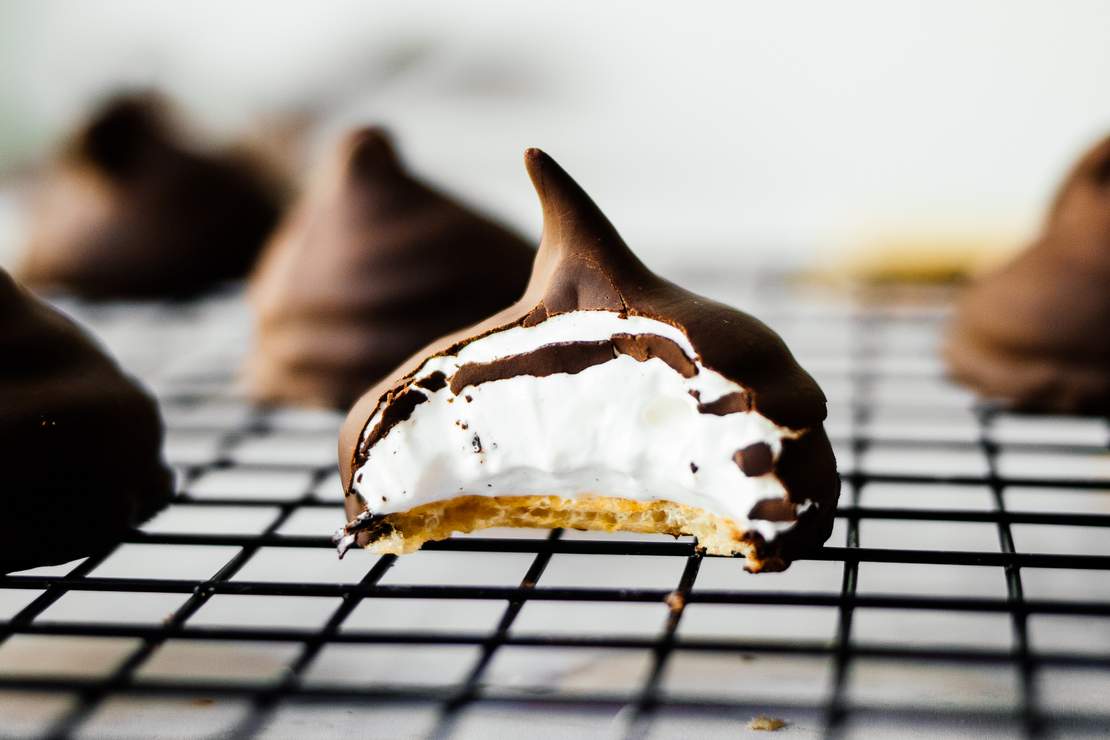 More Vegan Chocolate & Sweets Recipes and Plant-Based Copy Cats