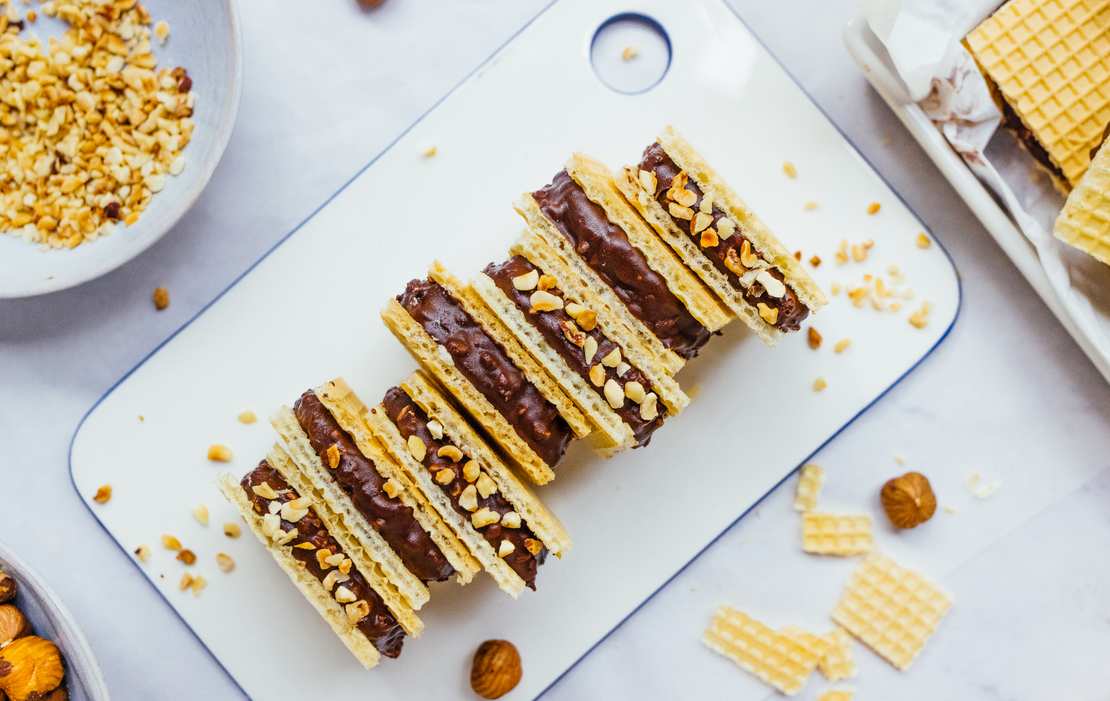 The hazelnut wafers from the well-known Italian chocolate company used to be my favorite. Even if the ingredients are quite basic: two more or less tasteless wafers and in between chocolate (semi-sweet & milk), milk powder, hazelnuts, sugar, vanilla aroma, and salt. Two thoughts came directly to my mind:
Why did exactly this snack catch my heart? On the list of foods that I miss, it occupies one of the top ranks. Watching good old TV commercials once, we all realize that the brand offers sweets that are much more special the two wafers with chocolate cream in between (Answer: I guess I like it simple but good, and the combo of chocolate, roasted hazelnuts, vanilla with a touch of salt is just unbeatable).

Why haven't I tried a vegan version of it earlier?
Probably because the most unexciting ingredient isn't so easy to get, vegan wafer sheets, we've unfortunately only found these online. You can also get them in supermarkets or Turkish or Russian grocery stores if you're lucky. Maybe you are more successful and can give us the insider's tip.
Once you've found the wafer sheets, the rest is a snap. Instead of milk chocolate, we use nougat, which adds that extra hazelnut flavor. Vegan semi-sweet chocolate is often available at the sweets and chocolate section of supermarkets. Just double-check the ingredient list. Dark chocolate works also. In addition, we use real hazelnut butter for our filling, which is just super delicious. We melt both to a creme and add bourbon vanilla paste. Don't forget the vanilla paste, as the fluid paste makes your mixture firmer and spreadable. Alternatively, you can use a liquid sweetener, such as agave syrup or rice syrup, and flavor with fresh or ground vanilla.
In the end, we also add roasted and chopped hazelnuts. We kept it simple and used the store-bought version. Of course, you can also toast and chop the hazelnuts yourself. Ah, and don't forget the mandatory pinch of salt. If you are as impatient as I am, you can put the hanuta in the fridge. They will set faster there. And then? You've got it - the ultimate delicious treat of the old days. For me, it tastes like Friday afternoons at my Grandma's, where we were allowed to sit in armchairs and watch TV for as long as we wanted – equipped with all our favorite sweets.
What about you guys? What is the granny snack of your childhood, and is there perhaps something that you are missing? Feel free to share it with us in the comments. I only have one last tip: Better make twice the amount because the vegan hanutas miraculously disappear quickly. And if you have a craving for sweet classics: On the blog, there is a whole category for vegan Chocolate and Sweets. You can find vegan Sandwich Cookies, Kinder Country, Vegan No Milk Slice, Jaffa cakes, Toblerone, Twix, Bounty, Yogurette, Toffifay or Schokobons there.
Vegan Hanuta
12 Hanuta
20 minutes (+ time to set)
Ingredients
vegan flat wafer sheets (2 sheets 25 x 25cm / 10 x 10 inch)
150 g (5.25 oz) semi-sweet chocolate
100 g (3.5 oz) nougat
100 g (3.5 oz) hazelnut butter
4 tsp bourbon vanilla paste
1 tsp salt
50 g (1.75 oz) chopped roasted hazelnuts
Instructions
Cut the vegan wafer sheets into squares (5.5 x 5.5 cm / 2.2 x 2.2 inch). Melt the semi-sweet chocolate, nougat, and hazelnut butter over a bain-marie.
Mix with bourbon vanilla paste and salt to a smooth consistency. Fold in the chopped hazelnuts.
Spread approx. 2 - 3 tsp. of the chocolate-hazelnut mass on one wafer base and place a second wafer square on top. Continue in this way until the mixture is completely used up.
Allow the prepared sandwiches to set either at room temperature or in the refrigerator until the filling is firm. Decorate with chopped hazelnuts if desired.
More Vegan Chocolate & Sweets Recipes and Plant-Based Copy Cats