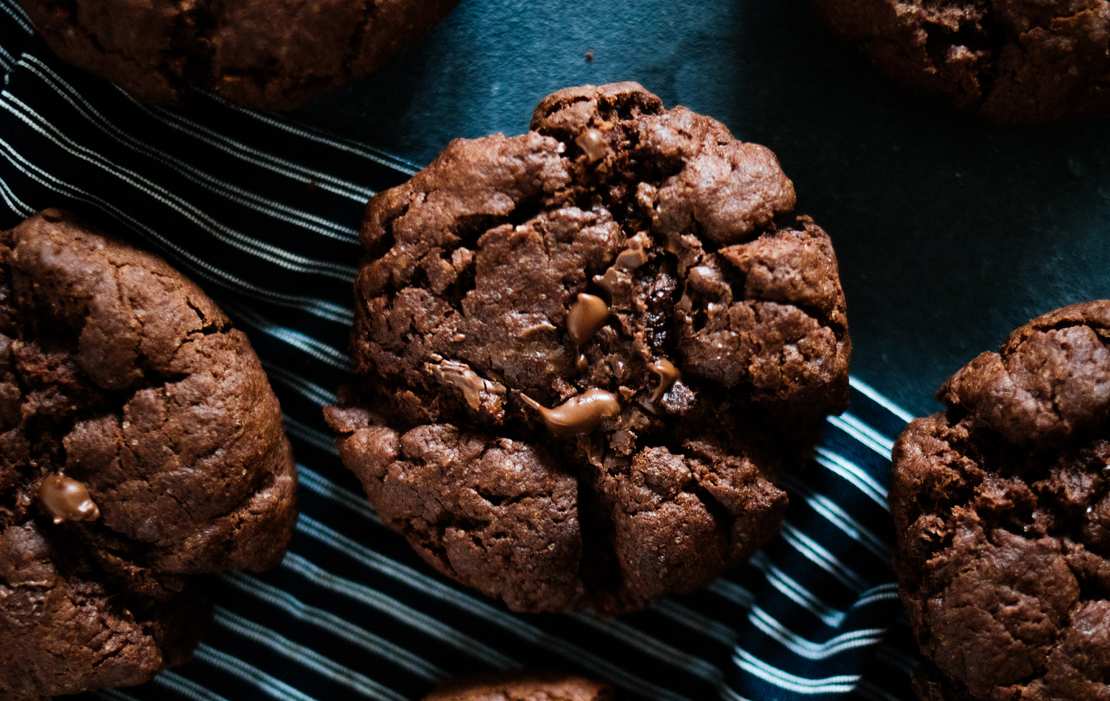 Vegan chocolate stuffed cookies
Out motto in fall is: if the sun is not shining anymore, we have to get the warmth from something else. And what works better than baking homemade chocolate cookies if you need something comfy, warming and exceptionally satisfying.
We developed a recipe that will fill your home with the delicious smell of fresh cookies and serves a big sheet of soft, filled chocolate cookies! The recipe is super easy and quick to prepare. The vegan nut nougat cream in the middle of the biscuits keeps the core flowing and soft! Even after 3-4 days, the cookies still taste great. But you need to try them fresh from the oven!
__
[bionella] (https://www.bionella.info/)__ supported us and this recipe, and we are very happy about it! bionella is a vegan and fair-produced chocolate hazelnut spread made exclusively from organic ingredients. Under fair, social, and environmentally friendly conditions, bionella is produced by [Rapunzel Naturkost] (http://www.rapunzel.de) in the Allgäu. bionella is super delicious, so be careful you don't empty the glass before baking!
Vegan chocolate stuffed cookies
10 cookies
20 minutes (+15 minutes baking time)
Ingredients
200 g vegan chocolate hazelnut spread (e.g., from bionella)
dough
200 g flour
40 g chocolate powder (unsweetened)
80 g sugar
125 g plant-based butter (cold)
a pinch of salt
8 g vanilla sugar
7 g baking powder
50 g apple sauce
Instructions
Preheat the oven to 180°C (circulating air).
Knead all the ingredients for the cookie dough in a bowl.
Form 10 balls. Each one of them should weight about 40 - 50 g.
Flatten each cookie dough ball with the palm of your hand and place 1 teaspoon vegan chocolate hazelnut spread in the center. Fold the edges of the dough around the chocolate cream and seal tightly. Carefully form a ball again.
Line a baking sheet (or 2) with parchment paper. Place the stuffed cookie dough balls onto the prepared baking sheet. Bake for 15 min on the middle rack.
Take the cookie dough balls out of the oven and press them slightly with a spatula to create flat cookies. Let the cookies cool down for 10 minutes. Enjoy still warm!
More Vegan Cakes & Cookies