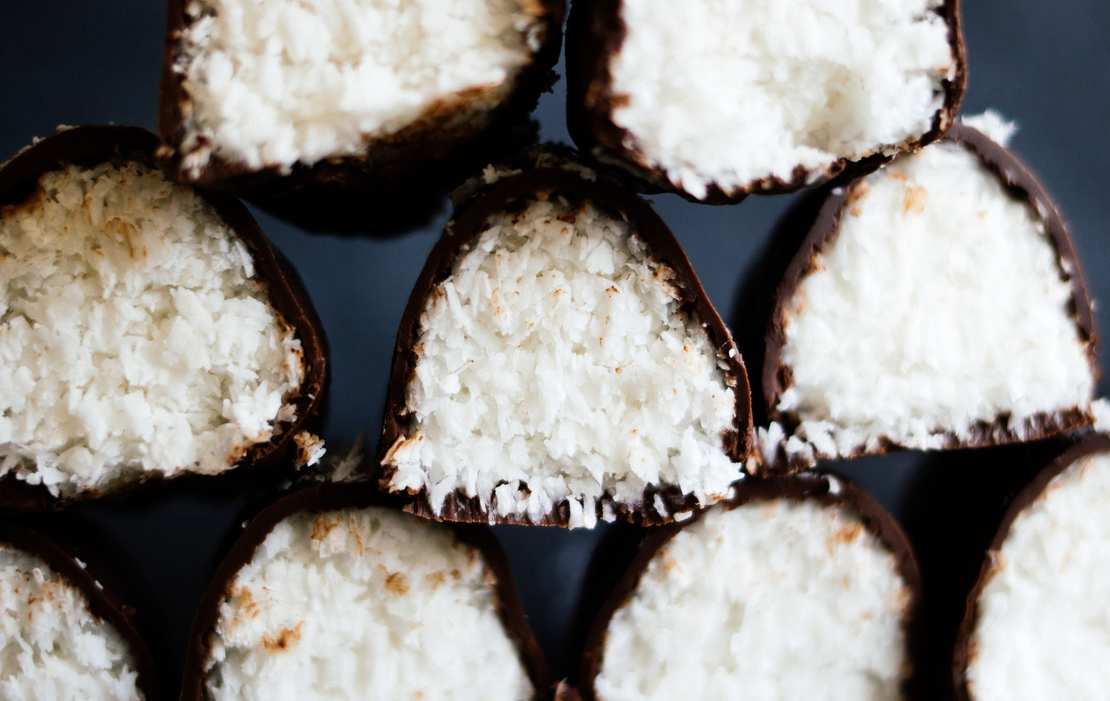 Make a wish: In our series "Make a wish" we develop recipes to make your wishes come true - whether it's about vegan french toasts or doughnuts. If you also have a recipe that we should cook for you, send us a quick mail to hello@zuckerjagdwurst.com. Until then, find all your previous wished recipes here.
We are regularly asking you on Instagram for recipes you are missing on our blog. We, therefore, created a category called "Make a wish ". Something we are noticing every single time is that you are hardly missing sweets. You already asked us for vegan Toffifay, Yogurette and Schokobons. Another candy that always kept popping up in your answers are vegan Bounty!
To be honest, we don't understand why the original recipe isn't already vegan. The chocolate bars consist of a coconut filling and a chocolate coating. Two components that can be prepared vegan quite easily. But until that happens, we simply prepare bounties ourselves at home. We'll show you how it's done!
Vegan homemade bounty
20 Bountys
30 minutes (+90 minutes waiting time)
Ingredients
coconut filling
200 g grated coconut
20 g coconut oil
50 g maple syrup/agave syrup
150 ml coconut milk
chocolate coating
200 g dark chocolate
20 g coconut oil
2 tbsp grated coconut
Instructions
Heat the coconut oil in a small saucepan until liquid.
Mix the grated coconut, the coconut oil, the maple syrup and the coconut milk in a bowl (only use the thick layer of a coconut milk can, not the coconut water).
Form 15-20 bounties and place them on a cutting board. Chill the bounties in the freezer for at least one hour.
Melt the dark chocolate and coconut oil in a water bath. Remove from the heat and set aside for about 10 minutes.
Using two forks (or spoons), dip the bounties in the liquid chocolate so that they are fully covered with chocolate.
Place the bounties on a cooling rack and sprinkle with coconut flakes.
Store the bounties in the refrigerator (up to 5 days).
More Vegan Chocolate & Sweets Recipes and Plant-Based Copy Cats