Vegan Nut Butter Cups with 3 Fillings
June 2010, a warm breeze sweeps across the hot rooftops of Berlin. The sun has been shining continuously for days. In the backyard of a house, a small group of children is cavorting. One of the children pulls something out of their pocket ...
About that or something like that was the setting when I ate my very first Nut Butter Cup: a revelation and the beginning of a nut butter obsession. My cousin from the US brought them with her at the time, leaving a lasting impression on me. And trust me, if you've tried this recipe, you'll feel the same way afterward.
Not only is the recipe incredibly easy, it's also one-fix-three to prepare. Moreover, all Nut Butter Cups are beautiful, so we've got three variations in store for you right now, with three different vegan chocolates and, most importantly, three different nut fillings.
For the fillings, we used ground nuts and the Nut Butter made from Rescued Nuts by Sirplus. Rescued nuts? Yes, by working with over 700 producers and wholesalers, Sirplus manages to save valuable food from the garbage can, which, for a variety of reasons, does not go on regular sale and is not picked up by food banks. By selling them through their online store, they bring them back into the food cycle. With their commitment, the employees of Sirplus want to make society, politics and the economy rethink. But what does this mean for our nut butters? During food production, for example, broken nuts are often left over. Sirplus buys these ''scraps'' and processes them into purees. The almonds for the almond butter, for example, come from the processing of raw nut paste for marzipan. You can find the nut butters and many other rescued foods here. With the code ZUCKERUNDJAGDWURST you get 15% discount on your entire order. The promotion is valid until 31.12.2023 and has no minimum order value.
Let's continue with the Nut Butter Cups. For this, we melt the chocolate of our choice. After that, a tablespoon of it is placed in each muffin tin. We prefer to use silicone muffin tins, because the chocolate gets off very easily when frozen and we can reuse them for more recipes. While the first layer of chocolate is setting in the fridge, we combine ground nuts, powdered sugar, and our nut butter in a bowl, which makes our filling ready to go. If your nut butter was kept for some time, the oil it contains may settle on the surface. To skip you the hassle of stirring, you can blend the nut butter briefly in a stand mixer, and it will be as good as new.
Once the chocolate has hardened, you can put a teaspoon of filling on top, cover the whole thing with the remaining melted chocolate and optionally decorate with nuts. After another hour in the fridge, you can enjoy the Nut Butter Cups directly.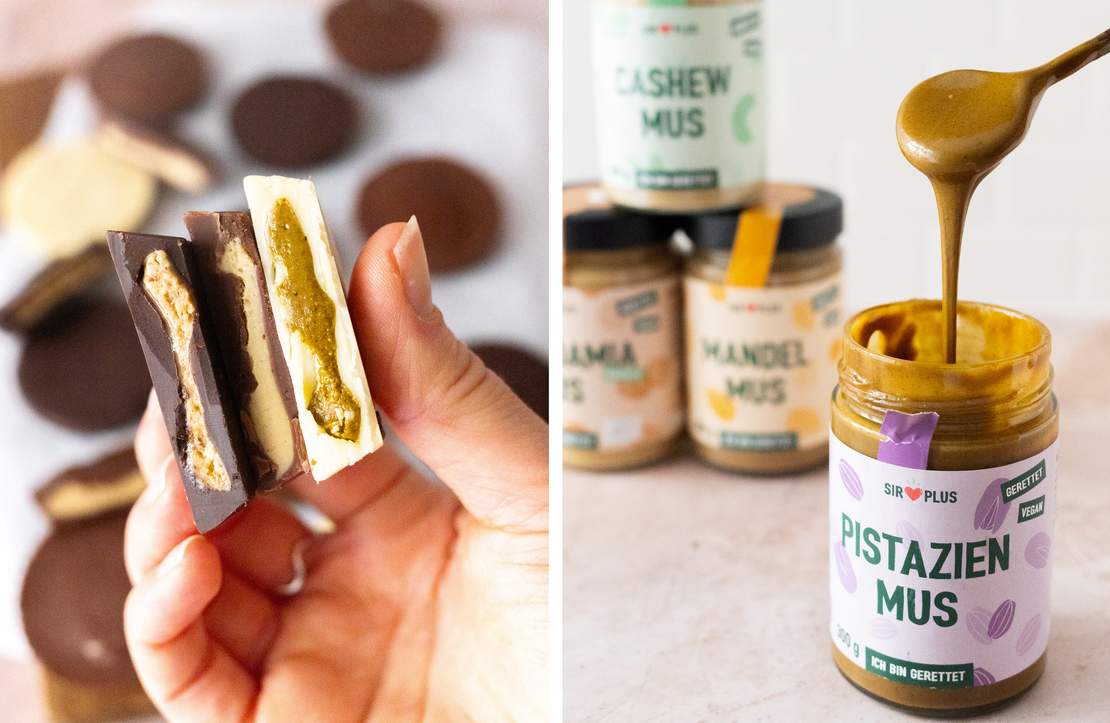 Vegan Nut Butter Cups with 3 Fillings
24 cups
30 minutes (+ 45 minutes cooling time)
Ingredients
For the dark chocolate cups with almond butter (8 cups):
100 g vegan dark chocolate couverture
50 g almond butter (e.g. by Sirplus)
10 g ground almonds
15 g sifted powdered sugar
For the white chocolate cups with pistachio butter (8 cups):
100 g vegan white chocolate
1 tablespoon coconut oil
50 g pistachio butter (e.g. by Sirplus)
10 g ground pistachios
15 g sifted powdered sugar
For the milk chocolate cups with cashew butter (8 cups):
100 g vegan milk chocolate
1 tablespoon coconut oil
50 g cashew puree (e.g. by Sirplus)
10 g ground cashews
15 g sifted powdered sugar
Additionally:
silicone muffin tins
Instructions
Depending on the flavor you choose, melt the chocolate over a water bath. The water should not be boiling. If you are using regular chocolate – not couverture – add a tablespoon of coconut oil.

Put a teaspoon of the melted chocolate in a muffin tin and place in the freezer for about 10 minutes to harden.

In the meantime, mix the nut butter with the ground nuts and powdered sugar in a bowl to make a thick paste.

Now place a teaspoon of nut mixture in the center of the muffin tin. Press the filling down lightly, but do not press all the way to the edges. Fill the edges with melted chocolate and cover the nut mixture. Let them set for at least an hour.
More Vegan Chocolate & Sweets Recipes and Plant-Based Copy Cats