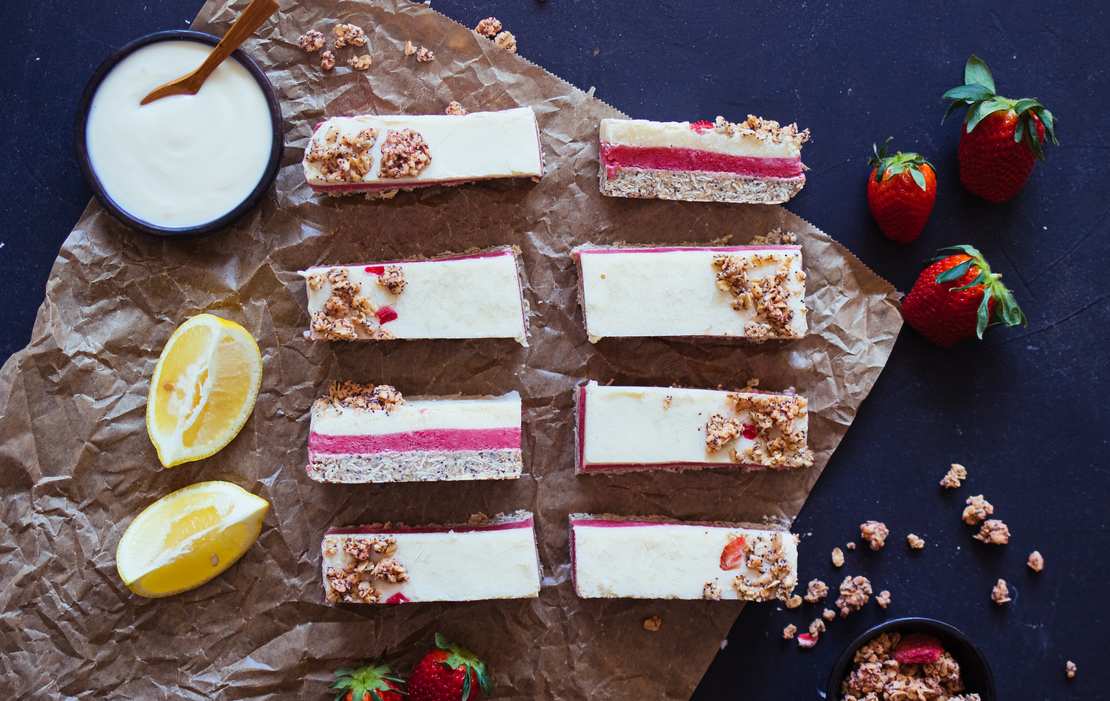 Vegan Frozen Strawberry Bars
In summer we prefer to spend our home office on the balcony. With an iced coffee on our right, a snack on our left, and a nice view over the roofs of Berlin. Not too bad! While the temperatures are rising, we searched for a fruity, cold, and healthy snack we can enjoy in the afternoon. Preferably without too much effort and a short ingredient list.
So guess what, these frozen strawberry bars are a simple and very, very tasty answer! They are made of plant-based yogurt, fresh strawberries, and a layer of muesli, and a mix of frozen yogurt and an energy bar. Another advantage: You can prepare the bars at any time! Just allow to defrost for 30 - 60 minutes before you want to enjoy them or your friends are visiting.
barnhouse supported us with this recipe. barnhouse is a pioneer in the production of crunchy organic mueslis and is based in Bavaria. We used the Krunchy Joy Poppy-Strawberry-Lemon as the basis for our frozen strawberry bars. It's made from regional oats from partner farmers, beet sugar from German cultivation, and poppy seeds from the Upper Palatinate and Austria. It's baked with European sunflower oil instead of palm oil and doesn't need any additives or flavorings. So if you like to eat muesli, go and the barnhouse mueslis, which you can find in organic markets or online.
By the way: barnhouse has published a new recipe booklet with lots of great ideas and recipes. In the course of this, barnhouse is looking for the "Krunchy Summer Recipe 2020," and you can win a Krunchy annual subscription. Simply publish your Krunchy recipe on Facebook, Instagram, or Twitter using the hashtag #krunchysommerrezept until May 31st, 2020. Find more information about the recipe book and the competition [here] (https://barnhouse.de/allgemein/das-neue-barnhouse-rezeptheft/).
Vegan Frozen Strawberry Bars
12 servings
30 minutes (+ min. 4 hours freezing)
Ingredients
cereal layer
350 g Krunchy Joy poppy-strawberry-lemon (e.g., from barnhouse)
100 g cashew nuts
100 g coconut oil
100 g water
strawberry layer & yogurt
400 g fresh strawberries

100 g plant-based yogurt

optional: 10 g vanilla extract

400 g plant-based yogurt
decoration
50 g Krunchy Joy poppy-strawberry-lemon (e.g., from barnhouse)
Instructions
Line a foursquare baking tin or baking dish (22 x 28 cm) with baking paper.
Melt the coconut oil in a small saucepan. In a food processor mix the muesli, cashew nuts, water, and coconut oil. Fold in the oats.
Press the mixture into the baking tin. Place the baking tin in the freezer for at least 30 minutes.
Wash the strawberries, remove the stalks, and cut the strawberries in half.
Puree the strawberries with the plant-based yogurt (and optional vanilla extract) until you get a smooth mixture. Put the mixture on the muesli base and freeze for another 60 minutes.
Add the third layer, the plant-based yogurt on top, and decorate with muesli.
Put the frozen strawberry bars back in the freezer and let them rest overnight (at least 3 hours).
Remove the strawberry bars from the freezer 60 minutes before serving (30 minutes is enough in midsummer). Then cut into bars with a sharp knife.
More Vegan Recipes with Berries