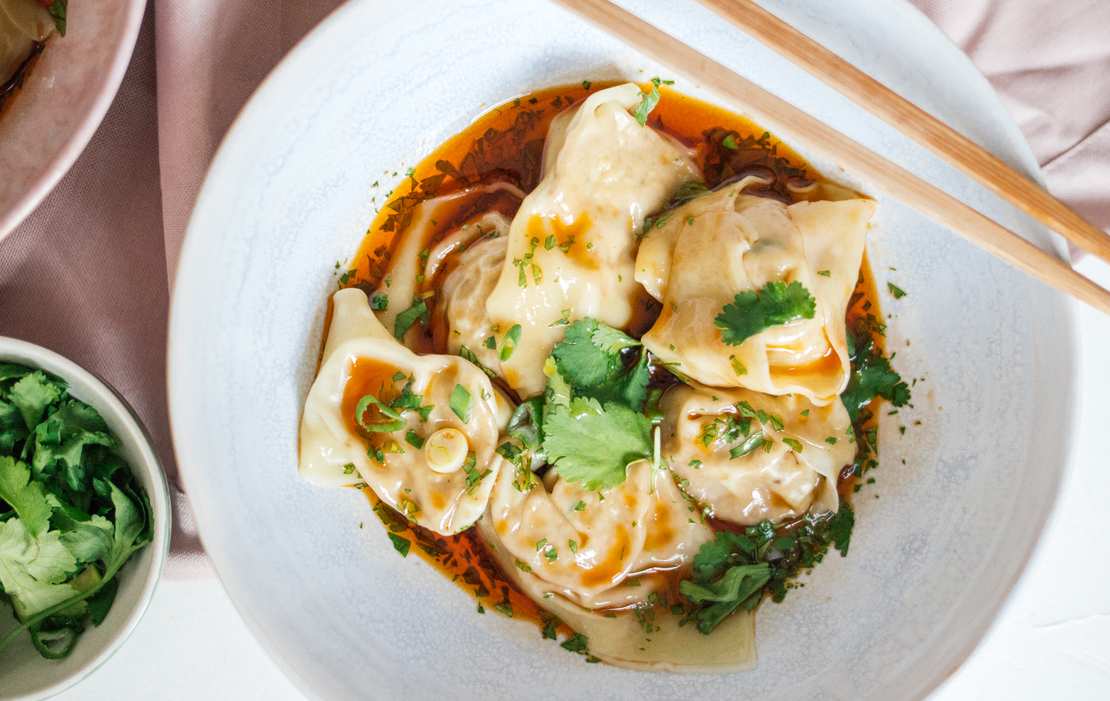 When I tried the vegan option at ChungKing Noodles for the first time, I was really blown away by that spiciness which is so intense, but also full of deep flavors. For those who've never heard of ChungKing Noodles: The (for now) only pop-up restaurant of Ash Lee regularly serves spicy noodle dishes and wontons in Berlin –made with homemade chili oil, meat or tofu options, and a mixture of aromas and spices such as Szechuan pepper. It's SO delicious that I keep visiting their pop-ups wherever they are.
So far, I could enjoy their vegan noodle dish several times as the spicy wontons in a kind of chili oil sauce were always filled with meat. But this dish looks so appealing that I really wanted to try to cook a vegan version. So let's be clear directly: No, my turn on chili wontons probably won't taste like the ones at ChungKing Noodles. It's because a) Ash Lee makes them in perfection, and b) I've never tasted their chili wontons. But in the end, there was a bowl full of delicious vegan and spicy wontons in front of me that I truly enjoyed - and that's at least something, right?
One last note regarding spiciness: I made some homemade chili oil, a while ago which also contains chili flakes. If you like to eat spicily, add some of these to the sauce too instead of using the oil only.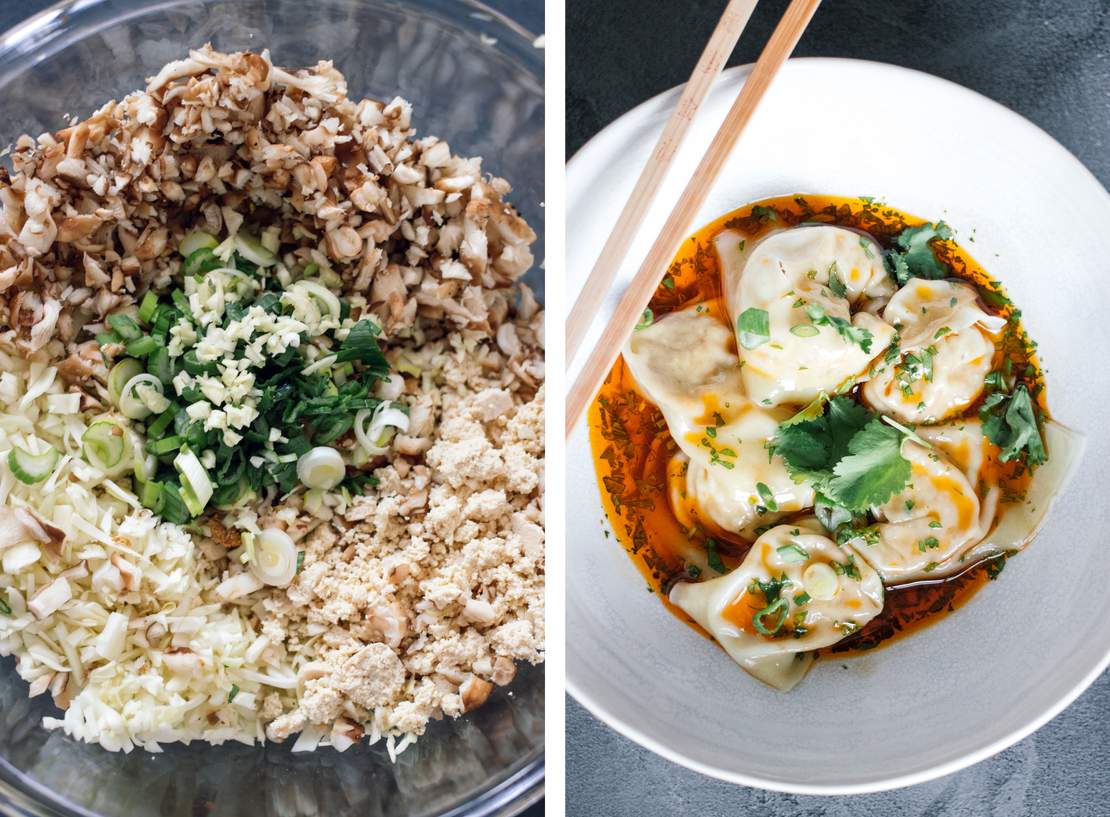 Vegan Chili Wontons
Ingredients
30 wonton wrappers
300 g (10.5 oz) tofu
1 garlic clove
150 g (5 oz) pointed cabbage
1 scallion
150 g (5 oz) shiitake mushrooms (or king oyster, or else)
2 tbsp Chinese five spices powder
2 tbsp soy sauce
1 tsp sesame oil
For the sauce:
6 tbsp chili oil
2 tbsp soy sauce
2 tsp rice wine
1 tsp sesame oil
1 tsp sugar
10 g (0.33 oz) cilantro
Instructions
Remove wonton wrappers from the freezer and let them defrost. To make cooking a bit more relaxed, it makes sense to start with the sauce and set it aside until needed. Add chili oil, soy sauce, rice wine, sesame oil, and sugar to a bowl and stir to combine. Finely chop cilantro and add to the mixture. Set aside until serving.

To prepare the filling, roughly crumble tofu and finely chop garlic. Slice pointed cabbage, finely cut scallion and chop shiitake mushrooms. When we tried this recipe first, only mixing all ingredients turned out too crumbly and they always fell out of the wrappers. This is why we add tofu, soy sauce, sesame oil, five spices powder, garlic, half of the pointed cabbage, and mushrooms to a high liquid measuring cup and use a blender to mix them. Then add remaining chopped mushrooms and pointed cabbage and stir to combine - the filling should be slightly sticky. If it's still too crumbly, blend it again. Season to taste and add more five spices powder or soy sauce if needed.

As soon as the wonton wrappers are defrosted, add approx. 1 tsp of the filling to a wrapper and fold them. For this, place a wrapper in front of you, so one corner points directly at you. Then add the filling, and fold one half of the wrapper over the filling so you get a triangle. Finally, take the corners of the longer side and fold them over each other - brush with some water to seal them. You can also doublecheck with Youtube video if you're unsure how to do it - there are also more ways to fold wontons. Repeat with remaining filling and wrappers.

Bring water in a pot to a boil and cook wontons in batches for approx. 2 - 3 minutes, or until done. Alternatively, you can also steam them.

Remove wontons from the pot and transfer them to serving bowls. Add approx. 50 ml / 0.25 cup of the cooking water to the prepared chili sauce and stir to combine. Ladle chili sauce over the wontons and sprinkle with finely cut scallion and fresh cilantro.