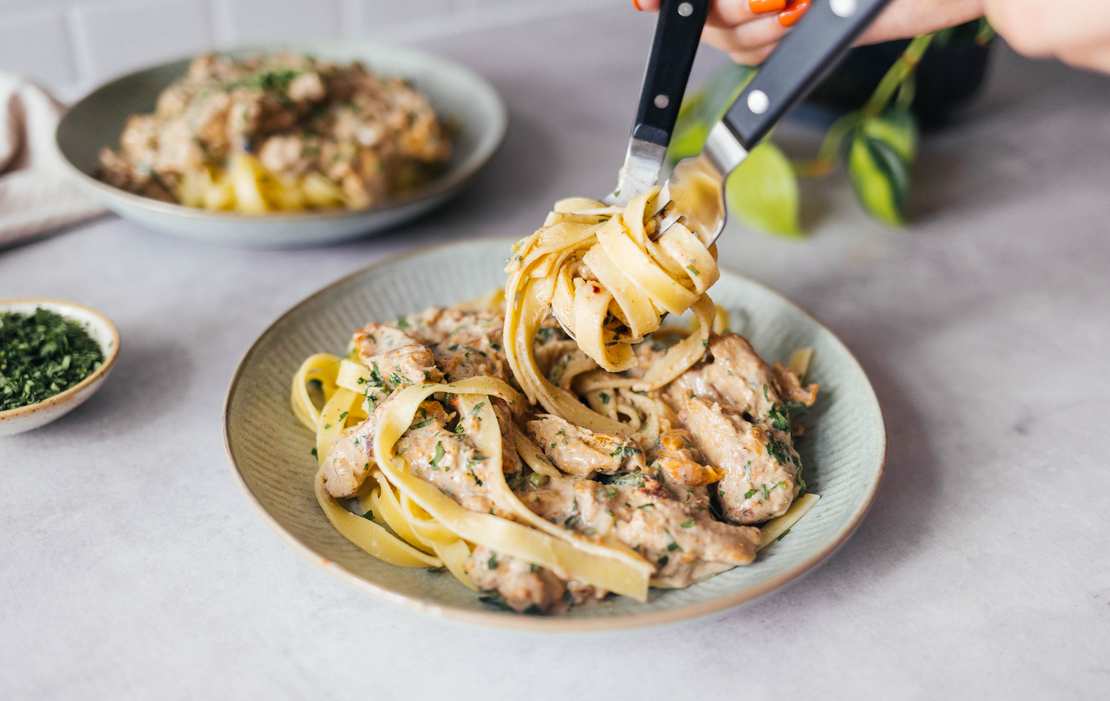 Creamy Tagliatelle with Soy Chunks and Chanterelles
You might know this dish from the menu of a German, Swiss, or even Austrian restaurant – "Geschnetzeltes" is simply a classic there! With this vegan version, you can finally enjoy it yourself and score points with your (grand)parents when you serve it up as a Sunday dinner. Fortunately, it can be easily prepared and cooked in big batches. The only thing you need is an appropriately large-sized pan.
Geschnetzeltes is a Swiss specialty and classically consists of veal in cream sauce. The veal is thinly sliced and seared. To this, mushrooms (usually button mushrooms), onions, cream, white wine, lemon juice, parsley, salt, and pepper are added. However, we chose chanterelles because they are in season right now. However, you can use whatever kind of mushrooms you like best.
Of course, we didn't use veal strips but instead went for the soy chunks from Veganz. Their preparation is super simple but also adjustable: In fact, we didn't pour hot vegetable broth over the chunks (as it says on the package), but let them simmer directly in a pot of hot broth for 10-15 minutes to make them extra soft. Of course, you can do this as you want. In the office, however, all highly praised the tender consistency. The chunks have a high protein and low-fat content, plus, a very long shelf life. Veganz makes sure that the soy used always comes from Europe. In addition, the product is much more climate-friendly compared to conventional meat, as CO2 emissions and water consumption are much lower. And the packaging is also made of a compostable film based on renewable raw materials. We love it!
Creamy Tagliatelle with Soy Chunks and Chanterelles
Ingredients
For the sauce:
200 g (7 oz) soy chunks (e.g. from Veganz)
1000 ml (4.25 cups) vegetable broth
2.5 tbsp mustard
400 g (14 oz) chanterelles
30 g (1 oz) flat leaf parsley
1 onion
2 garlic cloves
100 ml (0.5 cup) vegan white wine
400 ml (1.66 cups) vegan cooking cream
1 lemon (juice)
50 g (1.75 oz) nutritional yeast
1 tbsp juniper berries
1.5 tsp ground allspice
1 tsp ground coriander
1 tsp chili flakes
olive oil for frying
salt
pepper
Also:
400 g (14 oz) tagliatelle
Instructions
Heat vegetable broth in a pot. Add soy chunks and bring to a boil briefly, then simmer and steep over medium heat for about 10-15 minutes. Afterwards, squeeze thoroughly, but save the vegetable broth and set aside. Then transfer the soy cutlets to a bowl, season with pepper, and toss in mustard until all chunks are coated with it.

While the soy chunks are simmering, clean the chanterelles and wash and finely chop the parsley. Next, peel and finely chop the onion and garlic cloves.

Heat olive oil in a large frying pan over medium heat and sauté the onion until translucent. Then add the soy cutlets and sauté until browned, about 5-10 minutes. Add the chanterelles and garlic and sauté for another 5 minutes.

In the meantime, bring a pot of salted water to a boil and cook the tagliatelle according to package directions until they're al dente.

Deglaze the mushrooms and soy cutlets with vegan white wine and plant-based cooking cream. Add lemon juice, nutritional yeast, juniper berries, ground allspice, coriander, and chili flakes, and simmer over low heat for another 5 minutes. You can add the reserved vegetable broth if the sauce gets too thick.

Just before serving, stir in half of the chopped parsley. Save the rest for garnish later. Make sure to remove the juniper berries before serving.
More Vegan Recipes for Traditional German Classics