Vegan Pearl Barley Risotto with Jerusalem Artichoke Crisps
If you think that risotto must always be prepared with rice only, you will be surprised today. We already have some classic rice risotto recipes on our blog: vegan pumpkin risotto, vegan broccoli risotto or vegan asparagus risotto with peas. For those who want to think outside the box, today we have the perfect recipe – a risotto with pearl barley!
This dish includes two ingredients that I have rarely or never cooked with before: pearl barley and Jerusalem artichokes. Pear barley was often available at my parents' house when I was a kid, but I hadn't tried Jerusalem artichokes ever before. After cooking with it for this recipe, though, I have to say that I really like it and will definitely add it to my cooking routine. The small bulbs taste nutty-sweetish and can be eaten both cooked and raw. It's actually a shame that I only discovered them now, but better late than never, right? Jerusalem artichokes are in season from October to May – long enough for you to cook this recipe if you're interested.
To cook a risotto, you always have to be patient. Not that that's a bad thing, but it's not a meal you should cook when you're already hungry and need something fast. However, thanks to our "Cooking Chef XL" stand mixer from Kenwood, we didn't have to stand next to the pot and stir the whole time (which is something you really have to do when making risotto). Instead we could already start to prepare other recipe steps as the stand mixer did the stirring for us – that's right, we didn't even need a pot as the bowl of the stand mixer can be heated. We used the program "Slow Cooking" for this and only had to add vegetable stock to our risotto every now and then. Both the temperature and the stirring frequency can be adjusted on the display. We were also spared the step of weighing ingredients thanks to the inbuild scale function.
For the Jerusalem artichoke crips, we were inspired by a recipe by Jamie Oliver that Julia had picked up once. We simply tried the idea for his crispy parsnips with Jerusalem artichokes and it worked out great! The bulbs are thinly sliced and then blanched. Once they are a softer, they are patted dry, brushed with chili oil, salted, and baked in the oven until they are crispy. The first time I tested the recipe, the crisps were actually snacked away before the risotto was even cooked. So yes, they work well as a crunchy topping for our creamy pearl barley risotto but also as a snack. If you like it less spicy, just use olive oil instead of chili oil.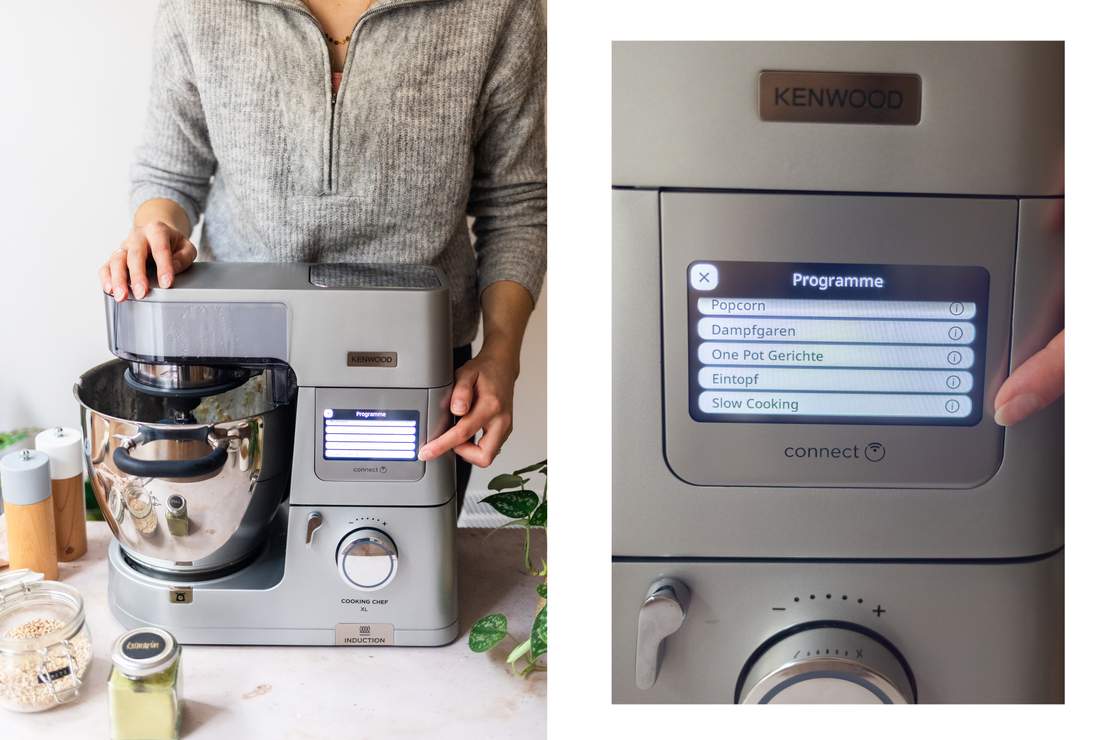 Vegan Pearl Barley Risotto with Jerusalem Artichoke Crisps
Ingredients
For the risotto:
250 g (1.25 cups) pearl barley
350 g (12.5 oz) Jerusalem artichokes
2 onions
4 garlic cloves
2 tsp ground rosemary
200 ml (0.75 cup) vegan white wine
approx. 1000 ml (4.5 cup) hot vegetable broth
4 tbsp nutritional yeast
0.5 lemon (juice)
0.5 tbsp agave syrup
olive oil for frying
salt
pepper
For the topping:
150 g (5.5 oz) Jerusalem artichoke
2 tbsp chili oil
200 g (7 oz) smoked tofu
10 g (0.33 oz) fresh rosemary
lemon wedges
salt
Instructions
Bring a pot of salted water to a boil. Peel and chop Jerusalem artichokes for the risotto, then add them to the pot. Let them simmer for approx. 10-15 minutes, or until they're fork-tender. Afterwards, remove the Jerusalem artichoke from the water (but don't drain the water, as it can be used again in the fifth step) and transfer them to a liquid measuring cut. Blend until smooth, then set aside.

In the meantime, peel and finely dice the onions. Peel and thinly slice the garlic. Heat some olive oil in a large pot and sauté the diced onions over medium heat until translucent. Add sliced garlic, pearl barley, and rosemary powder and sauté for another approx. 2-3 minutes.

Deglaze with vegan white wine and let it simmer until the wine has almost completely evaporated. Now gradually add a ladleful of vegetable broth at a time and stir it in. Let the vegetable broth simmer and only add another ladle when almost all of the broth has been absorbed by the pearl barley. The risotto should simmer over medium heat for a total of about 30-40 minutes.
Tip: Try the pearl barley towards the end of the cooking time – you may need more or less vegetable stock than mentioned here, depending on the variety.
Parallelly, preheat the oven to 180°C (top and bottom heat). For the crisps, either use a vegetable peeler or a knife to thinly slice the Jerusalem artichokes. Add the slices to a pot of simmering water and blanch them for approx. 4-5 minutes. Remove them from the water, drain on paper towels, and transfer to a lined baking sheet. Brush with chili oil from both sides and sprinkle with some salt. Bake the Jerusalem artichoke for approx. 10 minutes, or until browned and crispy.

Finely dice the smoked tofu. Heat olive oil in a frying oan over high heat and fry the tofu until it's crispy. Wash and finely chop fresh rosemary, then set both toppings aside.

When the pearl barley is almost done, add the Jerusalem artichoke puree, nutritional yeast, lemon juice, and agave syrup. Season the risotto with salt and pepper to taste.

For serving, top the barley risotto with the Jerusalem artichoke crisps, crispy smoked tofu cubes, and finely chopped fresh rosemary.
Tip: We prepared the risotto in the "Cooking Chef XL" stand mixer from Kenwood using the "Slow Cooking" program. This saves a lot of time in cooking, as the mixer does all the stirring itself, so you can already start to work on the other recipe steps in the meantime. It couldn't be easier!