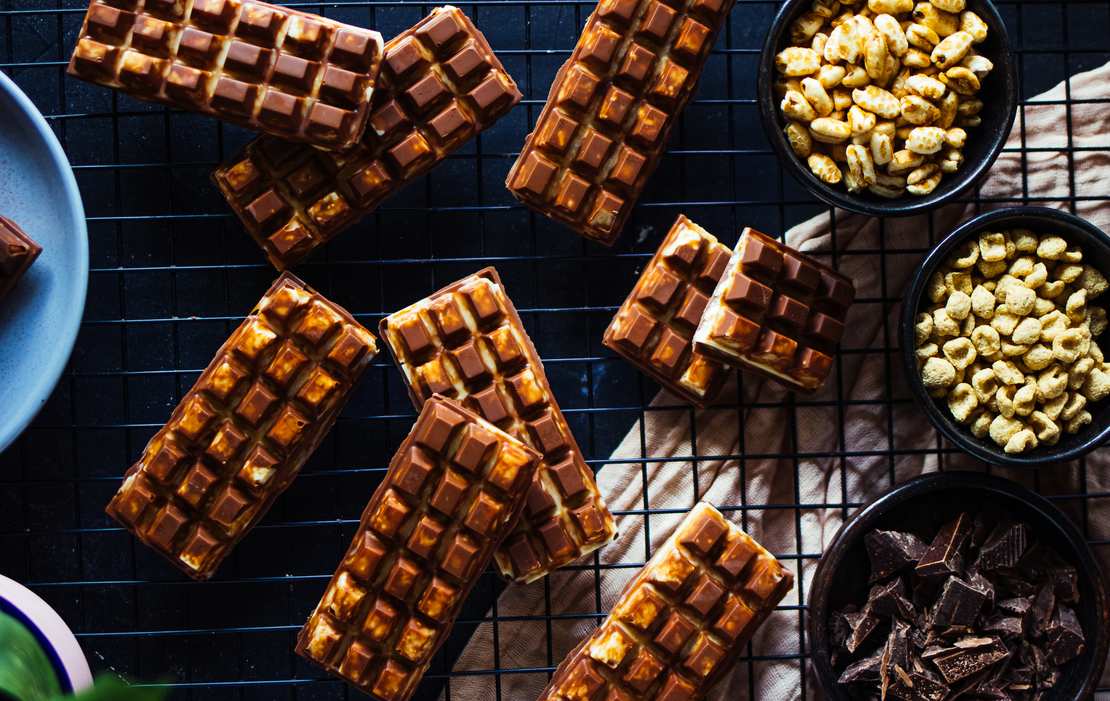 Vegan Cereal Chocolate Bars (Kinder Country)
Cereal bars called "Kinder Country" were one of my favorite sweet treats as a child. Honestly, I don't really know why because they don't even seem to be super exciting: it's a chocolate bar with a milk cream filling and puffed cereals. However, this simple ingredient list makes it easy for me to turn these bars into a vegan version. All you need are the following three ingredients: vegan milk chocolate, vegan white chocolate, and puffed cereals of your choice.
For the latter, I would recommend you to take a look at the cereal section of your supermarket, because there are some varieties that consist of puffed cereals only. You can use puffed corn, wheat, amaranth, rice, or spelt, depending on what you find in your area. If you just search for "buy puffed cereals" or similar online, you will find plenty of products and brands to look out for! But always doublecheck the lists of ingredients as sometimes you'll find honey on it.
The filling of our vegan version consists of vegan white chocolate which is then coated with vegan milk chocolate. If you can't find vegan white chocolate in your area, or just like this recipe to be a bit easier, use vegan milk chocolate only. Just stir the puffed cereals into the melted chocolate and let it cool down. We tried this version as well and it tastes great!
We purchased the silicone molds for small chocolate bars online, but you can also look for them in actual stores, or just use silicone ice cube trays instead. If you don't have any mold at home, go for the easy version of this recipe without any white chocolate filling, and just spread the melted chocolate cereal mix on parchment paper or a silicone mat. Once the mixture has cooled down, you can break the chocolate into pieces.
Vegan Cereal Chocolate Bars
8 chocolate bars
30 minutes (+ cooling time)
Ingredients
150 g (5.5 oz) vegan 'milk' chocolate (optional: dark chocolate)

200 g (7 oz) vegane white chocolate

30 g (1.5 oz) puffed cereals (e.g. quinoa, wheat, rice, amaranth, or spelt)

silicone molds or ice cube trays
Instructions
Melt vegan milk chocolate in a heatproof bowl over a pot of simmering water.
Use a pastry brush to spread some of the melted chocolate all around the sides of your silicone molds. You'll need approx. more than half of the chocolate for it. Set aside the remaining melted chocoalte for later and refrigerate the chocolate covered silicone molds until set.
In the meantime, melt vegan while chocolate in a heatproof bowl over a pot of simmering water.
As soon as it's melted, remove from heat and stir in your puffed cereals.
Remove the silicone mold from the fridge and fill the molds with the cereal mixture. Refrigerate for another 10 minutes or so.
In the meantime (if necessary) melt the chocolate you set aside in the second step once again. Remove the silicon molds from the fridge and brush a thin layer of the melted vegan milk chocolate on top. Now your chocolate bars should be coated all around. Refrigerate until the bars are set and eat them within a week (which should be no problem).
More Vegan Chocolate & Sweets Recipes and Plant-Based Copy Cats