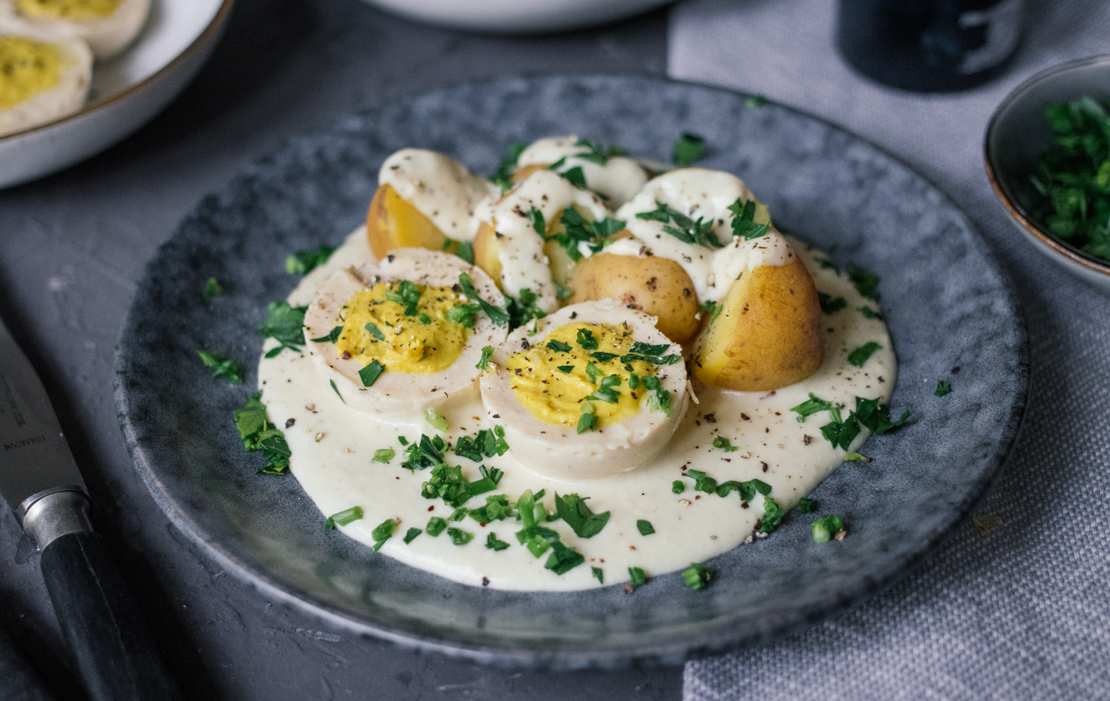 Vegan Boiled Eggs in Creamy Mustard Sauce with Potatoes
Make a wish: In our series "Make a wish" we develop recipes to make your wishes come true - whether it's about vegan french toasts or doughnuts. If you also have a recipe that we should cook for you, send us a quick mail to hello@zuckerjagdwurst.com. Until then, find all your previous wished recipes here.
If you didn't know of the combination of potatoes, eggs, and mustard sauce – no worries, we're talking about a true German dish today. For me, this is all about childhood memories when I was the family's expert on the mustard sauce. It was my job to season the sauce. To add more mustard, or salt, or else. But that was long ago, and since I've become vegan I never ate this dish called "Senfeier" (mustard eggs) again. Boiled potatoes with mustard sauce doesn't sound too appealing, right?
But then someone else on Instagram even asked for a vegan version of this dish, so I thought it was just about time to work on vegan boiled eggs. The good thing about eggs is that they taste quite mild. A tiny pinch of the black salt called Kala Namak is often already enough to do the job there, as it smells and tastes like the "original". For me, the right consistency was much more difficult. It's somewhat wobbly but also set, and then there's the shape of an egg we wanted to recreate. Luckily I have round silicone ice cube molds that worked out well.
After a couple of tests with plant-based milk and tofu, I decided that silken tofu was the best option to get close to the egg-like texture. Mixed and heated with chickpea flour and agar agar, silken tofu becomes quite vicious and firms up in the fridge. To be honest, I am still not 100% happy with the dish. I'll come back to this from time to time and try to find new ways to improve the texture, but still, this dish made my heart pound. It tasted like childhood.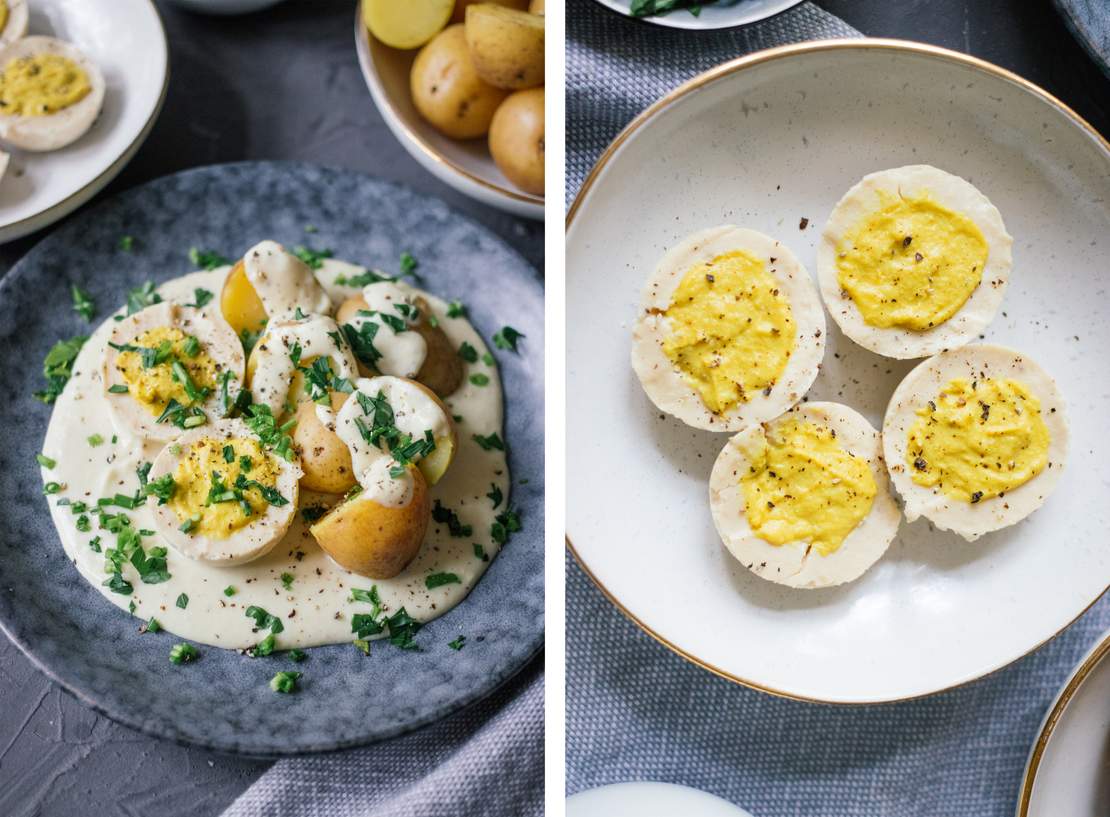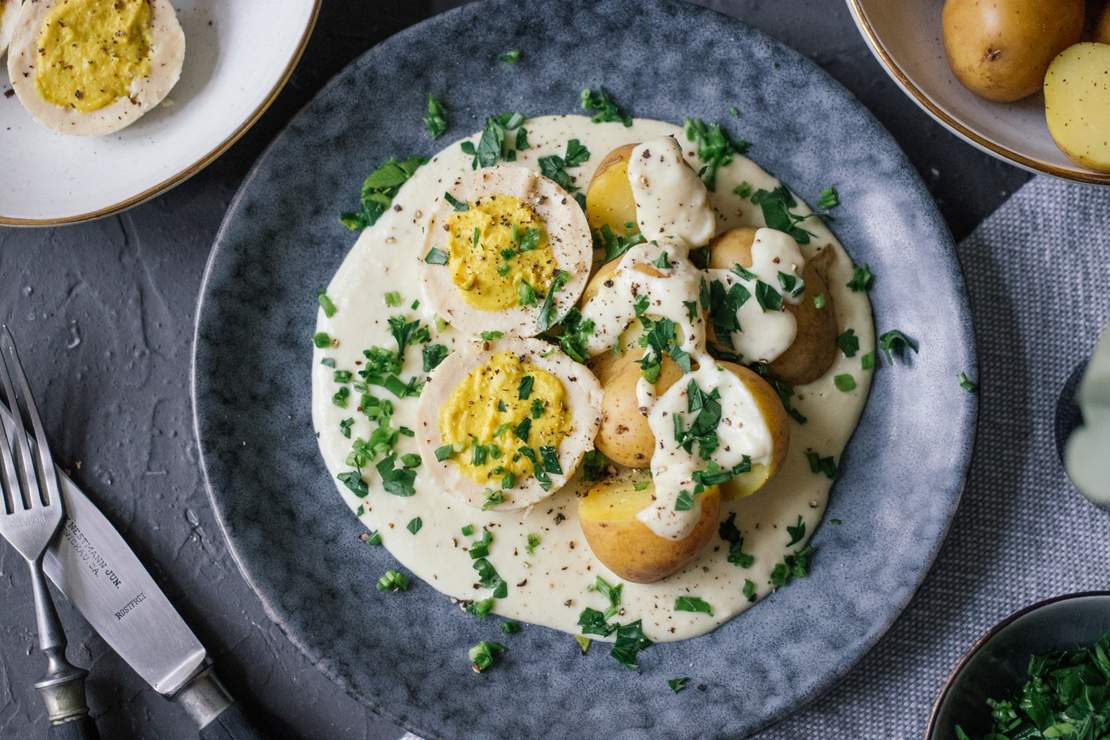 Vegan Boiled Eggs in Creamy Mustard Sauce with Potatoes
3-4 servings
45 minutes (+ 60 minutes resting time)
Ingredients
1 kg (2.25 pounds) waxy potatoes
parsley for serving
For the vegan boiled eggs:
150 g (5.5 oz) silken tofu
3 tbsp plant-based cream
2 tbsp chickpea flour
1 tsp light miso paste
4 tsp agar agar
1 tsp ground turmeric
1 tbsp melted vegan butter
kala namak
salt
pepper
For the mustard sauce:
2 tbsp flour
2 tbsp vegan butter
3 tbsp mustard
200 ml (1 cup) plant-based cream
100 ml (0.5 cup) vegetable broth
salt
pepper
nutmeg
Instructions
For the vegan eggs, drain silken tofu and add it to a liquid measuring cup along with plant-based cream, chickpea flour, miso paste, and agar agar. Season generously with salt, pepper, and kala namak. Then let the mixture sit for approx. 5 minutes.

Afterward, take 2 tbsp of the mixture and set it aside. Add the remaining mixture to a small pot over medium-low heat and warm for approx. 5 minutes, or until you get a really thickened texture that is bubbly in the pot. Remove from heat and fill the mixture into your molds. Let the mixture cool down to room temperature first before refrigerating it for approx. 1 hour. In our case, the mixture was enough to fill 6 half-round molds.

Peel potatoes and, if needed, halve or quarter them. Add the potatoes to a pot, cover with cold water, and season with salt. Boil for approx. 20 minutes, or until done. In the meantime, remove the cooled down tofu "eggs" from the fridge and let them sit at room temperature.

For the mustard sauce, melt vegan butter in a small pot. Stir in flour carefully, then add plant-based cream and vegetable broth little by little. Make sure to keep stirring all the time to avoid any lumps in your sauce. Stir in mustard, and feel free to add more to taste — season with salt and pepper.

The potatoes are done, the mustard sauce is ready, and the vegan 'eggs' are warming up to room temperature. Do you still remember the 2 tbsp of the 'egg white mixture' that we set aside? It's time to use it now! Take a little spoon to form a tiny hollow fort he vegan egg yolks into each silken tofu egg white. You can add the bits of removed 'egg white' to the ones that were set aside before. Now add the ground turmeric, and melted vegan butter to the remaining silken tofu egg white mixture and quickly mix with an immersion blender to get it smooth again. Season with salt, pepper, and kala namak to taste. Add the vegan egg yolk mixture into the hollows.

Serve vegan silken tofu eggs with boiled potatoes and mustard sauce. Garnish with chopped fresh parsley.