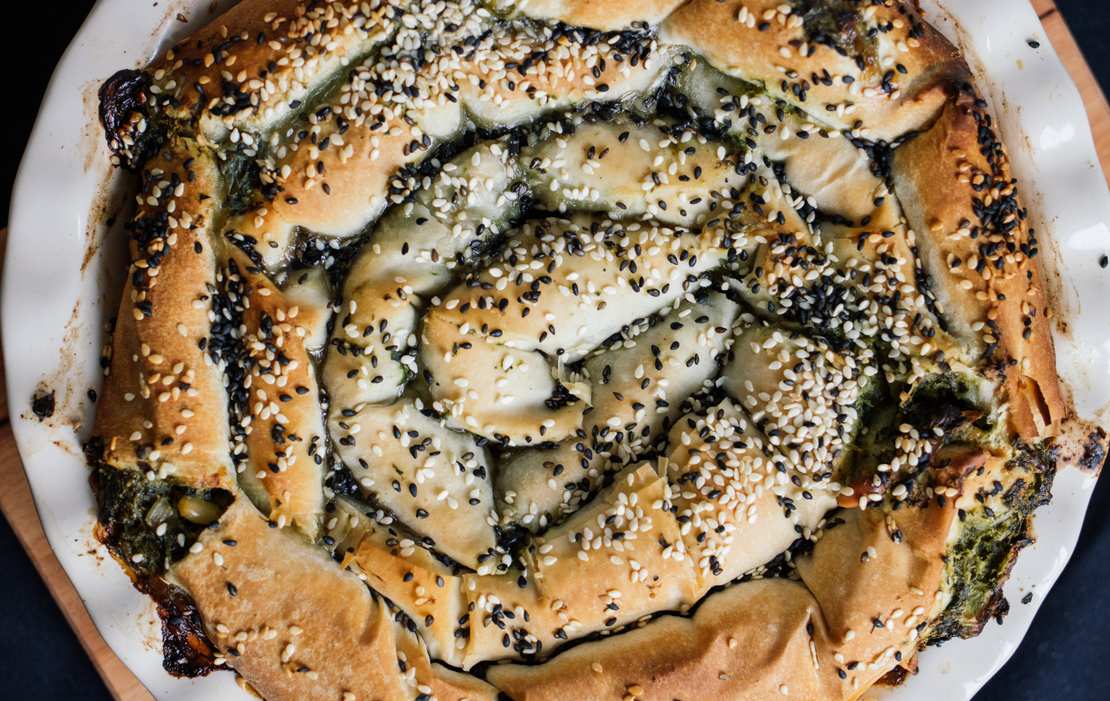 Vegan Börek Roll with Spinach-Artichoke-Creme
Everbody will love this party snack! Crispy, warm and served with a refreshing dip – yufka rolls are an all-time party favorite. You can prepare them ahead, they are easy to make and if desired, feel free to stuff them with whatever you like. Whether it's soy minced "meat" or potatoes – our favorite is the combination of spinach and artichokes in creamy silken tofu.
Vegan Börek Roll with Spinach-Artichoke-Creme
Ingredients
FOR STUFFING
500 g (17.6 oz) spinach (fresh or frozen)
1 can artichokes
2 shallots
1 clove garlic
200 g (7 oz) silken tofu
3 tbsp soy cream
50 g (1.8 oz) pine nuts
1 tsp nutmeg
1 tsp cumin Kreuzkümmel
1 tsp paprika
0.5 lemon (juice)
FOR DIP
250 ml (1 cup) soy yoghurt (unsweetend)
1 lime (zest and juice)
1 tsp garlic powder
ALSO
olive oil
sesame
salt&pepper
Instructions
Start by taking yufka dough out of the fridge in order to defrost, so it'll be soft afterwards for rolling.
If you're using fresh spinach, make sure to wash and clean it. In a pot, bring water to boil, salt slightly and add spinach for 3-5 minutes. Afterwards pour pff water. If you use frozen spinach, prepare according to package instructions.
Peel and finely chop garlic and shallots. Take out artichokes from can and roughly cut into bite-sized pieces.
In a bowl, mix shallots, artichokes and spinach. Add silken tofu, soy cream, lemon juice – then stir and season with nutmeg, salt, pepper, cumin and paprika. Stir in pine nuts.
Prepare an oven-safe casserole by brushing 1 tbsp oil in it.
Time to roll. Transfer one yufka sheet on a surface. Brush 1 tbsp oil on it, then transfer another sheet directly on top of it. Place stuffing on the buttom of sheet (approx. 3 tbsp of filling) and roll it carefully, yet tightly.
Afterwards soll into a roll and transfer to the middle of your casserole.
Repeat with remaining dough and filling, until it's all used up. Keep adding ready rolls to casserole, until it is completely filled. Don't worry if there's a roll ripping a bit.
As soon as you're done, brush with olive oil one more time, sprinkle sesame on top and bake in the oven at 180°C / 355°F for 20 minutes or until dough is golden brown.
During baking, prepare dip. Therefore, you'll only need to stir everything together in a bowl and season with salt and pepper.
Serve yufka roll warm with dip and enjoy!