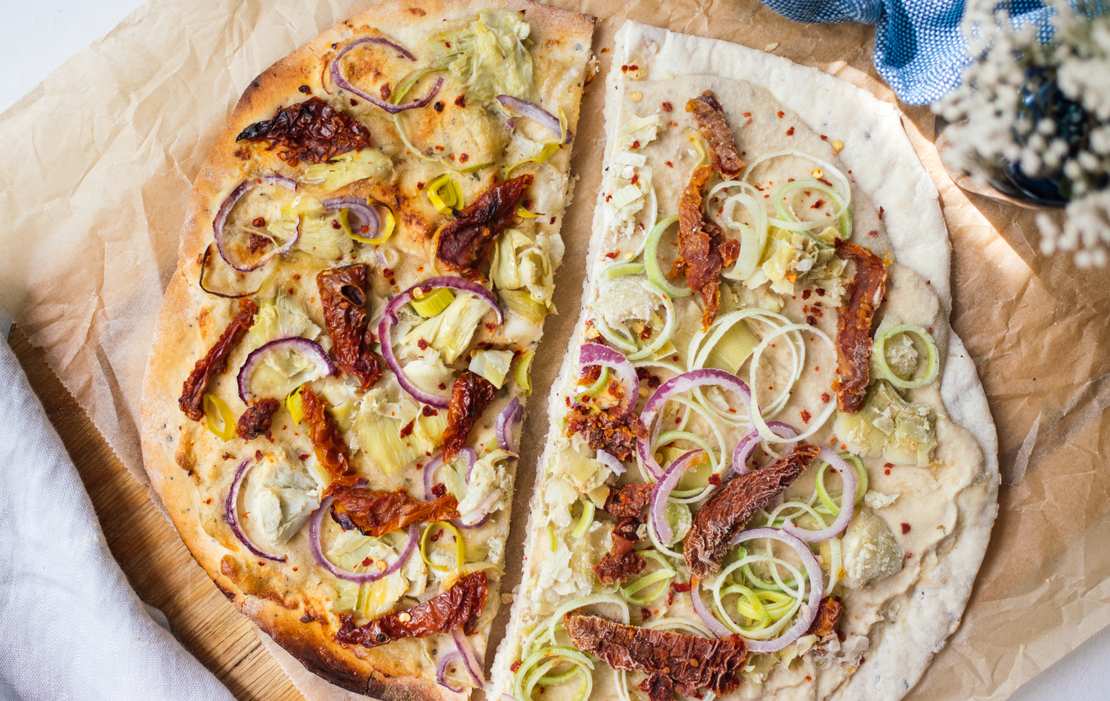 Homemade Vegan Frozen Pizza Bianca
Frozen pizza has a really bad reputation. Most people think... oven fresh pizza? Yes, perfect comfort food, but frozen pizza? Never ever! But why? I mean, it's just... pizza. Frozen. Extremely convenient when you forgot to go grocery shopping and still better than a delivery service, right? This is why we wanted to give frozen pizza some love and attention! If you already listened to our podcast, you'll know that my big plan was to make a homemade version of a frozen pizza. So here we are!
Making a homemade frozen pizza is actually quite easy: after the pizza dough has rested, roll it out, and pre-bake it for a few minutes. After the crust has cooled down, you can top it with whatever you like on a pizza, then freeze it. That's it! Stored like this, your vegan frozen pizza will wait patiently for its big entrance for several months.
Julia's favorite pizza topping is written down in the recipe. Isa's favorite topping would be: tomato sauce , grated vegan cheese, artichokes, spinach, mushrooms, and onions. And how do you top your pizza?
Homemade Vegan Frozen Pizza Bianca
3 large pizzas
70 minutes (+ 60 minutes resting time)
Ingredients
For the dough:
1.5 tsp dry yeast
250 g (2 cups) spelt flour
250 g (2 cups) wheat flour
2 tsp salt
1 tsp sugar
2 tbsp everything bagel seasoning
250 ml (1 cup) lukewarm water
1 tsp olive oil
Toppings:
1 red onion
100 g (3.5 oz) leek
240 g (8.5 oz) artichoke hearts
150 g (5.5) jarred sun-dried tomatoes in oil
3 tsp chili flakes
fresh basil
For the cashew sauce:
250 g (9 oz) cashews (soaked)
1 onion
2 garlic cloves
125 ml (0.5 cup) plantbased cream
3 tbsp nutritional yeast
1 tsp dried oregano
salt
pepper
Instructions
For the dough, mix dry yeast, spelt flour, and wheat flour in a bowl of a kitchen machine - you can also use a hand mixer with dough hooks for this. Add salt, sugar, everything bagel seasoning, lukewarm water, and olive oil to the bowl and start kneading on low speed to combine all ingredients, then knead on medium or high speed. Once the dough forms to a bowl, knead by hand for approx. 5 minutes. Add the dough to a lighty greased bowl, cover with a kitchen towel, and let it rest until it's doubled in volume.

In the meantime, prepare the cashew sauce. Peel and roughly chop onion and garlic cloves. Heat some vegetable oil in a frying pan and fry onion and garlic for approx. 10 minutes until soft and golden brown.

Add soaked cashews, fried onion, garlic, plantbased cream, and nutritional yeast to a liquid measuring cup and use an immersion blender to mix until smooth and almost silken. The creamier the sauce, the better. You can also do this in a blender, of course. If needed, add more plantbased cream. Season with dried oregano, salt, and pepper to taste. Refrigerate until we need it later.

Preheat oven to 230°C/450°F and place a baking sheet inside the oven so it gets hot. Divide the dough into three equal-sized parts and roll out each dough on a floured surface - you can do this up to your desired size and thickness. Once you've rolled out all the doughs, transfer them on some parchment paper. Transfer the first one to the oven and bake for approx. 3 - 4 minutes, until the crust on top starts to get dry and a bit browned. Carefully remove from the oven, put the next one in, and afterwards let all pizza crusts cool down.

While the pizza cools down prepare the toppings. In our recipe it was: finely slice red onion and leek, cut sun-dried tomatoes in stripes, and drain and roughly chop artichoke hearts.

Once the pizza crusts are cooled down, spread them with some cashew sauce and place all your toppings on it - just the same way as you would do it if you would bake the pizza now.

Transfer the pizzas uncovered to the freezer and freeze for approx. 2 hours - the ingredients will be frozen by then and won't stick to the plastic wrap. Wrap pizzas in plastic wrap and put them back into the freezer. This way, they will last for approx. 2 - 3 months. Make sure to label them with the date and topping.

To bake the pizza, preheat the oven to 230°C/450°F, again place a baking sheet inside in order to get hot. Bake the pizza on parchment paper for approx. 10 minutes.