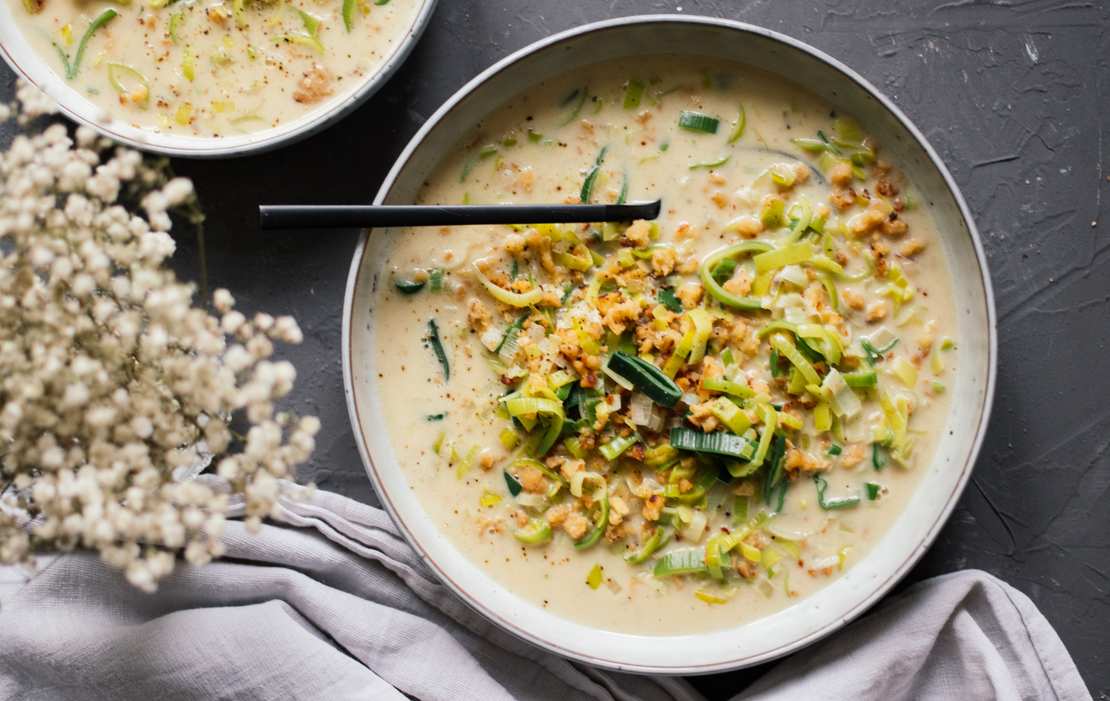 Vegan Creamy Leek Soup with Plant-Based Mince
I'm not sure if you've ever heard of this cheese and leek soup with minced meat, but Germans will definitely know it. In my family, it's even kind of a classic dish at big family celebrations, just like a soupy cousin that visits on these occasions.
But after all, it's also no surprise since this soup is easily done and so filling that you can serve it as starter and main equally. The meaty 'original recipe' uses a cheese spread and heavy cream, but we wanted to create a lighter version of this soup and didn't even try to find a vegan fatty substitute, but instead will use plant-based heavy cream only. Adding nutritional yeast helps to give this soup a cheesy flavor and viscous consistency.
When it comes to a vegan substitute for minced meat, just grab your favorite product. Some dry soy products will need to be soaked ahead, while there are also ready-to-use alternatives. Just make sure to fry it in a separate pan to get it crispy and browned. Adding it to your soup only right before serving will help to not soften the vegan minced meat too much. We also love to add some sunflower seeds to the pan that will ensure a kind of bite in this soup.
As for the amount, I can only recommend to cook half of the recipe for everyday life (the given amount is more suitable for the family celebration).But in case there's some soup left, you can combine the leftovers with boiled potatoes and even add both to a baking dish, add some vegan cheese on top and bake it at 170°C/350°F for approx. 15 minutes.
Vegan Creamy Leek Soup with Soy Meat
Ingredients
2-3 leeks (approx. 450-500g/16-17 oz)
1 onion
1 garlic clove
150 g (5.5 oz) vegan minced meat of choice (you might need extra vegetable stock to let it soak)
1 tsp soy sauce
1 tbsp sugar beet molasses
100 g (3.5 oz) sunflower seeds
1 tbsp flour
750 ml (3 cups) vegetable stock
5 tbsp nutritional yeast
500 ml (2 cups) plant-based heavy cream
0.5 tsp ground nutmeg
vegetable oil for frying
salt
pepper
Instructions
Slice leeks in rings. Peel and finely dice garlic and onion.

If needed, let soak your vegan meat substitute in hot vegetable stock for approx. 10 minutes. Drain and squeeze out as much liquid as possible, then season the vegan minced meat generously with salt and pepper.

Heat vegetable oil in a large frying pan and fry vegan minced meat for approx. 5 minutes over medium-high heat. Add soy sauce and sugar beet molasses and keep frying over medium heat for approx. 5 minutes. Add sunflower seeds and keep frying until the soup is done (it will be cooked parallelly). Season with salt and pepper to taste.

In the meantime add vegetable oil to a large pot and fry onions and garlic until the onions are translucent. Add leek and keep frying for a few minutes. Sprinkle with flour, then add vegetable stock and let it simmer for approx. 10 minutes.

Add nutritional yeast and plant-based heavy cream, then season with nutmeg, salt, and pepper to taste. Keep simmering for approx. 5 minutes and add vegan minced meat only right before serving. Enjoy!
More Plant-Based Cheese Alternatives