We have a soft spot for tacos and love to experiment with them. Besides classics such as fish tacos (vegan, of course!), tostadas or taquitos, we also serve Korean tacos, ramen tacos, chanterelles tacos or even chocolate tacos. You can find all our taco recipes here.
We already did eleven episodes of Taco Tuesday and we noticed, that we didn't do a classic taco so far. Of course one can argue what exactly IS the classic taco, we thought about the American style with "beef", cheese, onions and tomatoes at this point. But since you probably know this one and have eaten it numerous times, we decided to give it a little twist. A litte fried twist, yumm!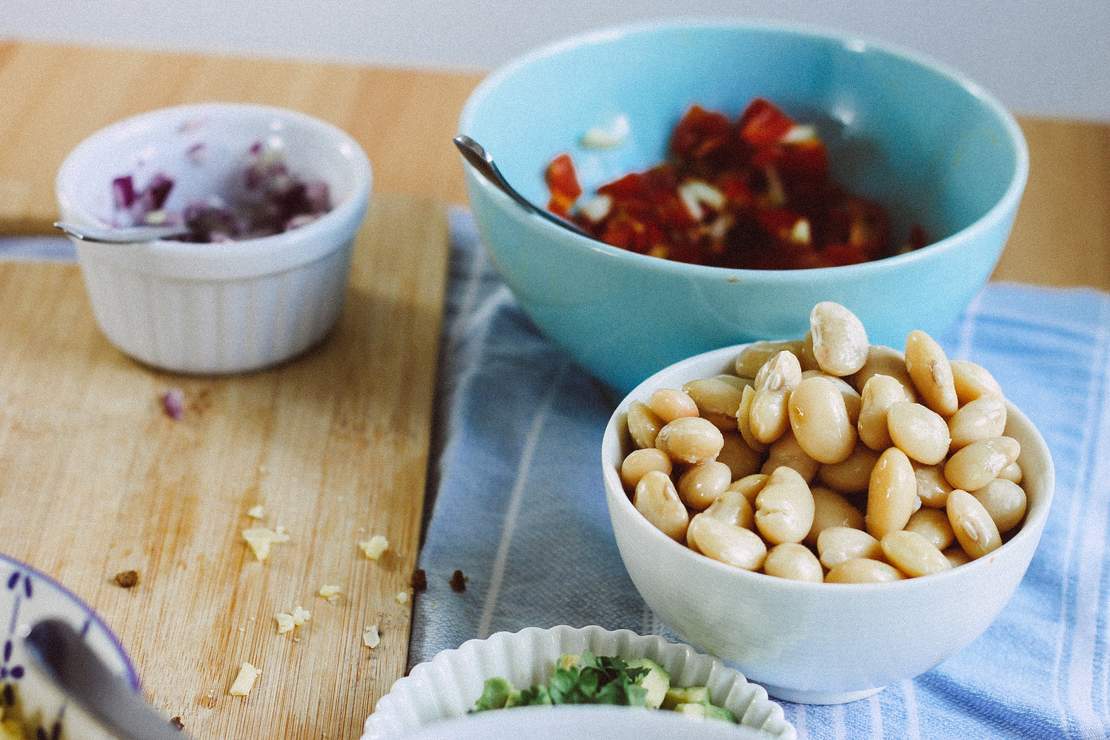 Vegan Fried Classic Taco
Ingredients
6 soft tacos
oil for frying
FOR YOUR FILLING
1 package soy meat
1 handful vegan cheese
1 red onion
1 handful small tomatoes
1 can of white beans
1 avocado
1 lime
cilantro
oil
soy sauce
Instructions
Let's start with the filling. Peel and finely dice the red onion. Cut avocado, pour off and rinse white beans with clear water. Wash and cut tomatoes in half, mix with 1 tbsp of diced onions and season with some salt and pepper. Chop cilantro and get the vegan cheese ready.
For your soy meat, heat up oil in a large pan and let it roast for 2-3 minutes until you put in a nice shot of soy sauce. Afterwards keep it roasting until it is nice and a little crisp.
So your filling is done, let's get the deep-fry-party started. Heat up a lot of oil in a pan. The best temperature for frying is about 170°C/340°F.
Put in a soft taco carefully. It is best, to hold one side with tongs or a fork and press the other side down a little with a spoon. Then turn around. This way your taco can fry from both sides and will stay in form afterwards.
Put tacos on a kitchen roll paper to drip the oil off. Afterwards put in your filling and finish with cilantro.
Of course you can also use dry soy meat. If so, you only need to let it soak in hot veggie broth for 10-15 minutes. Afterwards, squeeze out water and season it before roasting with salt and pepper.
More Taco Tuesday - Vegan Taco Recipes