Tostadas with sweet & sour Jackfruit
We have a soft spot for tacos and love to experiment with them. Besides classics such as fish tacos (vegan, of course!), tostadas or taquitos, we also serve Korean tacos, ramen tacos, chanterelles tacos or even chocolate tacos. You can find all our taco recipes here.
Crispy Tostada Tuesday! If you like tacos, you're gonna love tostadas! They are easily made by frying normal tortillas in a pan with oil. Normally, you'd use corn tortillas for this, but if you don't have them at home, tortillas out of wheat are just fine! Also back in the game today: our good old friend jackfruit. We never see them fresh to buy in Germany, but buy them canned in Asian supermarkets (make sure to NOT buy the sweetend jackfruit for this dish). Their texture resembles pulled pork that you can marinate as you like. It's going to be crispy, spicy, a bit sweet, fresh and of course tasty!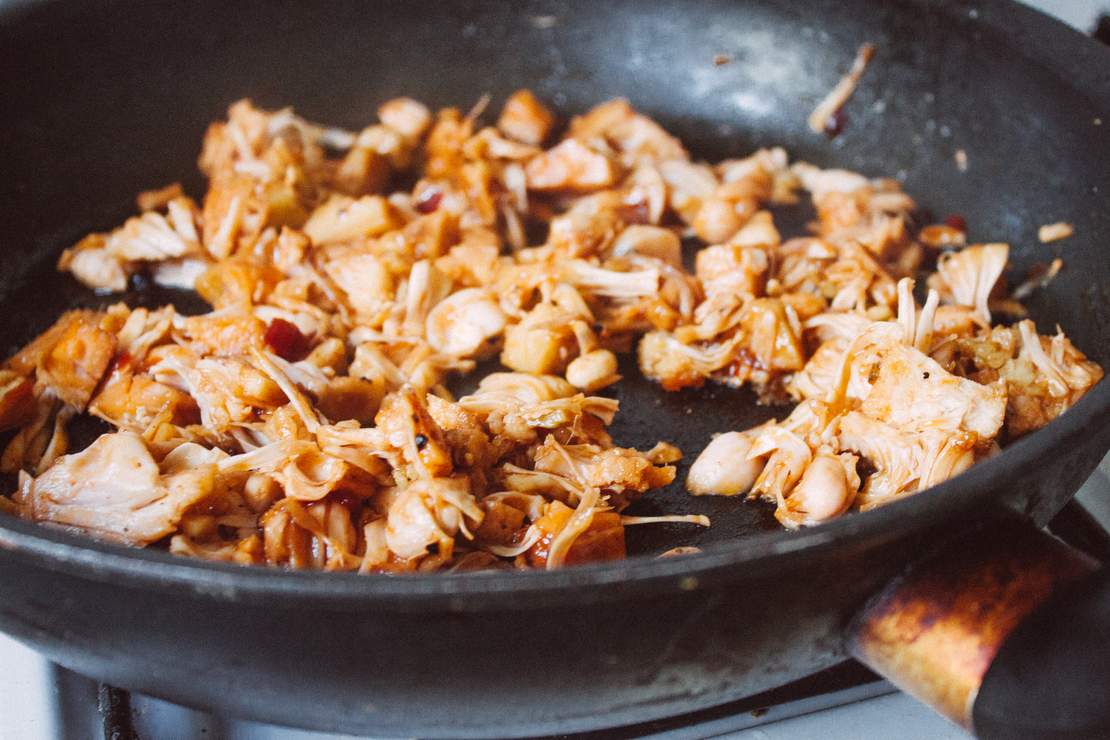 Tostadas with sweet & sour Jackfruit
Ingredients
FOR TOSTADAS
FOR JACKFRUIT
1 can jackfruit (drained weight 280 g, 10 oz)
4 tbsp BBQ sauce
2 tbsp maple syrup
2 tbsp agave syrup
1 tbsp soy sauce
1/2 lime (juice)
salt
pepper
FOR SALSA AND TOPPING
1 avocado
1 mango
1 bunch cilantro
1 small red onion
Instructions
Mix together all ingredients for marinade – BBQ sauce, maple syrup, agave syrup, soy sauce and lime juice and season with salt and pepper.
Drain a can of jackfruit and transfer jackfruit to a bowl. Marinate with sauce and set aside for approx. 5 minutes. Heat oil in a large pan and roast jackfruit for 2-3 minutes.
Place a lid on the pan and keep jackfruit frying on low heat for approx. 10-12 minutes, stirring occasionally. Afterwards they should be tender enough to shred jackfruit using two forks. Keep roasting without lid for 4-5 more minutes until slightly crispy.
While jackfruit is frying, you can start prepare the salsa. Therefor, peel and finely dice mango and avocado and transfer them to a bowl. Also peel and finely dice a small red onion and finely chop cilantro. Add half of cilantro and half of red onion to salsa and set aside the remaining dices for later. Mix salsa together and season with salt and pepper.
Heat oil in a small pan and roast tortillas from both sides for approx. 1-2 minutes until crispy and golden brown. Degrease with some paper towels.
For serving, you can top each crispy tortilla with salsa, followed by fried pulled jackfruit and finish with some more diced red onion and chopped cilantro. If desired, you can also pile several tostadas on top of each other.
More Taco Tuesday - Vegan Taco Recipes