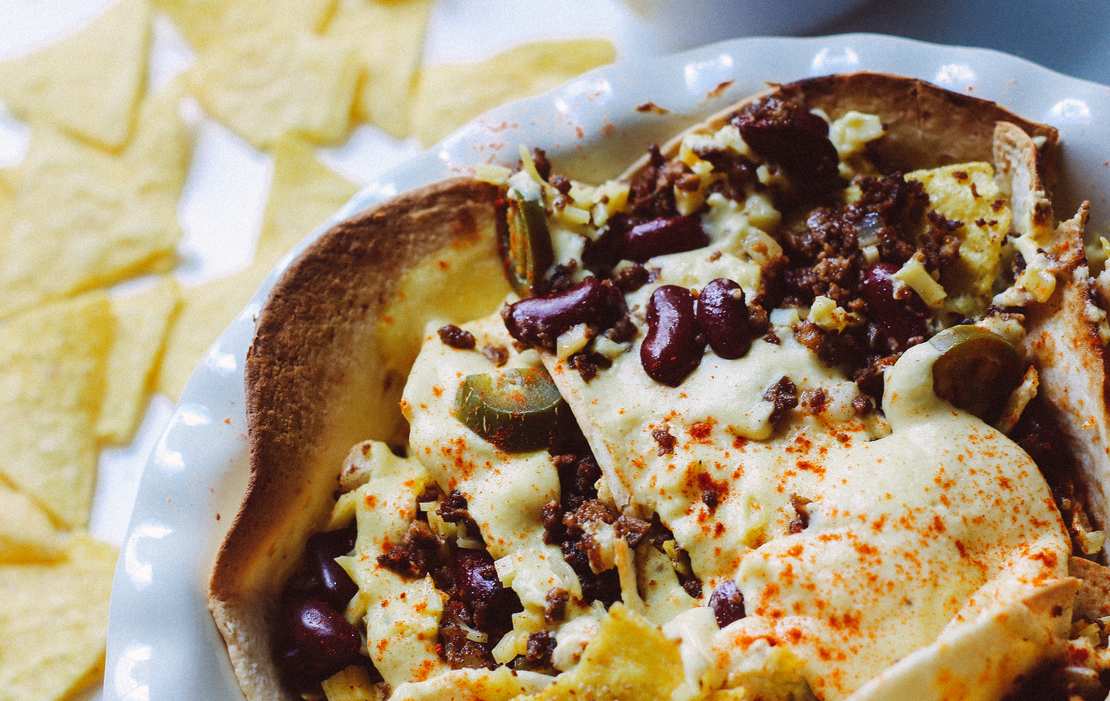 We have a soft spot for tacos and love to experiment with them. Besides classics such as fish tacos (vegan, of course!), tostadas or taquitos, we also serve Korean tacos, ramen tacos, chanterelles tacos or even chocolate tacos. You can find all our taco recipes here.
To be honest – this taco may not be the healthiest, but we all have our moments, when all we need is a good food base in our tummy. So this is your rescue for the next late night or the hangover afterwards. And in the end, it's not even that fat, because our vegan queso dip is made of potatoes, carrots and onions. So much veggies, ha!
Vegan Nacho Taco Bowl with Queso Dip
Ingredients
5 soft tacos
250 g (8.8 oz) vegan minced meat
1 onion
1 can kidney beans
3 tbsp bbq sauce
200 g (7 oz) vegan cheese
2 handful of nachos
1 dose of vegan queso dip (recipe on the blog)
olive oil
soy sauce
jalapeno slices (optional)
salt, pepper and paprika
Instructions
Let's start with the preparation: Peel and finely dice an onion. In a pan, heat up some oil and roast onion until glazed. Afterwards add vegan minced meat and let it roast crispy. Add a nice shot of soy sauce after 3-4 minutes and season with pepper at the end.
In a sauce pan, heat up a can of kidney beans together with bbq sauce.
Prepare queso dip after our recipe below and heat up in a small pot.
And then it gets started! In a casserole place your soft tacos and fill them with crumbled nachos, vegan minced meat, kidney beans and vegan cheese.
Put the casserole in your oven at 180°C/350°F for 10 minutes.
As soon as it get out, finish up with vegan queso dip, jalapeno slices and paprika powder.
Vegan Queso Dip
Ingredients
400 g (14.1 oz) potatoes
1 carrot
1 small white onion
60 g (2.1 oz) cashews (soaked in overnight, or in warm water for at least 30 minutes)
30 g (1 oz) nutritional yeast
50 ml (0.25 cup) plant-based milk
0.5 tsp garlic powder
0.5 tsp onion powder
3 tbsp juice of jalapenos + 5 pickled jalapenos
1 tbsp lemon juice
salt & pepper
cayennepepper
Instructions
First: Veggies! Peel potatoes, carrot, and onion and cut them in equal sized pieces. Put them in a small pot and cover with salted water. Let it cook until your veggies are soft, then drain them, but reserve the cooking water.
Get your food processor ready. Put in your soft vegetables, cashews, jalapenos and nutritional yeast and pour in approx. 100 ml (1/2 cup) of reserved cooking water, soy milk, and juice of jalapenos. Turn on your processor and watch it getting creamier and creamier.
Now it's time for seasoning. Put in some garlic powder, onion powder, lemon juice, pepper, salt, and cayenne.
For those of you who like it really cheesy: Add some more nutritional yeast. Serve warm with your favorite nachos!
More Taco Tuesday - Vegan Taco Recipes