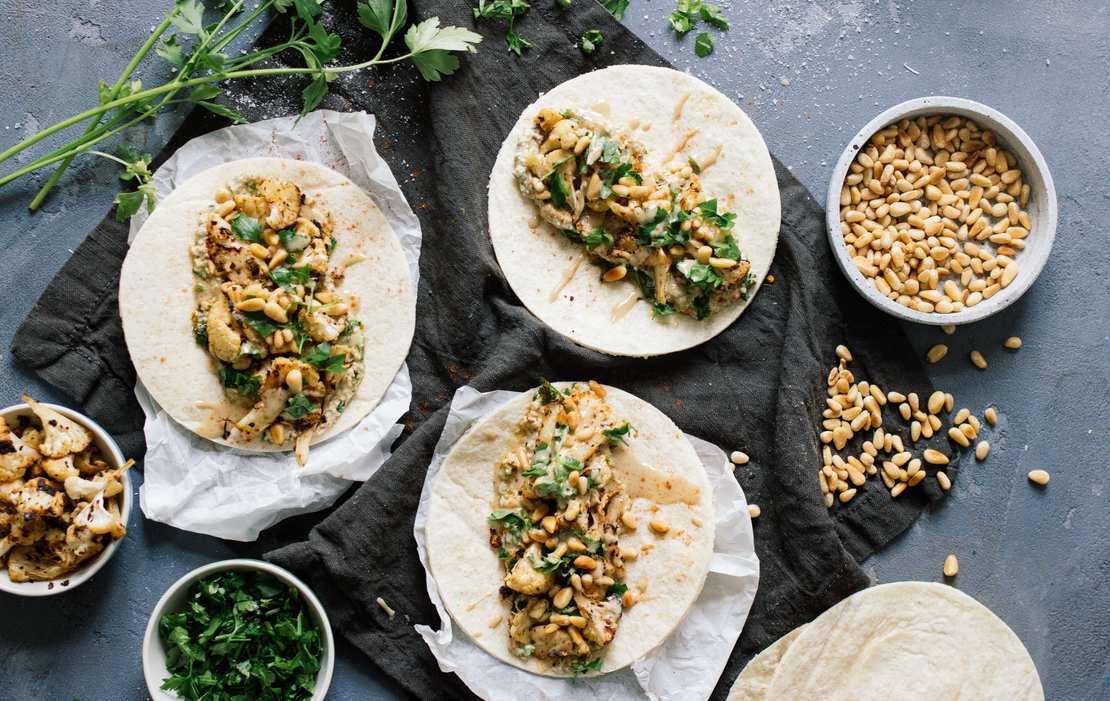 Taco with Baba Ganoush & Roasted Cauliflower
We have a soft spot for tacos and love to experiment with them. Besides classics such as fish tacos (vegan, of course!), tostadas or taquitos, we also serve Korean tacos, ramen tacos, chanterelles tacos or even chocolate tacos. You can find all our taco recipes here.
We are totally in love with hummus. It's a long-term affair and will certainly never end. The preparation of baba ganoush is similar to hummus but consists eggplants instead of chickpeas. And: baba ganoush is often wrongfully in the shade of hummus. So today we dedicate our full attention to this eggplant creme while pairing it with roasted cauliflower and warm tacos!
Taco with baba ganoush & roasted cauliflower
Ingredients
6 tacos
50 g (1.7 oz) pine nuts
5 g (0.17 oz) parsley
2 tbsp olive oil
Roasted cauliflower
1/2 cauliflower
2 tbsp olive oil
1 tsp chili powder
2 tsp cumin
2 tsp salt
1 tsp pepper
Baba Ganoush
1 eggplant
pinch of salt
1/2 lemon
2 tbsp tahini
1 garlic clove
pinch of ground cumin
pinch of ground cayenne
1 tbsp olive oil
1 tbsp plant-based natural yogurt
10 g (0.3 oz) parsley
Instructions
Roasted Cauliflower
Preheat oven to 370°F. Wash and cut 1/2 head cauliflower into very small florets.
In a big bowl mix florets with oil and spices.
Toss florets on a baking sheet and roast (tossing occasionally) until slightly brown, 35-40 minutes.
Baba Ganoush
Preheat an oven to 380°F. Wash and halve eggplant.
Cut a few slits through the flesh of the eggplant. Brush with olive oil and season with salt and pepper.
Place eggplant on a baking sheet and bake until very soft, 30 to 45 minutes.
Remove from the oven and let cool. Peel off and discard the skin. Remove the seeds, they can have a bitter taste.
Place flesh in a mixer and combine with the remaining ingredients until you get a soft mixture. Season again!
Tacos
Baba ganoush and roasted cauliflower are ready? Yay! Roast the pine nuts in a pan without oil.
Heat tacos as required.
Wash and chop parsley.
Time for arranging your taco! Spread some baba ganoush on it, then add roasted cauliflower and top with pine nuts, some more olive oil and fresh parsley.
More Taco Tuesday - Vegan Taco Recipes