Vegan Teriyaki Mock Chicken Tacos
We have a soft spot for tacos and love to experiment with them. Besides classics such as fish tacos (vegan, of course!), tostadas or taquitos, we also serve Korean tacos, ramen tacos, chanterelles tacos or even chocolate tacos. You can find all our taco recipes here.
I had this can of mock duck from our Asian food store waiting for me for quite some months now. And then I came across this Buzzfeed video of a Teriyaki Chicken Taco and I just thought: Bingo! The funny thing is that you could eat the taco filling just as a main dish. But if you have the chance to put it in a taco, you should always do it! So here it is: Our simple vegan version of a Teriyaki Chicken Taco.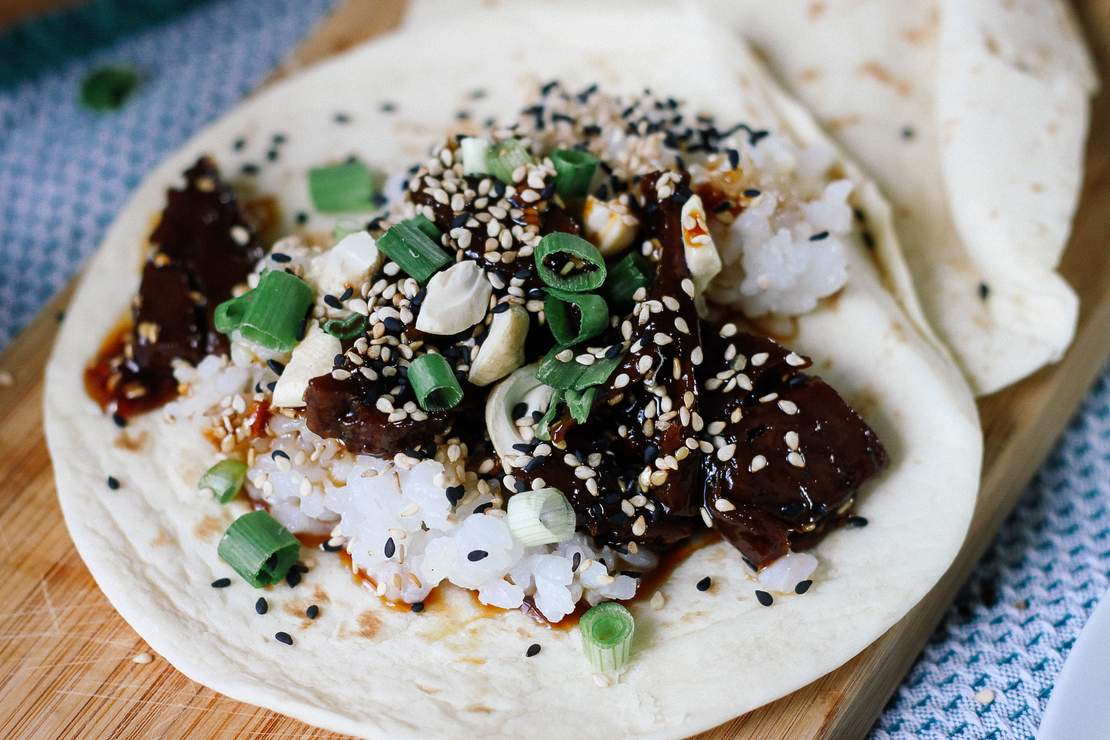 Vegan Teriyaki Mock Chicken Tacos
Ingredients
1 cup rice
1 can Mock Chicken
2 tbsp sugar
1 thumb-sized piece of ginger
1 garlic clove
40 ml (0.2 cup) soy sauce
40 ml (0.2 cup) teryaki sauce
2 tbsp agave nectar
oil
green onions
cashew nuts
sesame
Instructions
Let's start with the rice. Bring to boil one cup of rice with two cups of slightly salted water until it's cooked. Afterwards set it beside.
In a pan heat up 2 tbsp of oil and fry mock chicken.
Peel and finely chop garlic and ginger. Add to your pan and let everything roast together for 2-3 minutes. Then, deglaze it with soy sauce and teriyaki sauce, add agave nectar and boil down until you get a nice thick sauce around the mock chicken.
Wash and cut green onion in rings.
Ready? Take a soft taco, add rice and mock chicken and finish it up with sesame, cashews and green onions.
More Taco Tuesday - Vegan Taco Recipes