Easy, vegan Christmas stollen
There are countless varieties of stollen: curd stollen, marzipan stollen, butter stollen, nut stollen, and probably many more varieties I've never heard of. What unites them all is probably their somewhat dusty image. And I'm not so wrong about that because stollen has been around since the Middle Ages. And the elongated pastry doesn't look real "modern" either. What I've learned over the years, however, is that not all stollen are the same. Sure, there is the very dry stollen, which tastes of artificial rum flavors and candied orange peel, but there is also a much more moist stollen, which tastes like marzipan and nuts. To ensure that your stollen doesn't taste dusty here are a few tips before you find our recipe for vegan stollen further down.
Pickle raisins and the like.: It's the first step in preparing a classic stollen: raisins, candied orange peel, candied lemon peel, and the like are pickled in rum. Some do this over days, some over hours. We didn't do it in our recipe because we don't like the intense flavor of rum fruit at all. However, if you are a fan of it, then, of course, you can do it. A non-alcoholic variant is to soak the raisins in apple or orange juice, which we can also highly recommend.
Prepare all ingredients: It's best to have all your ingredients at room temperature. This applies especially to the vegan butter, plant-based milk, and possibly also applesauce. This makes it easier to work with your yeast dough.
Do you need spices for Christmas stollen? To get the original taste of a stollen, it's a great shortcut to simply use ready-made Christmas stollen spice. But, if you can't find that, you can create your own spice mix with this recipe.
With or without a baking pan? You can use a Christmas stollen baking mold for this recipe, but you don't need to have it. Without a baking pan, your stollen will probably be a little flatter and a little wider, but that doesn't affect the taste. But if you do have a mold, all the better as it creates the iconic shape.
Convection heat or top and bottom heat? Baking a stollen with convection heat is not optimal, so we recommend top and bottom heat, just as you would with bread.
What is the best way to store stollen? If you want to store your stollen for several weeks, it's best to do so in an airtight container. Optimal storing temperatures are between 10-18°C (50-65°F) and at relatively high humidity. Speaking of storage! That's exactly why we pour vegan melted butter over the stollen after baking and dust it with loads of powdered sugar. This prevents the stollen from drying out. (Source) By the way, you can also freeze Stollen. For this, however, you should cut it into slices beforehand.
When can it be eaten? Stollen should be left for at least one to two weeks before eating it. So that means good preparation and some planning so that your stollen is ready to eat by the 1st, 2nd, 3rd, or 4th of Advent. If you want it to be quick, you can wait just a few days, but over time, the flavor gets more intense.
Easy, vegan Christmas stollen
1 stollen
30 minutes (+ 90 minutes resting time and 45 minutes baking time)
Ingredients
For the stollen:
50 g (1.75 oz) walnuts
100 g (3.5 oz) candied orange peel
100 g (3.5 oz) candied lemon peel
100 g (3.5 oz) raisins
100 ml (0.5 cup) plant-based milk
100 g (0.5 cup) sugar
42 g (1.5 oz) fresh yeast
100 ml (0.5 cup) orange juice or rum
500 g (4 cups) wheat flour (type 405)
100 g (3.5 oz) ground almonds
1 tsp Christmas stollen spice
150 g (1.25 sticks) vegan butter
50 g (1.75 oz) apple puree
100 g (3.5 oz) marzipan raw paste
Also:
50 g (0.5 stick) vegan butter
50 g (0.5 cup) powdered sugar
Instructions
Chop walnuts and transfer them to a bowl with candied orange peel, candied lemon peel, and raisins. Pour over orange juice and let sit overnight.

Mix lukewarm plant-based milk and sugar in a large bowl.Crumble the fresh yeast over it, stir briefly, and let sit for about 10 minutes.

Add flour, ground almonds, Christmas stollen spice, vegan butter, applesauce, and raw marzipan to the yeast mix and knead everything into a smooth dough. Let the dough rest in a warm place for about 60 minutes.

Pour off excess orange juice from the soaked mixture with candied orange peel and knead the mixture into the dough. While doing this, add as much flour as needed to keep the dough from sticking. Next, transfer the dough into a greased stollen form and let it rise again for about 30 minutes in a warm place.
Tip: If you don't have a Christmas stollen mold, you can simply shape the stollen into an elongated oval and place it on a baking sheet lined with parchment paper. The stollen will be a little wider and not quite as high when baked, but that doesn't matter in terms of taste.
In the meantime, preheat the oven to 160°C/320°F (top and bottom heat) and line a baking sheet with parchment paper. Place the stollen form with the opening downwards on the baking tray and bake for 45 minutes.

Remove the stollen from the oven and melt the vegan butter. Brush the still warm stollen with melted vegan butter and dust it with a thick layer of powdered sugar. Allow the stollen to cool completely and transfer it to an airtight container. It's best to let it rest for at least a week before eating it.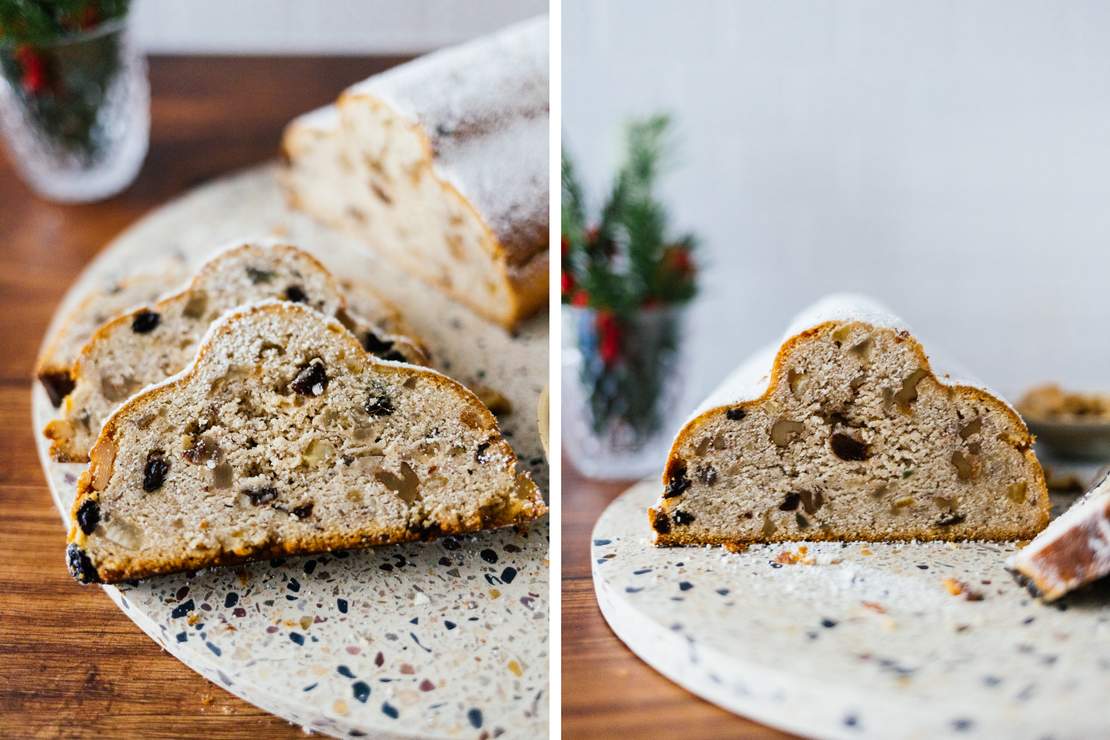 More Vegan Christmas Recipes