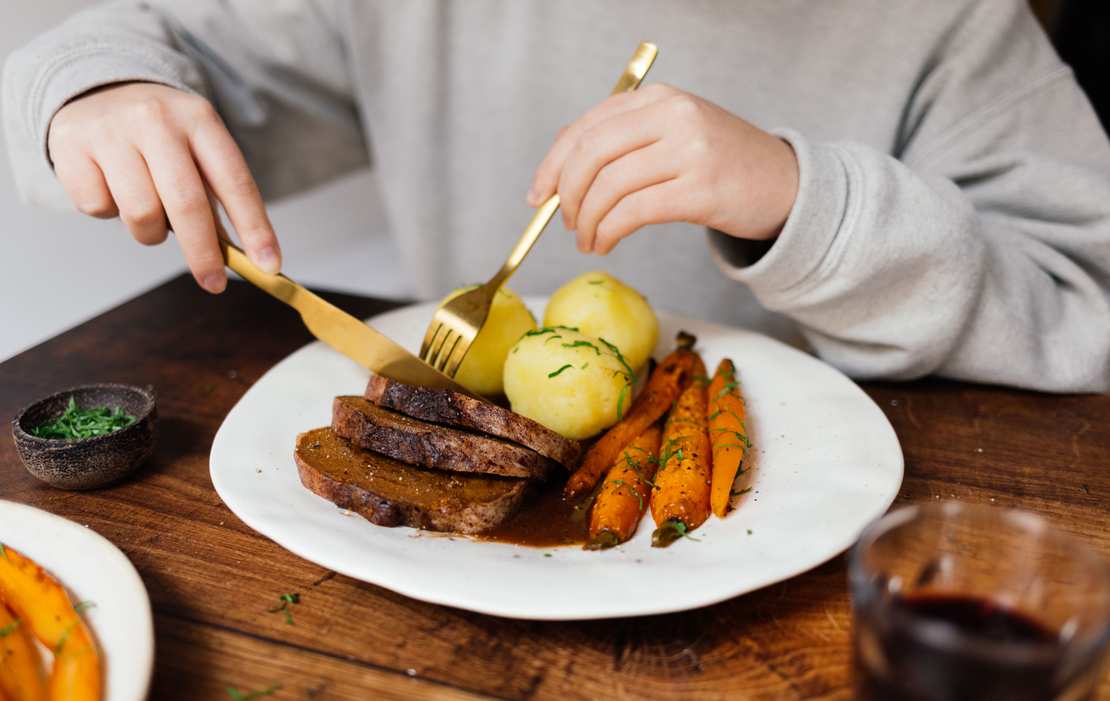 Seitan Roast with vegan Gravy and Christmas Side Dishes
It's done! This seitan roast was really nerve-wrecking. Rarely does a recipe go through as many rounds of testing as this recipe (except for Julia's baumkuchen bites, which probably tops the roast). I've been tinkering with this recipe since the summer, but now winter and especially Christmas can come because this recipe can (finally) be shown off!
Unfortunately, my experiences with homemade seitan products have not been the best so far. They usually had a tough consistency and tasted like nothing. That's why my expectations for this roast were particularly high because I wanted to finally understand how to process seitan properly in order to get both a really good taste and the perfect consistency.
So before I started developing the recipe, I read everything I could find about seitan and how to prepare it. After reading about 100 articles, I was probably just as smart as before, as there are (very) many ways to prepare it: from steaming to boiling to frying and baking, and then there are the various combinations of these methods. After many attempts at steaming, I finally decided to bake it. Fortunately, I had the best helper at my side when I was developing the recipe, without whom the recipe would not be so perfect today. Shout-out to Anni, who diligently helped with the testing and contributed creative ideas.
For a hearty flavor, sautéed onions, garlic and smoked tofu are added alongside pimento seeds. The latter, together with cooked sweet potato, is also responsible for the consistency. Beet juice is added for the reddish color, as the sweet potato would otherwise turn the roast orange. During preparation, it is very important that you follow the recipe exactly. First, mix all the ingredients listed below into a homogeneous mixture (without chunks!) and then put the mixture together with the seitan powder in a stand mixer and knead for at least 5 minutes. If you don't have a stand mixer, you can either do this by hand or try using a hand mixer.
As you already have a lot to do with the roast, today's side dishes are easy to make: glazed carrots and dumplings. The good thing about the carrots is that they can be baked in the oven together with the roast. If you want to prepare dumplings quickly, you can use pre-packaged dumplings (watch out; there are often some with animal products in the ingredients list). However, if you have a lot of time on your hands, we also have a whole host of dumpling recipes to make yourself on our blog.
A really good gravy is a must for a good Christmas dish. How good that Isa created the best gravy in the world a few years ago. I have changed it a little (but really only very slightly) because we need a fruity gravy to go with the hearty roast, so we add the Hygge Punch Apple Blueberry from Voelkel. Voelkel uses carefully selected ingredients from organic and organic-dynamic cultivation. Children's punch is the non-alcoholic version of mulled wine and, therefore, perfect for the whole family. You can easily swap the red wine in the recipe for the punch if you wish. You can buy the juice in the online store from Voelkel, where there are also other varieties, all of which are packaged in environmentally friendly reusable bottles. There's also a really great fundraising campaign: For every bottle sold, Voelkel donates 5 cents to Deutsche Kältehilfe.
Do you still need a dessert for your perfect Christmas menu? How about our baked apple, speculoos tarts or a classic tiramisu?
But enough theory now. Let's get into the kitchen so that Christmas can finally come!
Seitan Roast with vegan Gravy and Christmas Side Dishes
4 servings
70 minutes (+ 60 minutes baking time)
Ingredients
For the seitan roast:
150 g (5.25 oz) sweet potato
4 small onions
2 cloves of garlic
3 tbsp tomato purée
6 allspice seeds
3 tbsp soy sauce
1 tsp vegetable stock powder
200 ml (0.75 cup) vegan red wine
250 ml (1 cup) apple-blueberry punch (e.g. from Voelkel)
175 g (6.25 oz) smoked tofu
2 tsp garlic powder
1 tbsp onion powder
3 tsp vegetable stock powder
80 ml (0.33 cup) beet juice
200 g (7 oz) wheat gluten or seitan powder
3 sheets of rice paper
1 tbsp juniper berries
5 bay leaves
olive oil
salt
pepper
For the side dishes:
750 g (1.65 lb) vegan dumpling dough
6 carrots
2 tbsp vegan butter
2 tbsp sugar
salt
pepper
For the gravy:
2 cloves of garlic
1 carrot
3 mushrooms
150 g (5.25 oz) leek
2 tbsp flour
2 tbsp tomato paste
100 ml (0.5 cup) stock from the casserole dish
100 ml (0.5 cup) juice
600 ml (2.5 cups) vegetable stock
1 tsp mustard
1 tbsp soy sauce
1 tbsp sugar beet syrup (or agave syrup)
2 sprigs of rosemary
vegetable oil for frying
salt
pepper
For serving:
Instructions
Peel the sweet potato, cut into small pieces and boil in a pan of water for about 8 minutes until soft. Drain the water and set the sweet potato aside.
Peel and chop one onion and garlic cloves. Heat the oil in a large pan and sauté the onions and garlic together with the tomato paste and allspice seeds over medium heat until the onions are translucent. Deglaze with soy sauce, 50 milliliters (0.25 cup) of red wine and 50 milliliters (0.25 cup) of the apple-blueberry punch. Then add the vegetable stock powder and stir. Remove the pan from the heat.
Place 100 grams (3.5 oz) of the cooked sweet potato together with the onion and garlic mixture, smoked tofu, garlic and onion powder, vegetable stock powder, beet juice and pepper in a blender and blend until smooth.
Preheat the oven to 180 °C / 355 °F (convection heat).
Place the mixture in a stand mixer and knead together with the seitan powder for approximately 6 minutes. Alternatively, knead with your hands or a hand mixer. Place the rice paper in a water bath for approximately one minute, and then wrap it around the seitan roast so that it is coated on all sides.
Place the roast in an ovenproof dish. Peel the remaining three onions, cut into quarters and add to the roast together with 200 milliliters (0.75 cup) of punch, juniper berries and bay leaves. Brush the roast with olive oil using a brush. Season everything with salt and pepper. Bake the seitan roast for approximately 60 minutes at 180 °C / 355 °F (convection heat) until a brown crust appears on top. After 20 minutes, pour the remaining 150 milliliters (0.66 cup) of red wine into the baking dish and brush the roast with olive oil again. After 40 minutes, brush the roast once more with olive oil.
As soon as the roast is in the oven, the side dishes can be prepared. To do this, peel and halve the carrots. Heat the vegan butter in a pan and melt the sugar in it. Remove the pan from the heat, add the carrots and turn until they are all coated in butter. Place the carrots in a baking dish, season with salt and pepper and bake in the oven at 180 °C / 355 °F (convection heat) for approximately 45 minutes until they are soft and lightly browned.
Prepare the dumplings according to the packet instructions and keep them warm.
For the gravy, peel the garlic cloves and carrot, clean the mushrooms and remove the outer layer of leek. Roughly chop the vegetables.
Heat the vegetable oil in a frying pan over medium heat and fry the vegetables for 8–10 minutes until lightly toasted. Season with salt and pepper.
Add the flour and tomato paste, mix and fry for a further 1–2 minutes. Then deglaze with the remaining stock from the casserole dish (including the onions, bay leaves and juniper berries) and pour in the apple-blueberry punch and vegetable stock. Stir in the mustard, soy sauce and sugar beet syrup and add the rosemary sprigs and bay leaves to the sauce. Simmer everything together for 5–10 minutes.
Pour the gravy through a fine sieve into a pan, using the sieve to filter out the vegetables. Place the pan back on the stove and continue to simmer the gravy until it has the desired consistency. Season with salt and pepper to taste.
Slice the roast and serve with the glazed carrots, dumplings and gravy and top with fresh parsley.