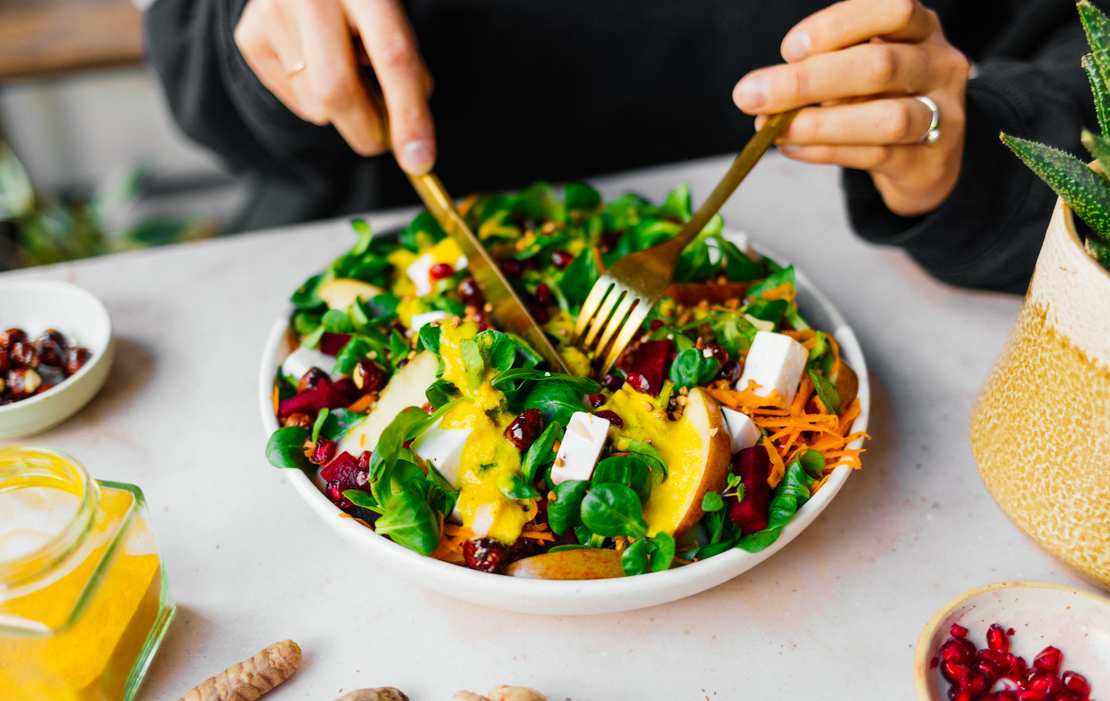 Vegan Winter Grain Bowl with Ginger Turmeric Dressing
Today we have a healthy vegetable bowl for you, because who says that fresh salads and bowls are only for summer? I would probably rank bowls among my top 5 favorite meals and love to eat them all year round - always with whatever veggies are in season. The great thing about bowls is that you can modify them to your own taste and use any available vegetable, grain, or fruit. So if you don't like one component of our bowl, just leave it out or replace it with another. Therefore, a proper recipe is mainly needed for the dressing because this usually contributes significantly to the taste of a bowl and can be difficult to prepare without any clue.
We opted for a ginger-turmeric dressing for this recipe, which looks great and perfectly complements the dish with its refreshing, light spiciness. For the dressing, we simply mixed fresh ginger, turmeric, garlic, and some agave syrup with extra virgin olive oil, naturally cloudy apple cider vinegar and lemon balsam from Byodo. Then we seasoned to taste it with salt and pepper, and that's it. Sounds as simple as it is and tastes delicious! Depending on how intense your ginger and turmeric taste, you might want to adjust their amount in the dressing, though. So rather add a little less ginger and turmeric at first, and add some more later. Of course, you can also use ground ginger and turmeric for the dressing, but I would recommend using fresh ones. Ground ginger or turmeric in dressings can lead to a somewhat furry taste on the tongue and usually settles to the bottom of the container after mixing the dressing.
However, we can only recommend the products from Byodo because they consist of 100% agrarian, cultivated, organic ingredients and are shipped CO2-neutral with recyclable shipping materials. In addition, the natural food company from Upper Bavaria offers many other products besides various kinds of vinegar and oil. You can find their products in organic markets and in their online store. Furthermore, you can find more recipes with Byodo products here.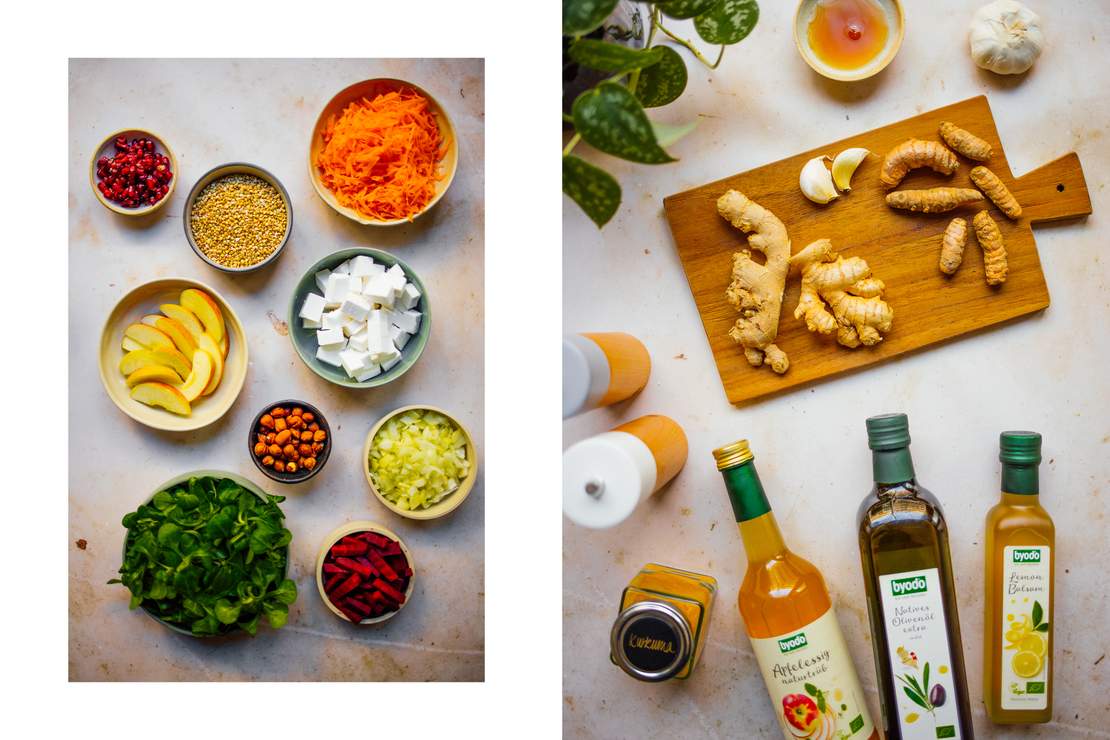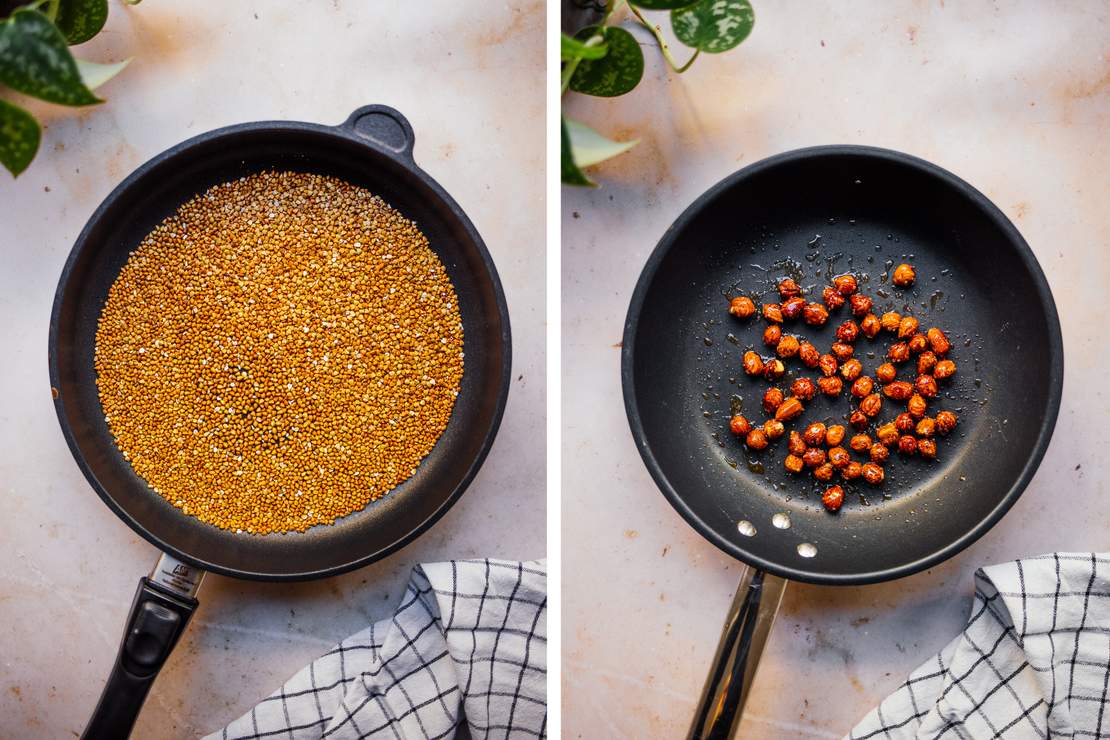 Vegan Winter Grain Bowl with Ginger Turmeric Dressing
Ingredients
For the vegetable bowl:
120 g (4.25 oz) buckwheat
150 g (5.25 oz) lamb's lettuce
1 apple
0.5 pomegranate
200 g (7 oz) vegan feta
1 onion
2 large carrots
2 beet
For the caramelized hazelnuts:
20 ml (1 tbsp) agave syrup
25 ml (2 tbsp) water
50 g (1.75 oz) hazelnuts
For the ginger turmeric dressing:
25 g (1 oz) fresh ginger
25 g (1 oz) fresh turmeric
1 small clove of garlic
70 ml (0.33 cups) extra virgin olive oil
2 tbsp apple cider vinegar
1 tbsp lemon balsam
1 tsp agave syrup
water
salt
pepper
Instructions
First, wash buckwheat thoroughly. Then toast it in a large frying pan over medium heat without fat. Once golden-brown, remove from the pan and set aside.

At the same time, caramelize the hazelnuts. Mix agave syrup, water, and hazelnuts in a small bowl and transfer to a frying pan. Heat the mixture until the agave syrup coats the nuts and caramelizes. This may take a few minutes. When the nuts are caramelized, transfer to a plate and set aside as well.

Next, wash the lamb's lettuce and drain in a colander. Quarter the apple and cut into thin slices. Core the pomegranate, dice the vegan feta, and peel the onion, carrots, and beet. Cut onion into small cubes, grate carrots, and cut beet into oblong sticks.

For the dressing, peel and chop fresh ginger, turmeric, and garlic. Then place in a tall container. Add olive oil, apple cider vinegar, lemon balsam, and agave syrup, and mix everything with a blender. Then season with salt and pepper. If desired, you can add a little water to get a more liquid consistency. Puree again and set aside.

Combine buckwheat and all fresh ingredients in a large bowl with the dressing. Top with caramelized nuts and pomegranate seeds and serve.