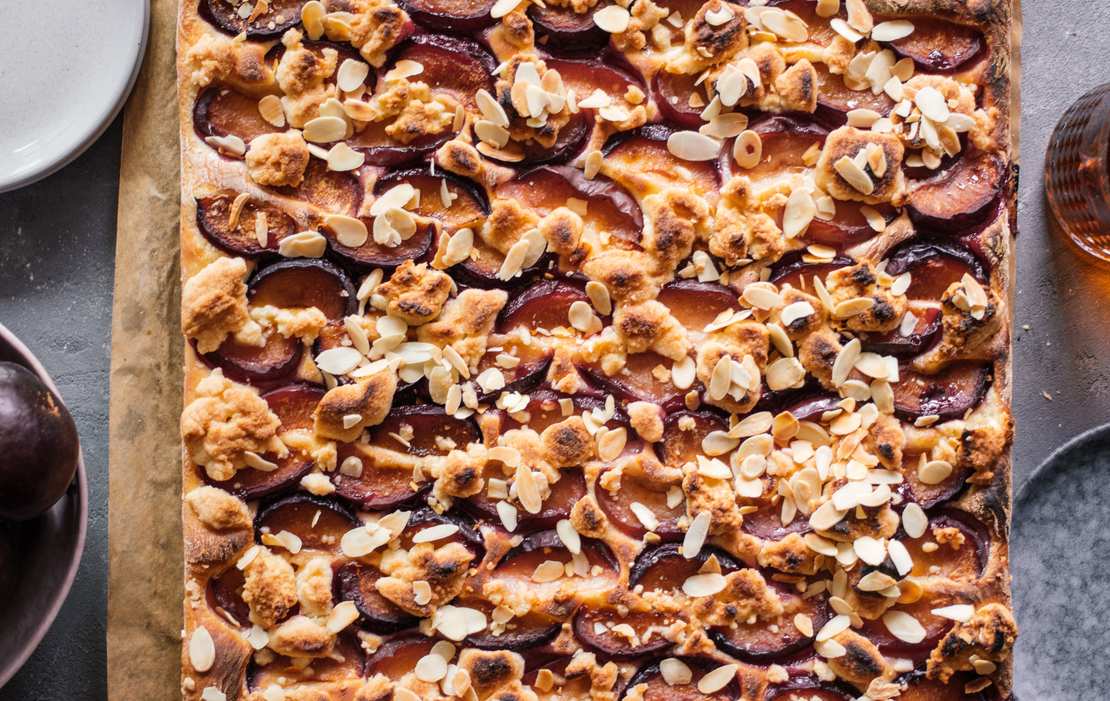 Vegan Sheetpan Plum Cake with Yeast Dough and Crumble Topping
When I was a kid, there was a plum tree in my parents' little garden, and if I remember correctly, it only had fruit every two years. But then there were so many plums, that the branches could hardly bear them and there was a sea of fallen plums all around the tree. Half of the plums were frozen for the following year when there was no harvest. Because one thing had to be ensured: there always had to be enough plums at our home for a large baking sheet of yeast cake.
So today's recipe is actually the cake that I always associate with our garden. I also love it because my mother used to bake it early in the morning. Once I got up, I found the remaining dough for crumbles in the kitchen, waiting for me as a breakfast treat. In order for the cake to be really juicy, it's important that you use ripe plums, not hard ones.
Of course, you can adjust the recipe, and, e.g. use other fruits (it tastes fantastic with cherries!), omit the sliced almonds (or use other nuts), or kick the crumbles (but why should you do that?).
You could also prepare the cake ahead. To do this, simply prepare the yeast dough the night before and let it rest and rise in the fridge. It's also not necessary to eat the whole cake immediately – I even think that it sometimes tastes better the next day.
Vegan Sheetpan Plum Cake with Yeast Dough and Crumble Topping
1 baking sheet
40 minutes (+ 160 minutes resting time + 30 minutes baking time)
Ingredients
For the yeast dough
21 g (0.75 oz) fresh yeast
50 g (0.25 cup) sugar
300 ml (1.25 cup) warm water
35 g (1.5 oz) coconut oil
600 g (4.75 cups) flour
1 tsp salt
For the topping
1 kg (2.25 lbs) plums
sugar for sprinkling
sliced almonds for serving
vegan whipped cream for serving
For the crumble topping
120 g (1 cup) flour
40 g (0.25 cup) sugar
80 g (0.33 cup) cold vegan butter
Instructions
Crumble fresh yeast with your hands and add to the bowl of a kitchen machine along with sugar and warm water. Stir to combine and let sit for approx. 10 minutes, or until the surface is bubbly. In the meantime, melt coconut oil, then let cool down until it's lukewarm.

Add the melted coconut oil to the yeast mixture. Mix flour and salt and add the mixture to the yeast mixture little by little. Knead for approx. 5-10 minutes until a smooth dough forms. Transfer the dough onto a floured surface and keep kneading by hand for several minutes. If needed, add more flour. Form the dough into a ball.

Grease the bowl with some oil, then transfer the dough back in it. Cover with a clean kitchen towel and let rest and rise at a warm place for approx. 1-2 hours, or until the volume of the dough has doubled. If you want to prepare this dough ahead, let it rise in the fridge overnight.

In the meantime, wash, pit, and slice plums.

Grease and flour a baking sheet or line it with parchment paper. Flour a working surface and roll out the yeast dough until it's the size of your baking sheet. Transfer it to the baking sheet and spread it until it fills the whole sheet. If you notice that your yeast dough pulls back, let it rest for approx. 10 minutes, then try it again.

Add the sliced plums as a fruit layer on top of the yeast dough. Let rest and rise at room temperature for another 30 minutes.

In the meantime, preheat oven to 200°C/390°F. For the crumbles, mix flour and sugar in a bowl. Add cold vegan butter in dices or flakes and quickly stir to combine until crumbles form. Refrigerate them until the yeast dough has risen enough.

Add the crumbles on top of the plums, then bake the cake at 200°C/390°F for approx. 30 minutes. If desired, toast some sliced almonds in the meantime. Add them to a fat-free frying pan and toast until browned. Remove the cake from the oven and sprinkle with some sugar and toasted almonds. Serve with vegan whipped cream.
More Vegan Cakes & Cookies