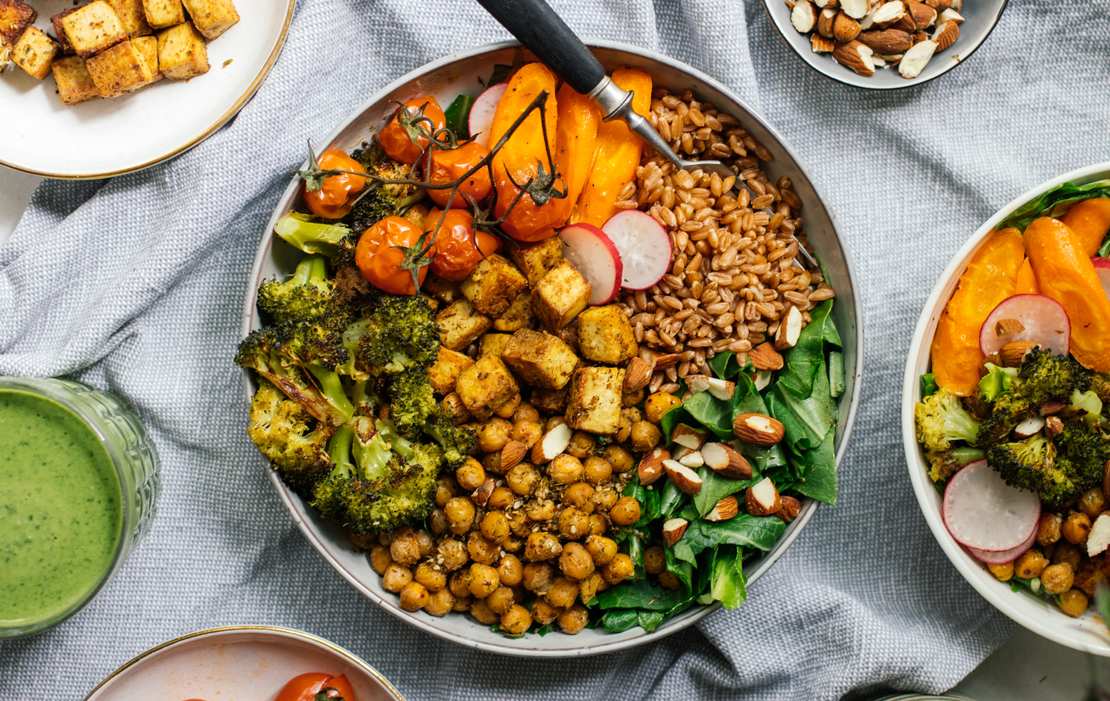 Salad Bowl with Tofu and Carrot Greens Dressing
Did you read the recipe title and asked yourself: "Wait, Isa and Julia are eating salad?" We know that our food blog is not known to be one of the healthiest food blogs in the world, but we actually eat a lot of salads.
Isa is studying, Julia is working - so we know a lot about meal prepping. A salad bowl (even it's known as a super healthy and trendy dish), is truly one of the best recipes to prepare at home, to take with you and to be fully satisfied in the end. But always keep an eye on the versatility of the ingredients and combine as many colors and textures as possible. Go for fresh salads, raw veggies, and roasted nuts. Also, try to use as much of your vegetables as possible. Mangold leaves and stems as well as carrots and carrot greens are used in our recipe. Creating a salad bowl is one of the best ideas to use all the leftovers in your fridge.
If you're done with the salad and all the veggies, just have a closer look for the seasoning. We are super happy that __ [Just Spices] (https://www.justspices.de/) __ supports us with this recipe. Instead of seasoning a salad bowl with salt and pepper, it's worth to pay more attention to a few more ingredients. In this recipe, we season the chickpeas with zatar, a delicious mixture that includes thyme, sumac, sesame, and salt.
The [tofu spice] (https://www.justspices.de/tofu-gewuerz.html?gclid=EAIaIQobChMIr5mU_v3N4gIVWeh3Ch08PAIJEAQYASABEgINlPD_BwE) is perfect for those of you who don't know how to season tofu. The mixture contains 14 ingredients, including fenugreek, garlic, coriander, turmeric, ginger, rosemary, and lemongrass. Full power for your tofu! We mixed the Tofu Spice with olive oil to get a delicious marinade in just a few seconds. __By the way: Use the code "justjagdwurst" in the [Just Spices Online-Shop] (https://www.justspices.de/gewuerzmischungen.html) to get a tofu spice for free (the minimum order value is 20 euros) __ Sounds good? Sounds fantastic!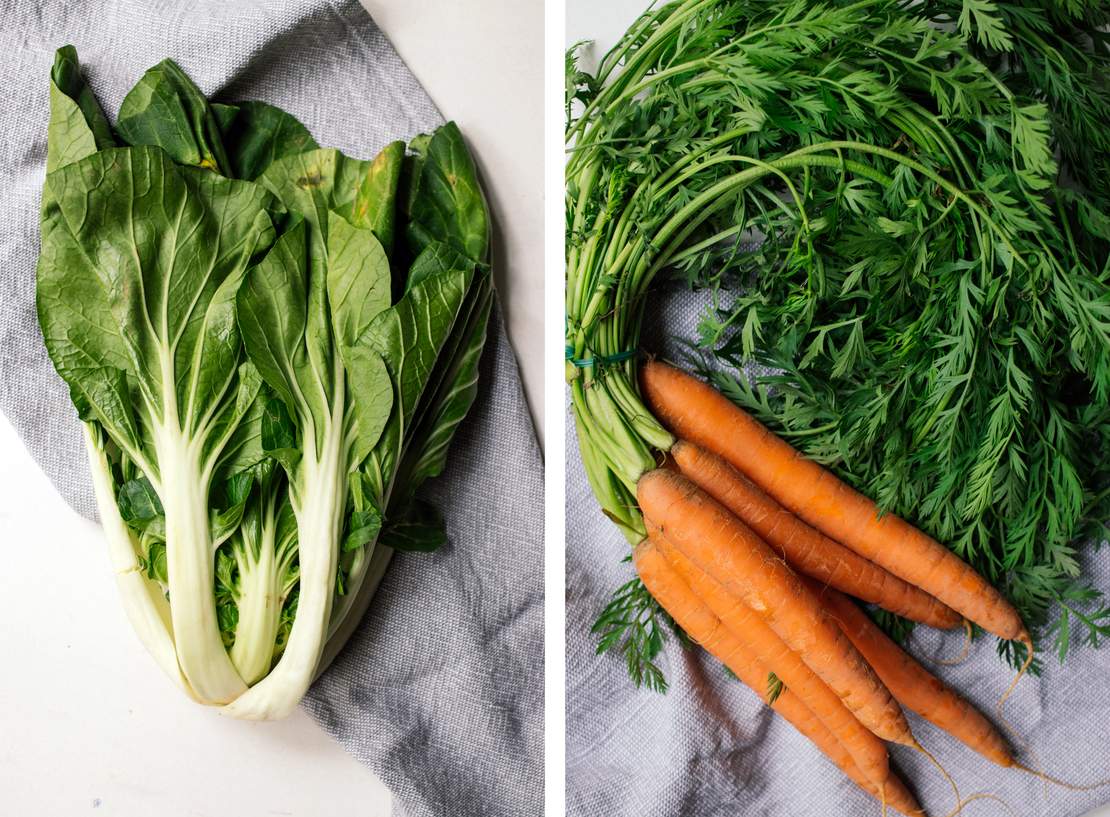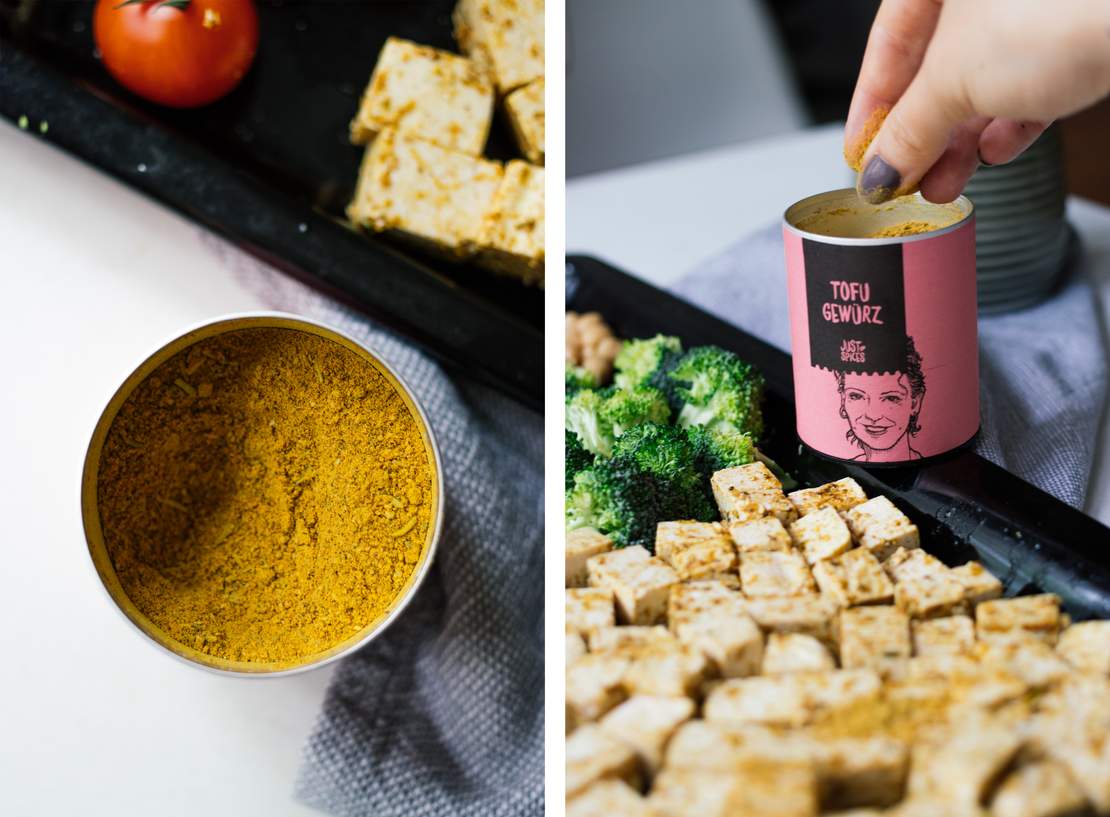 Salad Bowl with Tofu and Carrot Greens Dressing
Ingredients
150 g (0.66 cup) spelt
300 ml (1.25 cups) water
1 swiss chard
200 g (7 oz) broccoli
2 carrots
400 g (14 oz) canned chickpeas
300 g (10.5 oz) tofu
2 tbsp olive oil
2 tbsp zatar
3 tbsp tofu spice
200 g (7 oz) cherry tomatoes
50 g (2 oz) almonds
4 radishes
salt
pepper
For the dressing
50 g (2 oz) carrot greens
100 ml (0.5 cup) water
1.5 tbsp olive oil
4 tbsp plant-based yogurt
0.5 tbsp apple cider vinegar
1 tsp mustard
1 tsp agave syrup
salt
pepper
Instructions
Add spelt and the double amount of water to a pot, and season with salt. Let spelt cook over high heat for approx. 10 minutes, then place the lid on top and let soak and simmer over low heat for approx. 30 minutes.

In the meantime, wash cut Swiss chard leaves from the stems. Wash Swiss chard leaves, carefully pat dry and chop. Wash the stems, too and set aside. Chop broccoli and carrots. Drain chickpeas and pat them real dry. Cut tofu in bite-sized dices.

Preheat oven to 180°C/355°F. Transfer broccoli and carrots to a baking sheet, drizzle with olive oil and season with salt and pepper. Toss chickpeas in a mixture of olive oil and zatar and season with salt and pepper, too. For the tofu, mix 1 tbsp olive oil with tofu seasoning, then toss to coat the diced tofu. Transfer all to the baking sheet and bake for approx. 25 minutes.

In the meantime, heat vegetable oil in a frying pan and add stems of Swiss chard. Fry for a few minutes until they are nicely roasted, then remove stems from the frying pan. Add tomatoes to the still hot pan and sear until softened and browned.

Add almonds to a fat-free frying pan and toast until golden brown. Remove from the pan and roughly chop the nuts.

For the dressing, add carrot greens, water, olive oil, plant-based yogurt, apple cider vinegar, mustard, and agave syrup to a liquid measuring cup and use an immersion blender to mix until you get a smooth and bright green dessing. Season with salt and pepper to taste.

All your ingredients should be done now: spelt, ofen roasted vegetables, tofu, and more. Wash and slice radishes, then arrange all ingredients for your salad in bowl (if you want to eat it right away) or in transport boxes or jars (for take-away). Top salat with toasted almonds and drizzle with carrot green dressing.